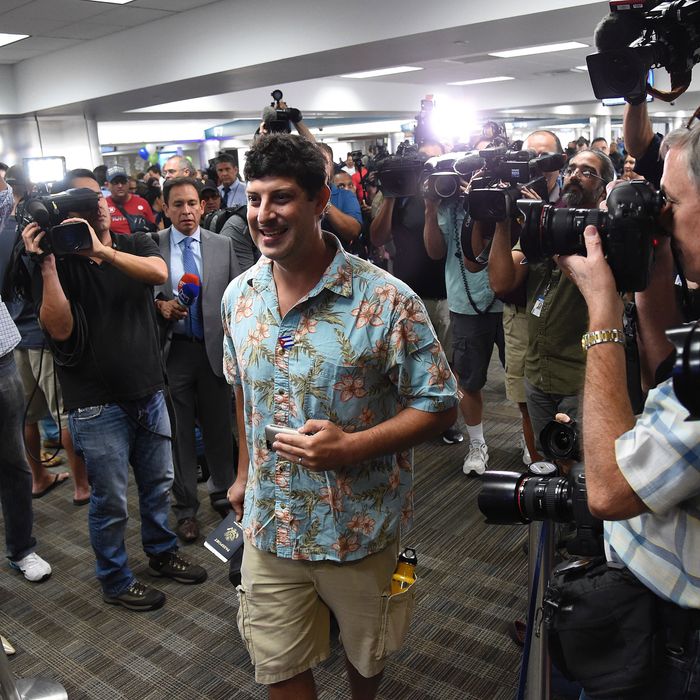 Boarding the first commercial flight to Cuba in more than 50 years.
Photo: Rhona Wise/AFP/Getty Images
Shortly after 10 a.m. on Wednesday, JetBlue Flight 387 took off from Fort Lauderdale, Florida, to land in Santa Clara, Cuba. It is the first scheduled U.S. commercial plane to depart for Cuba since 1961, when airlines were still operating propeller planes.
The close-to-150-passenger flight will land in Santa Clara — about 175 miles east of Havana — around 11 a.m. It's the first of what should be many more flights under new rules that loosened travel restrictions after the Cold War enemies restored diplomatic ties. In May, the first U.S. cruise ship docked in Havana for the first time more than 50 years.
According to the New York Times, six carriers have been approved for commercial flights to nine Cuban cities, though all the schedules haven't been set yet. Silver Airways is next up, beginning flights on Thursday. American Airlines will follow suit next week. Previously, travelers to Cuba needed to charter expensive and time-consuming flights to get to the island nation. And though, technically, American tourism in the "I want to sit on the beach and do nothing" sense is still not allowed, the United States government broadly expanded the categories of people who can now visit Cuba, so there's wiggle room among things like "educational activities" and "workshops."
U.S. Department of Transportation Secretary Anthony Foxx will be onboard the historic Cuba flight, and the JetBlue pilot, First Officer Frank Barreras, is the son of Cuban immigrants; according to CBS News, his father fled on one of the last commercial flights bound for America decades ago.