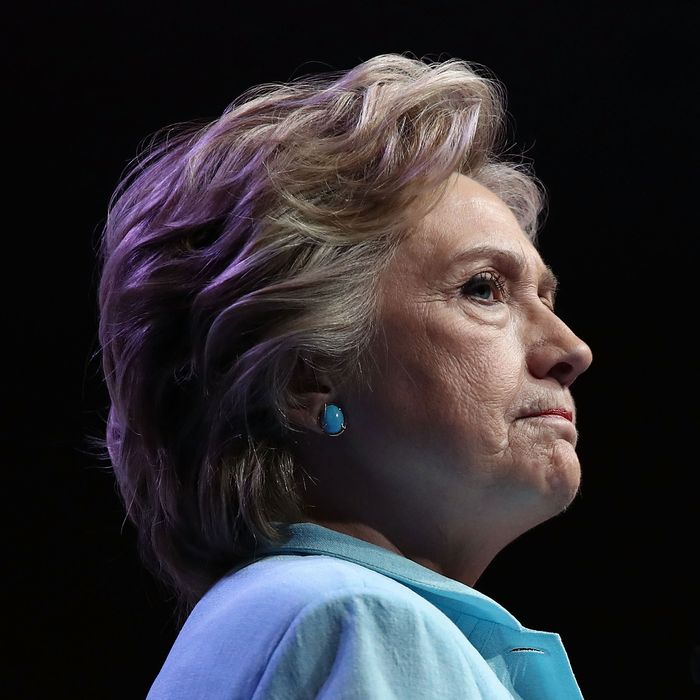 Associated Mess.
Photo: Win McNamee/Getty Images
This week, a new batch of State Department emails revealed that Clinton Foundation donors frequently requested meetings and favors from Secretary Hillary Clinton. But it was difficult to discern the full extent of these requests — or how often they were honored.
Now, the Associated Press has produced an eye-popping data point that sheds some light on those questions: By checking Clinton's State Department schedules against a list of her family foundation's donors, the AP calculated that more than half of the private citizens Clinton met with during her tenure in the Obama administration had helped bankroll her charity.
Of the 154 people from private interests who met with Secretary Clinton, 85 had given money to the Clinton Foundation. At least 40 had given more than $100,000. Twenty kicked in more than $1 million.
None of these meetings appear to violate legal agreements Clinton signed before she joined the Obama administration. But the fact that Clinton Foundation donors were so heavily represented in the secretary's guest book encourages the suspicion that, in the AP's phrasing, "giving the foundation money was a price of admission."
Among the donors Clinton met with was Bangladeshi economist Muhammad Yunus. Yunus won the 2006 Nobel Peace Prize for his work on micro-credit, and runs the nonprofit Grameen Bank. That Bank has pledged millions of dollars to support the Clinton Global Initiative's microloans for the poor.
Yunus first met with Secretary Clinton in April 2009. Six months later, the State Department's foreign-aid arm announced that it was partnering with the Grameen Foundation to expand its micro-finance efforts. The Grameen Foundation received $2.2 million in loans and grants over the course of Clinton's tenure.
When Yunus attracted the hostility of the Bangladeshi government, Clinton tried to intervene on his behalf. Per the AP:

By September 2009, Yunus began complaining to Clinton's top aides about what he perceived as poor treatment by Bangladesh's government. His bank was accused of financial mismanagement of Norwegian government aid money — a charge that Norway later dismissed as baseless. But Yunus told Melanne Verveer, a long-time Clinton aide who was an ambassador-at-large for global women's issues, that Bangladesh officials refused to meet with him and asked the State Department for help in pressing his case.

"Please see if the issues of Grameen Bank can be raised in a friendly way," he asked Verveer. Yunus sent "regards to H" and cited an upcoming Clinton Global Initiative event he planned to attend. Clinton ordered an aide: "Give to EAP rep," referring the problem to the agency's top east Asia expert.

Yunus continued writing to Verveer as pressure mounted on his bank. In December 2010, responding to a news report that Bangladesh's prime minister was urging an investigation of Grameen Bank, Clinton told Verveer that she wanted to discuss the matter with her East Asia expert "ASAP."
As with many of the recent revelations, there's nothing obviously inappropriate about Clinton's dealings with Yunus. The man is a Nobel Peace Prize winner looking to promote micro-finance projects that are supported by both the Clinton Global Initiative and the Obama administration. It makes sense that he would have some involvement with both those entities.
Nonetheless, his relationship to the Clinton Foundation invites suspicion about whether he received special treatment from Clinton's State Department. Whether or not such suspicions are warranted, a President Clinton will likely have to fend off similar ones on a regular basis. More than 6,000 people have donated to the Clinton Foundation.
"There's a lot of potential conflicts and a lot of potential problems," Douglas White, a former director of Columbia University's graduate fundraising management program, told the AP. "The point is, she can't just walk away from these 6,000 donors."