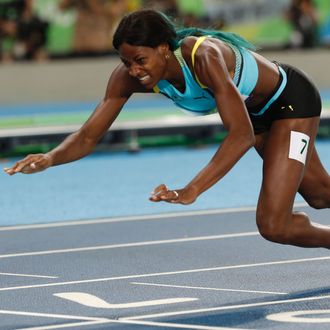 Photo: ADRIAN DENNIS/AFP/Getty Images
Bahamian runner Shaunae Miller secured the gold medal on Monday evening in the women's 400-meter Olympic finals in Rio by diving headfirst with outstretched arms across the finish line. The move helped her narrowly defeat Team USA's Allyson Felix, who took the more conventional route of, you know, crossing the finish line on two feet. The photos of the event that resulted were essentially the opposite of the photos of a grinning Usain Bolt pulling ahead of his less-godlike competitors.
Except that, as with Bolt and many other Olympians who have come before her (like Phelps, that horse dancing to "Smooth" by Santana featuring Rob Thomas), Miller's unorthodox finish has made for some excellent memes.
There's less than a week left to go until the Olympics end, much of the world stops caring about sports again, and we have to go back to our old standbys for fresh memes (Tumblr and Donald Trump).