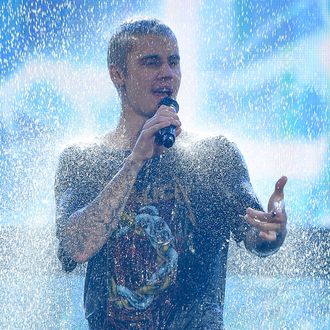 Photo: Kevin Mazur/WireImage
The extremely sweaty season is just about over, meaning it's time to declare which over-produced tune gets the coveted honor of being 2016's Song of Summer. But we're a tech blog — what would we possibly know about music. Instead, we're going to let our good friend Mr. Twitter do the awarding.
Based on data collected between May 27 and August 19, the company tallied up all the tweet references to tunes released over the summer, People reports. The winner: "Cold Water" by Major Lazer feat. Justin Bieber. (You know, the one with the earworm chorus of "I won't let go, I'll be your lifeline tonight" that repeats ad nauseam until you can't remember your own name.)
Runner-ups included "Into You" by Ariana Grande, "Make Me" by Britney Spears, "Rise" by Katy Perry, and "Work From Home" by Fifth Harmony. Clearly, the takeaway is that everyone had the good sense not to tweet about that garbage Justin Timberlake song from Trolls, which haunted my dreams all summer long.