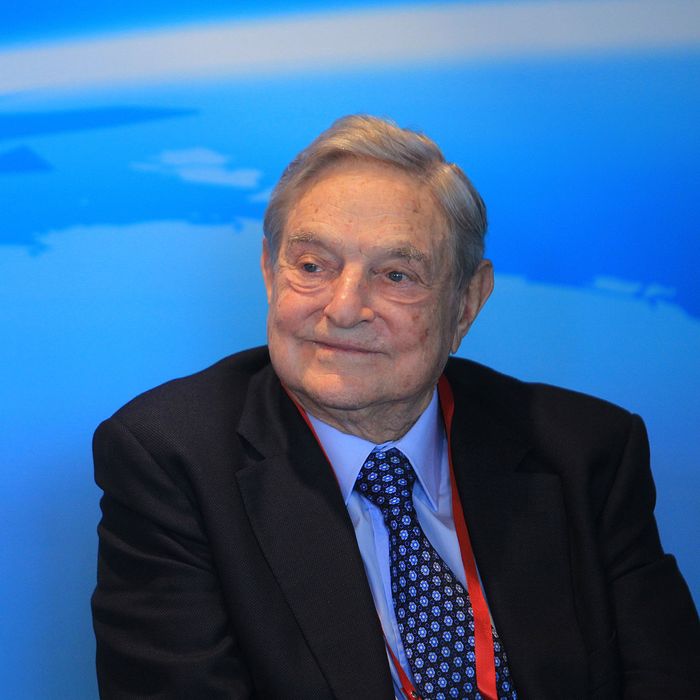 Soros.
Photo: ChinaFotoPress/VCG via Getty Images
George Soros is trying to buy elections — for district attorneys who support criminal-justice reform. Politico reports that the billionaire financier and right-wing bogeyman has channeled more than $3 million into seven local district-attorney races over the past 12 months, a sum that exceeds "the total spent on the 2016 presidential campaign by all but a handful of rival super-donors."
Soros has channeled that loot to would-be district attorneys in Florida, Illinois, Louisiana, Mississippi, New Mexico, and Texas, with the aim of electing prosecutors who will prioritize the reduction of racial disparities in sentencing, and the expansion of alternatives to incarceration for nonviolent drug offenders.
Most of Soros's fellow civic-minded oligarchs have concentrated their donations on high-profile national campaigns. Which is a sound enough strategy for winning invitations to parties and access to legislators. But in terms of maximizing one's chance of immediately impacting policy, it's hard to imagine a better investment than the one Soros is making.
As good-government liberals have long bemoaned, big-money donors have a much easier time influencing elections on the local level, where cash and media attention are scarce commodities. Soros has proven no exception. Since he began bankrolling a network of state-level super-pacs in 2015, he has already elected reform-minded DAs in Mississippi, Louisiana, Illinois, and New Mexico.
And district attorneys have far more autonomy to reshape criminal-justice policy in their communities than individual state legislators, congressional representatives, or senators. With their unilateral authority to chose which charges to bring — and what sentences to pursue — district attorneys have played a central role in the rise of mass incarceration.
Over the last three decades, American prosecutors became increasing draconian. According to research by Fordham University criminal-law professor John Pfaff, in 1994, roughly one of every three arrests led to felony charges; by the end of the first decade of this century, it was two out of every three.
This increasing punitiveness was likely inspired by America's historic fondness for tough-on-crime policies. In the last few years, our nation's political winds have shifted somewhat, as heightened awareness of inequities in our justice system — and heightened pressure on state budgets — have fostered some bipartisan interest in reducing incarceration. But when 85 percent of American prosecutors run unopposed, it can take a while for that change to be felt at district attorneys' offices.
Soros's millions seem to be hastening that change — advancing progressives' agenda on criminal justiice, while illustrating the failure of their agenda on campaign finance.