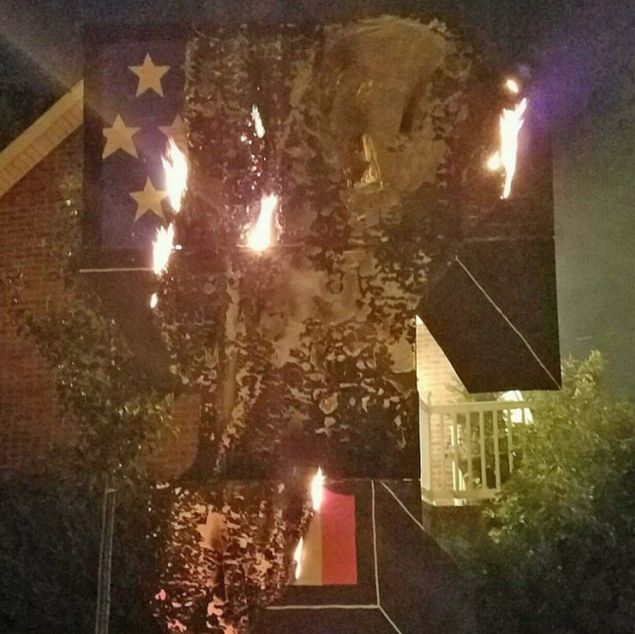 A Staten Island Trump supporter's gigantic red, white, and blue T lawn ornament went up in flames early Sunday morning.
The incident occurred shortly after 1 a.m. Sunday on a New York island that Donald Trump won with an astounding 80 percent of the vote. The homeowner, Sam Pirozzolo, said his neighbors knocked on his door to alert him that the 12-by-8-foot foam sign was ablaze. The FDNY put out the flames, which, thankfully, did not damage Pirozzolo's home. The NYPD is investigating the crime as an arson; the sign appears to have been doused in gasoline.
Pirozzolo said two smaller pro-Trump signs disappeared from his property last week, too. "I assume it was committed by a pro-Hillary supporter," Pirozzolo told the Staten Island Advance. "I hope that this incident [the fire] is elevated from an arson to a hate crime, because that's how I see it since it was done on my private property."
"A single white star on the left arm and two red and white stripes near the base" were all that remained of the T sign, reports the New York Post. Pirozzolo and the artist who created the sign — Sam LoBaido, also of Staten Island — plan to rebuild a new sign to replace the one destroyed. "I'm gonna build it bigger and better than before. It's going to be yuuuge," Lobaido told the Post.
Pirozzolo is not backing down, saying the new sign is going to be "huge, huge." "We will be erecting a new 'pro-first amendment right-to-back-the-candidate-of- our-choice' statue," he told the Advance, vowing installation as early as Tuesday with a press conference and possibly "a Staten Island militia" to "stand guard."