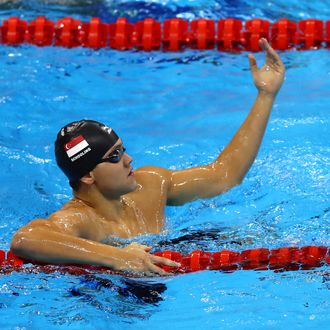 Photo: Ryan Pierse/Getty Images
Today's lesson in Tinder etiquette: Be careful whom you ghost. After watching Singaporean swimmer Joseph Schooling beat Michael Phelps in the 100-meter butterfly final in Rio, University of Texas student Sabryna Salazar thought his named sounded familiar. "The announcers kept saying he was a Longhorn [UT's mascot] so I looked back through my Tinder matches and found out it was him," Salazar told BuzzFeed about Schooling. Who, in case you'd forgotten, is now an Olympic gold medalist.
Props to Schooling for opening with a line better than "hey." If anybody needs me, I'll be digging through my Tinder matches, looking for Olympians.