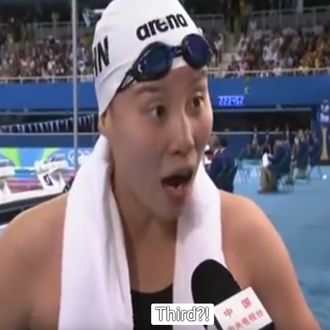 Chinese swimmer Fu Yuanhui won the bronze medal during the women's 100-meter backstroke final on Monday, but somehow managed to get out of the pool after the race without realizing she'd landed a spot on the podium. Instead of seeing her time on a scoreboard or hearing it announced, Yuanhui found out she'd be taking home some Olympic hardware during a post-race interview. (In her defense, she shared the third-place medal with Canada's Kylie Masse, who finished at the exact same time as Yuanhui.)
"What I want to share is that even though I did not win a medal," Yuanhui begins, before the broadcaster clues her in and a huge smile breaks across her face. "Well, then I think that's not bad at all," she says. (Watch all the way to the end to see her stumble off with what looks like a particularly painful muscle cramp.) The clip currently only has a few thousand views but is already making it's way to the top of /r/videos, so it's only a matter of time.
During yesterday's semifinals, Yuanhui also made headlines for her adorable reaction to finding out she had sliced a full second off her time and made it into the finals. Similarly, it was a newscaster who filled her in. Maybe it's time for a new prescription for Yuanhui. Or not. She's an Olympic medalist, she can do whatever she wants.