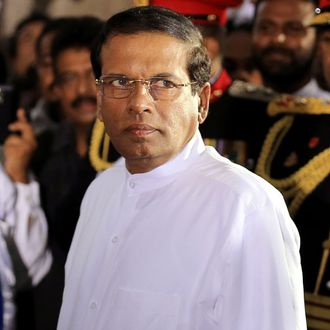 Photo: Buddhika Weerasinghe/Getty Images
Back in my day, if you wanted to get out of taking a test, you faked sick and hoped for the best. But in 2016, teens are a lot more tech savvy. So when faced with the looming prospect of college entrance exams, one 17-year-old Sri Lankan student decided to take matters into his own hands, by hacking President Maithripala Sirisena's website. Which, believe it or not, didn't end well for him.
"The attacker had removed the home page and replaced it with a demand that the president postpone the ongoing GCE Advanced Level examinations or step down," The Guardian reports. According to the BBC, the hacker (or hackers) operated under the group name Sri Lanka Youth. Police later traced the crime back to one unnamed teen, who was promptly arrested and now faces punishments including a $2,000 fine and up to three years in jail. The website was later re-hacked that same week. Which makes me think the Sri Lankan government's IT department might need to put in some overtime.