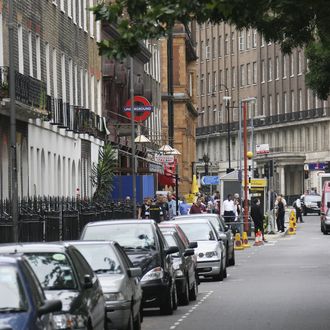 Russell Square station on the one-year anniversary of the London Underground bombing on July 7, 2006.
Photo: Dave Etheridge-Barnes/2006 Getty Images
One woman was killed and five others were injured in a knife attack in central London on Wednesday night. A 19-year-old man began attacking people in Russell Square, which is near the British Museum, just after 10:30 p.m. local time. London Metropolitan Police said six people were treated at the scene, and the woman later died. The condition of the other victims is unknown.
Within minutes, police were on the scene and had subdued the suspect with a Taser. The suspect was hospitalized after his arrest, and authorities later identified him as a Norwegian national of Somali origin. The Metropolitan police commissioner Sir Bernard Hogan-Howe called "mental health" the focus of the investigation. Scotland Yard said in an earlier statement that "Terrorism is one possibility being explored at this stage," but updated it to read that authorities were keeping an "open mind" as to the motive. Authorities have not ruled out terrorism but said they have no evidence of radicalization yet in what was otherwise a completely random attack.
An American woman in her 60s represents the one fatality. At least one of the injured victims was from the United States. A British, Australian, and Israeli nationals were reportedly also hurt, though some have already been released from the hospital.
As the Washington Post notes, in recent weeks, ISIS has claimed responsibility for several attacks across Europe that were carried out with knives and axes.

This post has been updated throughout.