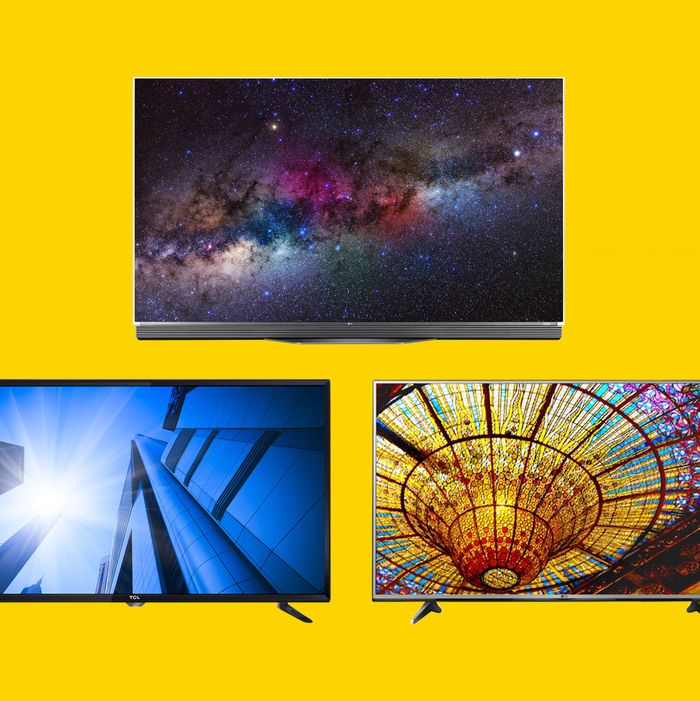 Whether you're trying to find something very cheap but not crappy or willing to toss the equivalent of the GDP of Angola at the best TV screen possible, we've got some suggestions.
Thanks to endless years of sharp-elbowed competition and the entrance of Chinese manufacturers to the market, you can walk away with a very respectable TV for less than you'd pay for an okayish cell phone.You won't be able to get a 4K TV, which the TV industry has collectively agreed to call "Ultra HD" and is basically a TV with double the number of pixels of most older screens, but, for now, that's really not much of a loss — there are very, very few shows and movies displayed at that resolution right now. At this price range, you'll be sticking to a 40-inch screen at 1080p resolution, which is the same display resolution as pretty much any TV you've bought in the past five years. Just be prepared to buy a TV from a brand you've maybe never heard of. Here are a few suggestions.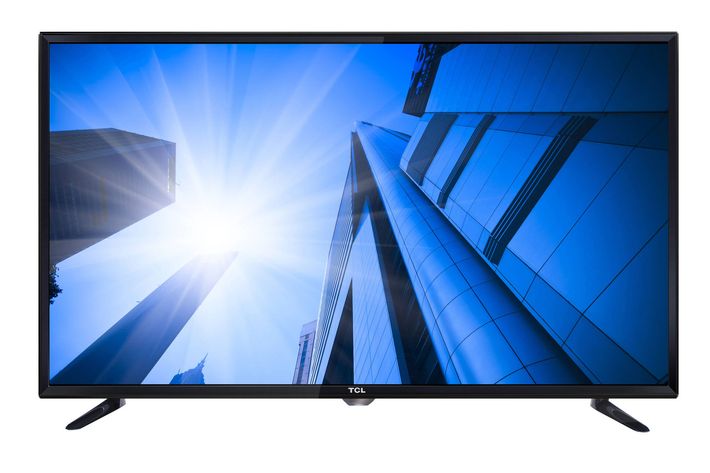 If You're a Cord Cutter and Are Sure to Let People Know It: TCL 40FS3800 40-Inch 1080p Roku Smart LED TV
$249.99
TCL is a Chinese brand that's been manufacturing parts for other TVs for a while, but only recently started selling to the consumer market. This 40-inch TV is aggressively priced and comes with built-in Roku integration, which saves you $80 if you don't have a Roku, and saves you the headache of juggling a TV and Roku remote. Plus the Roku TV interface is hands-down easier to use than any smart TV I've messed around with. The two major downsides: You can get slightly better visual fidelity on other TVs for a similar price, and there's no ethernet cable input — if your home Wi-Fi sucks, you're up the creek. As a cord cutter who streams 90 percent of the media I watch, this would be the TV I'd pick.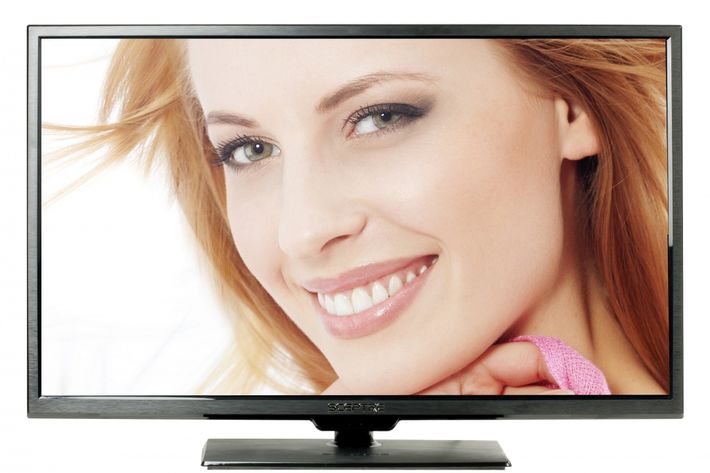 For People Who Actually Follow Through on Those Buy-10-Get-1-Free Stamp Cards: Sceptre X405BV-FHDR 40"-Inch LED Class Full HD-TV
$207.97
Sceptre, a badly spelled budget brand made by Hitachi, puts out a bare-bones TV with a quality image. (It's popular among PC gamers who use it essentially as a huge computer monitor.) It reportedly comes out of the box with terrible sound, but it's also currently listed for $208 on Amazon, and I've seen it listed for as little as $179 elsewhere. That's money you can invest in a decent sound bar or a set-top streaming box. If you already own either of those things, this 40-inch TV is a steal.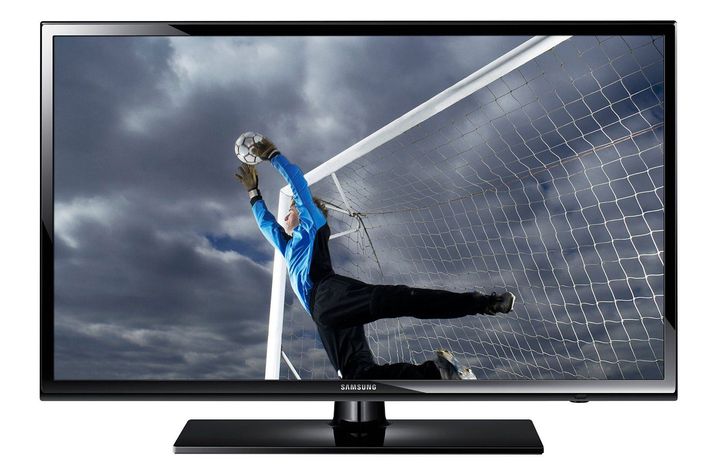 If You Don't Want to Explain What a "Sceptre" Is When Friends Visit: Samsung UN40H5003 40-Inch 1080p LED TV (2014 Model)
$234.99
If you're willing to go back in time a bit, you can pick up a TV from a brand you've heard of for $235. The picture quality is reported to be excellent and the sound is good out of the box, and this TV has a good number of ports for bringing in other media sources. It isn't a smart TV, which in this case (as in most cases) is a good thing — the smart-TV interface that Samsung was putting out in 2014 was, uh, not well thought-out. This is the model you want if you're looking to go with a tried-and-true manufacturer.
If you're looking for the TV that's going to be your mainstay and are willing to spend a little, there are a few things to keep in mind. At this price point, you're going to want to go for 4K (we're just gonna use that term throughout the rest of this article, because Ultra HD sounds like what the latest Street Fighter game would be called). Secondly, you should aim for larger size over other doodads — you'll always appreciate a bigger screen more than having QBL, or Quadprocessor Bifurcated Lensing, a term I just made up. Finally, if you can swing it, get HDR, or High Dynamic Range, which is a buzzword that basically means being able to show more colors at brighter and darker levels. Here are three great TVs for under a grand.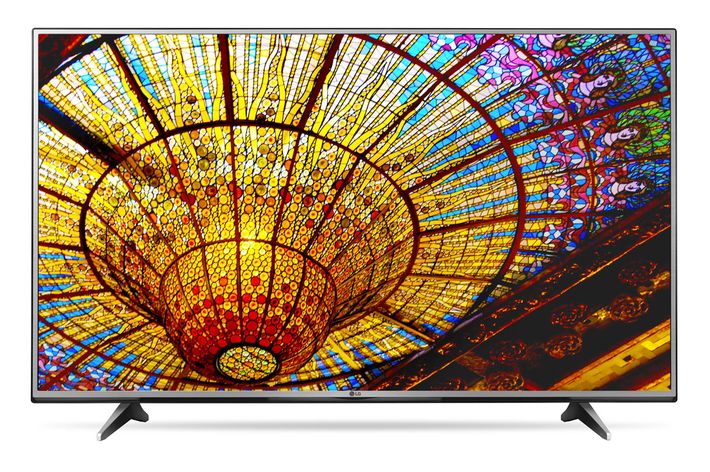 If You Buy a Honda Civic Every 7 Years: LG Electronics 60UH6150 60-Inch 4K Smart LED TV
$997.00
The LG 60UH6150 gives you everything you want in a modern large-screen TV. It's got 4K resolution, which may not do a ton for you right now, but which you'll enjoy a few years from now as more and more providers start moving over to higher resolution. It's got HDR, which is most noticeable during dark sequences in movies and TV shows — no more boosting the brightness on your TV during a night scene. It comes with WebOS 3.0 smart TV interfaces, which, of the smart-TV operating systems I've used, is the most intuitive and least annoying. And finally, it's got a wide axis of viewing, which is a fancy way of saying you can look at it from nearly anywhere in a room and it won't look like a laptop screen tipped too far back.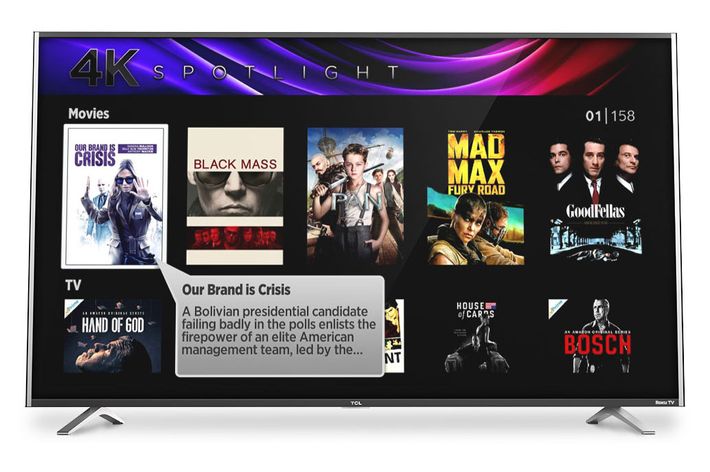 If You Really Don't Want to Mess With Cable TV Ever Again: TCL 65US5800 65-Inch 4K Roku Smart LED TV
$999.99
This TCL is a lot of TV for a relatively little amount of money. The out-of-the-box Roku functionality really can't be overstated — having Roku be the primary interface with your TV is the best option out there right now. Plus, Roku will highlight 4K streams for you, making it easier to find things to watch that will let you internally justify buying a 4K TV. And unlike its smaller cousin above, this model has a direct ethernet input, which you'll want, since streaming 4K requires a pretty dang fast connection, and a wired connection is always going to be faster than a Wi-Fi one. The downsides? No local dimming, which is a TV-nerd term for making dark parts of the screen darker, and no HDR. Still, for a 65-inch TV that does this much for you, it's a bargain. (Note: If you're willing to live with a smaller screen, the TCL 55P130 55-inch Roku TV is also quite good, $300 cheaper, and comes with a Roku remote you can plug headphones into — a great addition if want to watch something loud without annoying everyone else in your home.)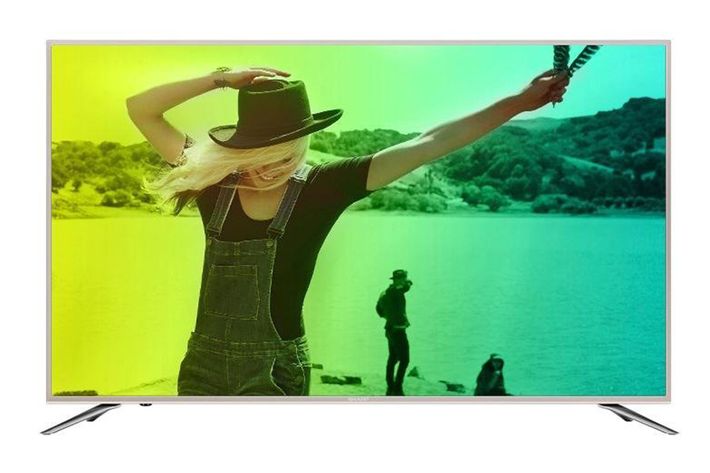 If You Buy 25-Pound Tubs of Peanut Butter at Costco: Sharp LC-65N7000U 65-Inch 4K Smart LED TV
$997.00
Sharp is a bit of a wild-card brand right now. The Japanese manufacturer announced in 2015 that it would stop making Sharp-brand TV sets and outsource the work to the Chinese manufacturer Hisense, while still selling the sets under the Sharp brand name. That said, the TVs being made by Hisense and marketed as Sharps are racking up high marks for image quality while still not wrecking your bank account. The Sharp LC-65N7000U comes with 4K resolution, HDR, and local dimming, all of which means that everything you watch on it is going to look very good, particularly in dark scenes. Its built-in sound system has also scored high marks with reviewers, meaning you can possibly avoid spending on a sound bar. It comes loaded with smart-TV functionality, but having messed with Sharp's smart TVs at CES, I'd say you're probably going to want to find a set-top box instead. Still, if you're looking for the biggest TV with the best picture under $1,000, the Sharp is the best option out there.
For
Under
Warren
Buffett's
Net
Worth
If price isn't a concern for you and you're looking to buy a new TV, you're in luck. After a few years of TV tech plateauing, the last two years have seen significant leaps forward in image quality and form factor. If I were in a Brewster's Millions–type scenario, these are the TVs I would buy: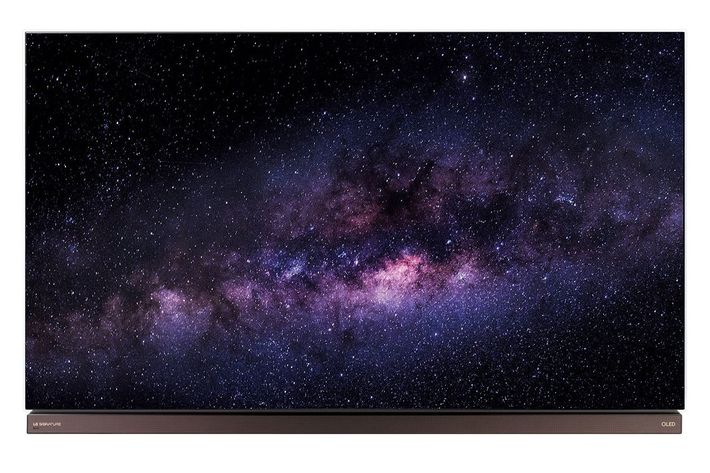 If You Regularly Slip $100 Bills Into People's Hands for Better Service: LG Electronics OLED65G6P Flat 65-Inch 4K Smart OLED TV
$7,997
LG is currently the only manufacturer making OLED (or Organic Light-Emitting Diode) TVs, which means that they are making the best TVs available. I could go on for a while about what makes OLEDs so neato, but the main thing to know is that OLEDs, unlike LEDs, don't use a backlight — each pixel lights up on its own. Think of a regular LED TV as being an extremely complex Lite Brite — a pixel on the screen is turned a certain color, and then light is shot through it from behind to illuminate it. Even if you insert a black-colored peg, it's still going to illuminate every so slightly from the light behind it. OLEDs, however, illuminate each pixel individually, no backlight needed. What this means in the real world is that dark colors are shockingly dark onscreen, because there's simply no (or very little) light coming from them, while bright colors seem to pop that much more in contrast. The jump in quality from an LED screen to an OLED screen isn't as jaw-dropping as when everyone moved from old-school SD to HDTVs, but it's close.
The G6P also comes with a host of other features besides its remarkable screen. It's incredibly thin — equivalent to the size of four credit cards. It comes with a built-in Harman Kardon sound bar that you won't need to replace — it produces hefty bass and clear sound in both the mid- and high-range. (Though, of course, there are always higher-end audio options — if you plan go that route, choose the EF9500 OLED that comes without a sound bar instead.) And while 3-D TVs of the past were rightly treated as a gimmick, the G6P's 3-D mode can be taken seriously. The combination of the high-contrast and high-detail resolution makes for a wildly better experience than the 3-D TVs of the late aughts and early 2010s. (You still have to wear those goofy glasses, though.)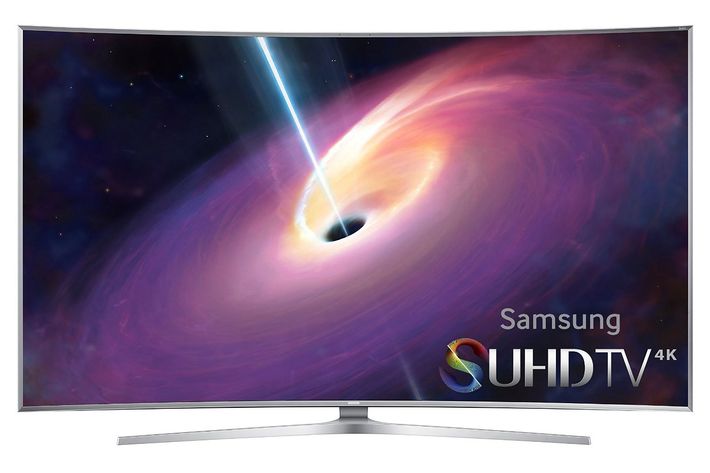 If You Refuse to See Anything Not in IMAX: Samsung UN88JS9500 Curved 88-Inch 4K Smart LED TV
$19,997.99
I'm not a huge fan of curved TVs — while they promise a more immersive experience with the screen expanding out into your peripheral vision, in my experience it usually just feels like watching, well, a curved screen. That said, at Samsung's CES floor show this year, this was the TV everyone was gathered around, and there's a good reason for that. At 88 inches, the screen seems to swallow you up, and Samsung's HDR and local dimming are incredibly quick and responsive, meaning the color contrast is sharp, and the dark tones are nearly as good as what you get with an OLED. At this size, watching anything feels like watching something in 3-D, thanks to the subtle difference in depth around you. It also comes with a 3-D option, which I wasn't able to try, but has gotten good marks. If you have your heart set on a curved TV, this is the set to get.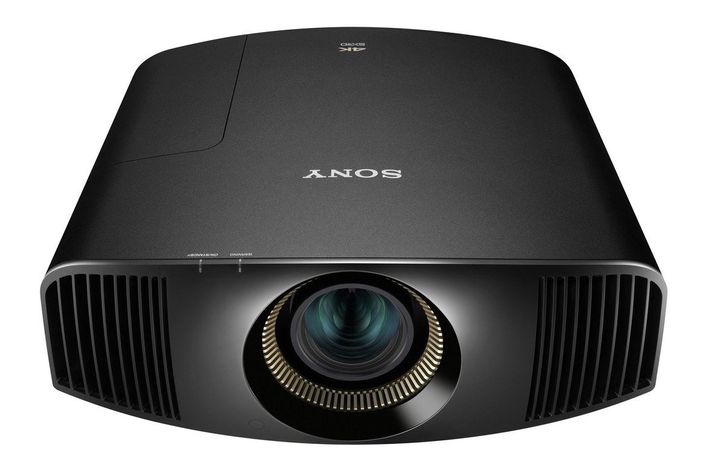 If You Dream of Owning Your Own IMAX: Sony VPL-VW350ES 4K Projector
$9,998
Projectors come with a whole slew of caveats. You're also going to need to get a projection screen. The lamps inside of them will burn out after a set number of hours (500 hours, and then a $499 replacement bulb in this projector's case). And you'll need to have a room with both a big enough wall and the ability to shut out external light to really take advantage of it. But if you can do all those things, you're rewarded with a truly massive screen: This can project an image up to 120 inches. And that extra size does matter — small details that the human eye just can't make out on even a 65-inch TV are suddenly very apparent on an 120-inch screen. The Sony VPL-VW350ES is actually the cheapest of the 4K projectors out there right now, but it's been well-reviewed across the board for having the best image quality. While you may be waiting a while for more 4K content show off on your 120-inch screen, in the meantime, you'll be getting the closest experience to going to the movie theater that you can have at home. The only downside is there's no celebrity trivia before the film starts.