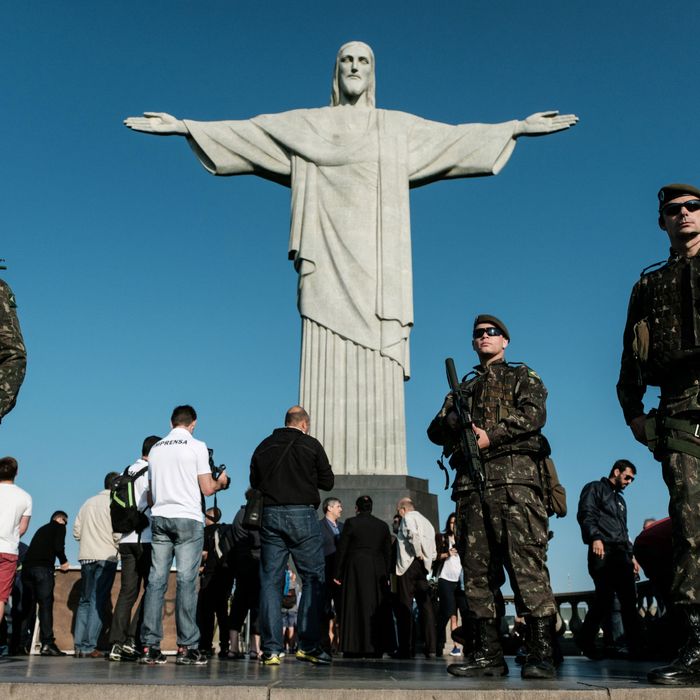 Brazilian army personnel patrol in front of the statue of Christ the Redeemer in Rio de Janeiro.
Photo: Yasuyoshi Chiba/AFP/Getty Images
If you only saw the headlines in the lead-up to the Olympics, Rio de Janeiro sounded like the lawless city from a postapocalyptic movie: "Wave of deadly gunbattles hit Rio as the Olympics get closer"; "Body parts wash ashore next to Rio Olympic venue." Glib listicles played up the threat of political unrest, terrorist attacks, Zika-carrying mosquitoes, and "super-bacteria" in the sewage-tainted bay. One writer used the term "disastrophe" to describe the situation and claimed that so-called "'lightning kidnappings' are nearly as popular in Brazil as feijoada" (a delicious bean stew). Another writer topped him with this analogy: "the global event equivalent of a fire tornado touching down on a killer bee sanctuary."
It was like the Olympics of hyperbolic Olympics scaremongering. Now that the games are on, the hysteria is already looking misplaced. This would have been clear enough to anyone who simply took a walk around the city. The last time I went, at the end of June, Rio was functioning more or less in its usual way: slightly chaotic but manageably so, albeit with fresh construction for the Olympics marring what is perhaps the world's most beautiful urban topography. Off of Copacabana Beach, I could see locals hopping waves — which suggested that concerns over the quality of the water might be somewhat inflated, too.
I should disclose here that I myself have taken part in the Rio-bashing. I moved to Brazil in 2010, back when the country seemed on the verge of becoming a world power, and watched as the Olympics became an excuse to funnel public money to rich campaign donors for not always useful projects. Still, even I have to admit that Rio has made dramatic improvements in recent years. Perhaps the most dramatic is that the homicide rate, while still appallingly high, has fallen by two-thirds since the 1990s. Even after a spike in murders this year, it's now less than half the rate in St. Louis, Missouri. And with 85,000 soldiers and police securing Rio for the Olympics, it's probably one of the safest places in Latin America at the moment.
So far, the most common complaint from journalists on the ground is that the logistics don't always work as they should. This may not be totally fair. I am no great fan of Rio's mayor, Eduardo Paes, but he had a point when he said, "Don't come here expecting Chicago, New York, or London." It's true that the city had since 2009 to prepare for the games. That was more than enough time to build stadiums, a few express bus lines, and a subway extension that, in typically Brazilian fashion, was inaugurated just days before the big event. But one reason Rio's bid for the Olympics won was precisely that it's a megacity with woefully lacking infrastructure, because the event might bring a "legacy" of public works. (Thanks in part to politicians like Paes, that legacy fell short, but that's another story.)
Some of the shock at Rio's casual disarray may owe to the fact that, not too long ago, all you heard about Brazil was how fantastically it was booming. Between 2002 and 2010, the economy went from being the 13th-largest to the 7th-largest in the world, and more than 30 million people rose from extreme poverty. Malnutrition is down by 80 percent. Obama was probably accurate to call Brazil's then-president, the former union leader whom everyone knows as Lula, "the most popular politician on Earth." And when Rio was awarded the Olympics, serious people thought Lula was not crazy to declare that "Brazil has left the ranks of second-class countries and turned into a first-class country." Alas, after he left office in 2011, prices for Brazil's commodity exports fell, government debt ballooned, and the economy finally plunged into what is now a two-year recession. Rio still had to host the Olympics, though.
Understandably, newcomers to Rio are also unsettled by the presence of favelas. These are the crowded clusters of dull-red cinder-block homes you see crawling up the steep hills by Ipanema and Copacabana. Many are ruled by drug gangs, and government security forces often go in as if entering Fallujah. For an outsider, it's hard to see the progress here. But the boom of the Lula years brought meaningful improvements to the quality of life in these areas. Though often described as slums, a lot of favelas now have regular garbage pickup, running water, internet access, and even a permanent police presence. Despite the persistent violence (from police and drug gangs both), many of their residents can best be described as working class.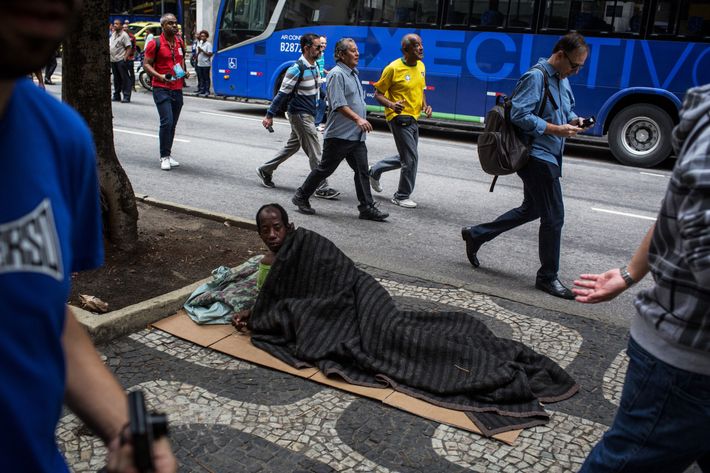 Of course, Brazil still has a long way to go in protecting and providing for its citizens. It takes a lot of progress to turn a poor country into a rich one, and progress is rarely linear. Amid the recession, the government of Rio has lately run into trouble paying police and doctors — an urgent situation, and one that spending on the Olympics has only worsened. But for all the recent gains to be erased would require a crisis of Venezuelan proportions. In this diverse economy with 200 million consumers, that's nowhere on the horizon. If the euphoria of the Lula years was excessive, the pessimism now almost certainly is, too.
One reason for this year's pre-Olympics panic is that it's much harder to tell the story of what's not happening. So it's hard for outsiders to know that Brazilians themselves worry far less about Zika — especially now that it's winter in Rio and transmission rates have plummeted. It's hard to know that the recent "political unrest," despite the implicit suggestion of impoverished hordes storming government buildings, is more peaceful than many Donald Trump rallies.
This is not to say that Rio has been trouble-free during the Olympics. On Tuesday, a bus full of international journalists was shuttling from one event to another when two windows shattered, and it's unclear as yet whether it was because of rocks or gunfire. That is legitimately scary. But it's still not quite at the level of the cataclysm foretold. There was a similar freak-out the last time Brazil hosted a major international sporting event. Ahead of the 2014 World Cup, various outlets warned of impending riots by mask-wearing "black bloc" anarchists. This never happened. The stadiums finished just in the nick of time likewise did not collapse on live TV. Nor was any American tourist taken hostage by drug gangs. The only obvious disaster was Brazil's 7–1 loss to Germany.
The problem with all this coverage is not that it focuses on Brazil's shortcomings. Brazilians themselves are often thankful for international reporting on issues that don't get enough play in the local press. The problem is that it sets such a low bar for safety and organization that, when expectations are inevitably exceeded, the event looks like a success. Brazil's leaders sold the World Cup as such, and a lot of people believed them. At the Rio Olympics, the mood began to shift soon after Friday's Opening Ceremonies. "We thought you couldn't pull this off," USA Today wrote — not so very long after it had warned of "death, destruction."
Now, as the focus turns to feats of sport, this narrow definition of success is set to take over. Anything short of "disastrophe" can be framed as a triumph, even as issues that will outlast the event itself — government spending, say, or policing for the people who actually live there — retreat into the background. And what should be a cautionary tale may end up as fodder for political ads. In a country where progress isn't easy to come by, that's the wrong kind of legacy.
*A previous version of this story stated that Brazil's economy quadrupled from 2002 to 2010, which, though true, does not account for local inflation.