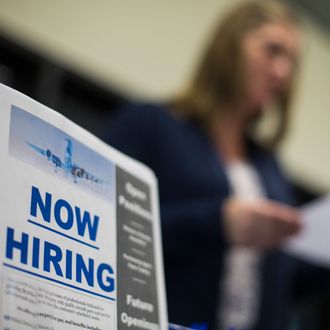 Photo: David Ryder/Bloomberg via Getty Images
The labor market maintained the momentum of a robust June and added 255,000 jobs in July, according to the Bureau of Labor Statistics. That number was significantly higher than expectations, which economists set at 180,000 job gains. The unemployment rate held at 4.9 percent in July, with the labor participation rate jumping a tenth of a percent, from 62.7 to 62.8 percent.
Today's jobs report also revised upward June's jobs report. Initially 287,000, the June jobs number is now 292,000. The May jobs number was also revised upward from 11,000 to 24,000. The U.S. economy has now gone a record 70 straight months with job growth.
It's yet another sign — along with, for example, rising wages — that the nation's long struggle to put the lingering effects of the Great Recession behind us might finally be drawing to a close. Will that give Hillary Clinton a tailwind heading into the fall, as the Democrat running on Obama's economic legacy? Time will tell.