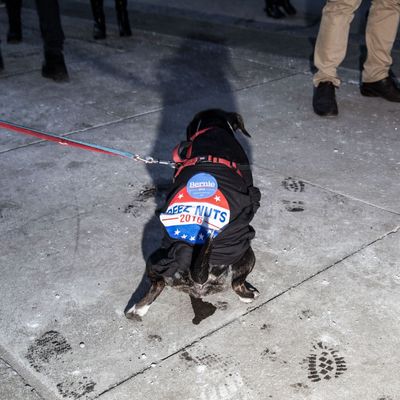 The dream of a Sanders-Nuts administration lives on.
Photo: Konstantin Sergeyev
On Friday, the Federal Election Commission delivered a devastating blow to Deez Nuts' 2020 presidential hopes. The 15-year-old libertarian-leaning independent pulled out of the 2016 race last August, but Nuts' platform of "fresher ideas" and vulgar puns has fertilized a movement that's outlived his candidacy — a recent poll showed Green Party nominee Jill Stein behind Deez Nuts in Texas.
Unfortunately, just as Nuts 2020 was starting to gain heat, the FEC issued an epic caucus block. In response to an "increase this election cycle in the filing of registration and statement of candidacy forms (FEC Forms 1 and 2) that provide patently false candidate or treasurer names," the commission has "authorized staff to send verification letters to filers listing fictional characters, obscene language, sexual references, celebrities (where there is no indication that the named celebrity submitted the filing), animals, or similarly implausible entries as the name or contact information of the candidate or committee."
With this decision, the FEC is going after a lot more than Deez Nuts. As Politico notes, the move jeopardizes the futures of other anti-Establishment candidates like Butt Stuff, Master Alexander Soy Sauce and Taters Gordh First, and America's first feline presidential candidate — and potential Nuts running mate — Limberbutt McCubbins.