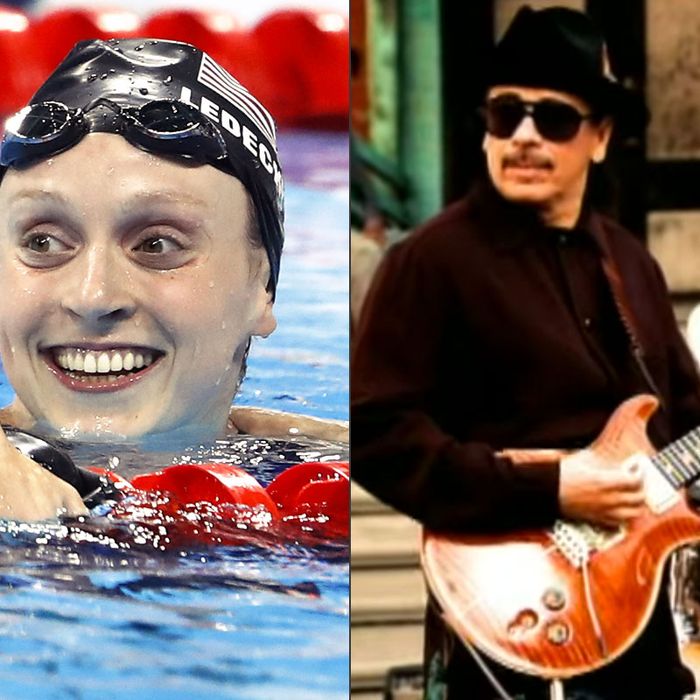 On Saturday night, American swimmer Katie Ledecky shattered her own world record in the 800-meter freestyle, with a time of 8 minutes, 4.79 seconds. The runner-up, Jazz Carlin from Great Britain, finished more than 11 seconds behind her.
Claiming the title with a world record is one thing, doing it in such a decisive victory over every other competitor is another. It's nearly unfathomable. On Twitter, Jimmy Donofrio figured out an ingenious way to illustrate the gulf between first and second place. "You get all the way to 'Man, it's a hot one' before the next swimmer finishes after Ledecky," he wrote.
The accompanying video showed Ledecky finishing, and then in the lower-left corner of the frame, began to play the music video for "Smooth," the smash-hit collaboration between Carlos Santana and Rob Thomas of Matchbox Twenty. Sure enough, the music video gets all the way to the iconic opening lyric, "Man, it's a hot one," before Carlin finishes in second. (Fact check: While the duration from the start of "Smooth" through MIAHO is 12 seconds in the music video, it is 18 seconds on the version included on Santana's 1999 album Supernatural.)
Unfortunately, you won't be able to see the video anymore, because "This Tweet from @JimmyDonofrio has been withheld in response to a report from the copyright holder." That copyright holder is presumably the International Olympic Committee, which licenses exclusive rights to film and broadcast the Olympics to select networks. In the United States's case, that's NBC.
A similar tweet from Matt Allaire illustrated that the gap between Ledecky and Carlin was enough time to hear the first lyric from Vanessa Carlton's "A Thousand Miles." You won't be able to view that clip either for the same reason.
By the time Donofrio's tweet vanished, it had been retweeted more than 22,300 times (it's difficult to gauge precisely how many people eyeballed it, but anecdotally, a tweet of mine with 8,700 retweets has so far resulted in 1.2 million impressions; make of that what you will). Needless to say, the tweet was very popular, because it was funny and inventive and provided a great frame of reference for people who might not otherwise care about the Olympics. It's better marketing than anything NBC has done for the past week and a half.
Now it's gone — because Twitter believes it to be a violation of copyright law — though not before the tweet went viral. As we noted earlier this month, the attempt to ban unauthorized video clips and GIFs of the Olympics hinges paradoxically on that content going viral enough to get the IOC's attention.
It is also pretty easy to argue that the video isn't actually a violation of copyright law! The Digital Millennium Copyright Act (ostensibly) protects the fair use of copyrighted works in ways that are transformative, meaning that they build upon the original work, and that are noncommercial. Donofrio's tweet, which combined two copyrighted works, was transformative — the song and video only work in combination. The video was also less than 20 seconds excerpted from an event which lasted 8 minutes. That's hardly the same as, say, posting the entirety of Usain Bolt's 9.8-second 100-meter dash.
But the thing that the IOC is clearly banking on, successfully, is that the internet moves much more quickly than takedown disputes do. Currently, Ledecky's feat is old news; the viral photograph of Usain Bolt is the hot new thing.
Per their copyright policy, if Donofrio were to dispute the takedown, here is what he would have to provide to Twitter:
1. A physical or electronic signature (typing your full name will suffice);

2. Identification of the material that has been removed or to which access has been disabled and the location at which the material appeared before it was removed or access to it was disabled (the description from the copyright notice will suffice);

3. A statement under penalty of perjury that you have a good faith belief that the material was removed or disabled as a result of mistake or misidentification of the material to be removed or disabled; and

4. Your name, address, and telephone number, and a statement that you consent to the jurisdiction of the Federal District Court for the judicial district in which the address is located, or if your address is outside of the United States, for any judicial district in which Twitter may be found, and that you will accept service of process from the person who provided notification under subsection (c)(1)(C) or an agent of such

 

person.
That's a lot of effort for one person to take against a large organization over a silly video. Twitter's response would likely take weeks or months, and the video would almost certainly not be resurrected until after the Olympics have long ended.
And that's not even mentioning the fact that it is to Twitter's benefit to privilege large multimedia partners over individual users. Keeping the IOC happy means that the IOC will continue to direct attention to Twitter (through official partners only). Today, the New York Times reports that Twitter is pursuing a livestreaming partnership with the NFL, in addition to the numerous other sports deals it's made. It's relying on sports organizations to drive user activity, and they will always take precedent, unless users want to fight them on principle. And who on Earth has the energy to do that?
In an odd way, our digital-media copyright mess results in a situation where it seems like everyone wins. Donofrio gets to go viral, the IOC gets some attention for an amazing Olympic moment, Twitter gets to prove to content partners that it cares about their intellectual property, and the rest of us get to listen to "Smooth."