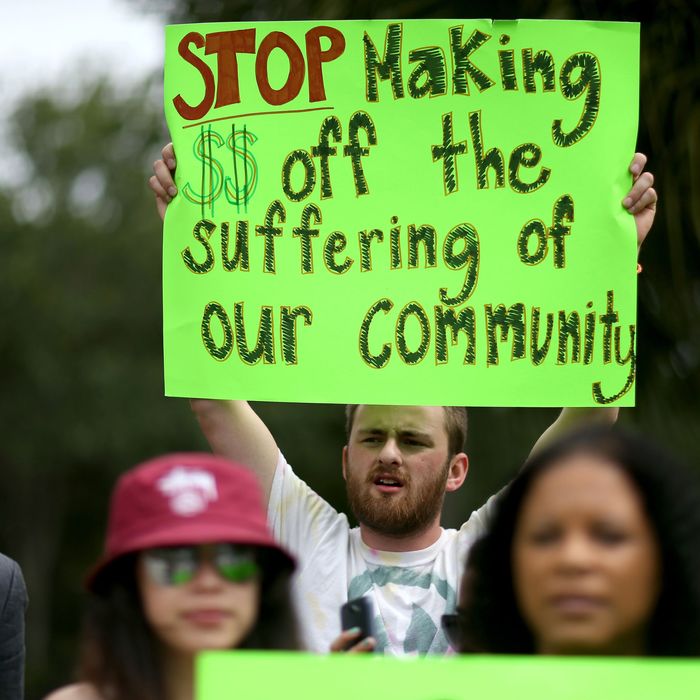 A modest proposal.
Photo: Joe Raedle/Getty Images
Last week, the Justice Department's inspector general released a damning report on private federal prisons. The IG's office concluded that private facilities experience higher rates of assault among inmates — and provide lower-quality services and rehabilitative programs — than government-run penitentiaries.
Despite the report's troubling findings, few expected the DOJ to swiftly curtail its use of for-profit incarceration. This is far from the first time that a study has shown the government getting less bang for its buck when it farms out public services to private contractors. And the private-prison industry is a multibillion-dollar business, one that has donated $10 million to political candidates since 1989, while spending $25 million on lobbying.
But on Thursday, Deputy Attorney General Sally Yates announced that the department will decline to renew its existing contracts with private prison operators and/or "substantially reduce" the scope of those contracts. In a memo obtained by the Washington Post, Yates wrote that the department is "reducing — and ultimately ending — our use of privately operated prisons."
"They simply do not provide the same level of correctional services, programs, and resources. They do not save substantially on costs," Yates told the Post. "They do not maintain the same level of safety and security."
The DOJ does not plan to terminate its existing contracts with private correctional companies, which currently run 13 federal facilities. However, all those contracts will come up for review within the next five years.
The decision will not affect the vast majority of private prisons in the United States, most of which are run on the state or local level. And even on the federal level, the Department of Homeland Security maintains more private facilities than the DOJ.
Regardless, the move could inspire other agencies or state and local governments to follow suit — a point that hasn't been lost on those who profit off mass incarceration.
Say a prayer for the prison magnate in your life.