On a tropical night in mid-July, Taylor Fritz and Frances Tiafoe, the most touted and perhaps most promising pair of American teens since Pete Sampras and Andre Agassi, played back-to-back first-round matches at the Citi Open in Washington, D.C. How did they get here? Fritz, whose game was meticulously laid out and cultivated in an affluent San Diego suburb, is the son of tennis pros. Tiafoe, the son of African immigrants with no interest or background in the game, was introduced to tennis by happenstance, when his father was hired as the custodian at a tennis academy in suburban D.C. The last wave of American dominance over the sport in the men's tour, in the 1990s, was by the sons of immigrants, but Fritz is from old money, the great-great-grandson of David May of the May Department Stores Company, founded in 1877 during the Colorado silver rush. Tiafoe's father survived more than three years in the ­diamond mines of Sierra Leone before emigrating 28 years ago. The case-study comparison is impossible to resist, especially with both set to make splashy entrances at the U.S. Open.
An intriguing question is whose background will give him the edge, particularly since in tennis, the relationship between money and the will to prevail is particularly shaky (whatever you think of the sport's relationship to white-sweater privilege). Jimmy Connors came from the wrong side of St. Louis, Andre Agassi was the son of a Vegas casino employee, and Dijana and Srdjan Djokovic gambled all on the groundstrokes of their firstborn, Novak. Yet no one has ever stepped on an opponent's neck as dispassionately as Rafael Nadal, who grew up comfortably in Manacor, or competed as rabidly as John ­McEnroe, who went to high school at Trinity.
But wealth and class aren't the only things that separate Tiafoe and Fritz — or even the most important things. The ­contrast in their training is the aspect of their backgrounds that most interests the tennis world. Tiafoe came up through institutions, first the Junior Tennis Champions Center and the USTA — the sport's equivalent of foster care. Fritz received his education in the only way that has ever been shown to work — if not consistently, at least occasionally, the odds on greatness always being long — which is when the curriculum is conceived and overseen by a manic, obsessive, ingenious, and borderline-certifiable tennis parent. Mike Agassi is the patron saint of this cult — he taped a paddle to Andre's palm when he was strapped in a high chair, then built his backyard court, put 11 ball machines on one side of the net and Andre on the other — but he was preceded by Gloria Connors and followed by Richard Williams. In this respect, Fritz, who enters this week ranked 54th to Tiafoe's 123rd, is more the model success story: From Jimmy to Andre to Serena and Venus, the best Americans have been shaped and warped at home. Even Sampras, the best male American of all, wasn't shipped off to an academy early on but entrusted to the inspired autodidact hacker Pete Fischer. Of course, Fritz is no longer at home, having relieved his father of coaching duties shortly before turning pro at the end of last year, then reinforcing the break from his childhood, and parents, by marrying his first serious girlfriend (and fellow 18-year-old) Raquel Pedraza. By contrast, Tiafoe, also 18, remains close with his father, who'd long been known as ­Constant, but several years ago changed his name to Frances Senior, presumably to honor his son.
And then there are their games, which couldn't be more different. What stands out about Fritz, along with his height (six-foot-four) and looks (Paris Match and the Daily Mail have already put him in fashion spreads), is how cleanly he hits the ball. The service motion, modeled on Pancho Gonzales and Sampras, contains no hitches, hesitation, or gratuitous drama, just a couple of bounces, a shallow dip, and go. His backhand and forehand, with their quick, curtailed backswings and powerful follow-throughs, have the same streamlined aesthetic — "Small in back and big in front," according to his uncle and backhand guru Harry Fritz. Everything is pared down, efficient, and repeatable, and because the shots are hit a fraction sooner than expected, their impact exceeds the apparent effort, and isn't that what good breeding is all about?
Also Samprasian is his calm under pressure. That night at the Citi Open, Fritz's opponent, 31-year-old Israeli journeyman Dudi Sela, earned seven break points, and Fritz blithely erased them all, often with an ace. At the end of last year, when he won two Challengers in a row to begin his rapid ascent into the top 100, he saved 47 of 51 break points, which by his own measure was "insane." His issue is his relative lack of speed — Fritz is neither slow nor ungainly, but as Brad Gilbert, former world No. 4 turned coach and commentator, puts it, "He's not exactly a gazelle," and in a sport dominated at the top by extraordinary movers, that could be a problem. Nevertheless, in front of the sparse late-night D.C. crowd, depleted by an afternoon thunderstorm that pushed back starting times by more than two hours, he quickly overpowered Sela 6-4, 6-3.
It was so late when Tiafoe took the court with his 55th-ranked French opponent, Adrian Mannarino, that, along with player introductions, the umpire announced the final times for the metro and shuttle buses. If there had been 200 people in the stadium when Fritz dispatched Sela, there were half that now. All but a handful knew the local Tiafoe personally, and you could feel and hear how much they cared. The groans at his missed shots were louder than the cheers for his winners. Even at this hour in a near-empty stadium, Tiafoe, called "Big Foe" by his friends, had great presence and seemed bigger than his listed six-two, 170 pounds. There is theater in everything Tiafoe does, but most electric is his quickness — he flies around the court like a squeakier, more staccato Federer, and the pause between the time his feet stop moving and when he hits a shot is just as pronounced. What's problematic, at this point, is his technique. "All his shots," says Gilbert, "are a little bit different." On his forehand, a ferociously live arm generates enormous racquet speed and topspin but requires a far wristier and loopier swing than is normally seen on the ATP tour, and on long rallies, you can feel the crowd's anxiety that the next huge cut will produce a shank. Conversely, his backhand is shoveled back flat and his serve is mostly arm. But as Gilbert points out, you can sweat technique, but you can't fix speed, which is why most observers believe Tiafoe, who lost the match 7-6, 7-5, has the higher ceiling. Says longtime San Diego teaching pro and former tour player Woody Blocher, who began ­working with Fritz when he was a kid, "Tiafoe is a beast. If he doesn't make top five in the world, something's wrong."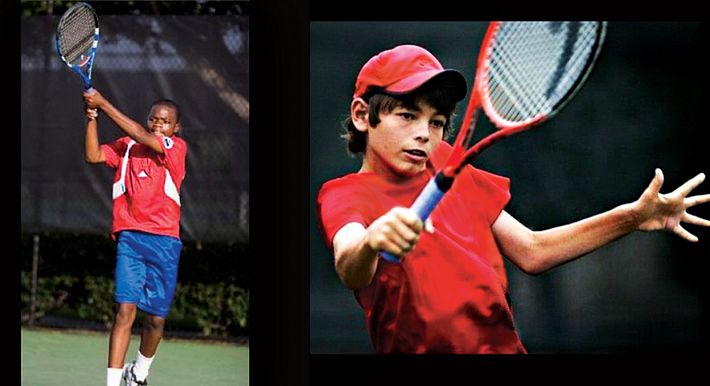 The sprawling 7,000-square-foot Spanish-style hacienda in Rancho Santa Fe, where Taylor Fritz was raised, is down to one permanent resident and on the market. Taylor, accompanied by his wife of six weeks, has followed the tour from D.C. to Toronto. His mother, Kathy May, a tall, elegant woman once ranked eighth in the world and still, by a large margin, the most accomplished athlete in the family, moved out in April, and the shelves that were lined with her son's trophies are bare. All that's left is Guy Fritz, and over the next hour and a half, in what is less a rant than a weary monologue, tinged with grief and pride, he describes how he devoted himself to Taylor's game for 17 years, only to be dismissed with his son on the brink of the pro tour. Fritz calls his father "a pretty hard critic on my tennis game," in trying to explain the split. "That is something I wish could have been different, because I'm the type of player that builds off confidence and someone telling me all the right things I'm doing and not someone telling me all the wrong things." But, he acknowledges, "you need someone who is going to be tough on you and tell you the truth."
"From the time he was born, all I thought about was making him a champion," says the 66-year-old Fritz, who sits across from me in the stripped living room in rumpled tennis shorts and shirt. "Every day, I thought, What can I do to get this kid better?"
Guy, six-foot-six, who played college basketball and didn't focus on tennis till 19, had Taylor on the court at 2. "At 2 and a half, he was unreal," he says. "I'd show you the films, but my wife took everything. I would stop him after 100 balls. Then at 4, he didn't want to play anymore."
Fritz pauses to let the enormity of the crisis sink in.
"So I've got this problem. Do I push him, like Mike Agassi? No. I lay off. I act like I don't care, even though it's killing me. Four becomes 5, becomes 5 and a half, becomes 6. Now I'm panicked. He's 6 and a half, and I can't get him to play. What can I do? I look at his friends. Because he is almost like an only child" — his mother has two older children from an earlier marriage — "he relished his time around other kids. Any group sport, you couldn't keep him out of a game, so I talked to about four or five of the parents of his friends that were the good athletes and asked if they would like their kids to get a month or two of free tennis lessons. I already had a reputation as a pro, and they all said yes. We're playing these fun games, and Taylor hears it and comes out of the house. Now he's 7 and hasn't played more than once a month in years. 'Dad, what are all my friends doing here?' 'They want to learn tennis.' 'Well, I can beat them.' 'I'm sure you can beat them, Taylor, but this is a clinic and they all want to learn and you don't want to play, so go back in the house.' He heads back into the house — by now, he already had a bit of an attitude."
After a digression or two about the perils of computer games, crap food, and the fact that his ex-wife was never on the same page with him about any of that, it's back to the story. "After we're done on the court, I take the kids on the grass to play football and Taylor comes out again. By now, Taylor has tears in his eyes. It was tough, and he stood there watching these kids having fun and I guess his computer didn't look so good. At dinner that night, Taylor says, 'Dad, I want to join the clinic.' 'Are you sure about that? You can't disrupt it.' 'No, Dad, I'm sure. I want to be in that clinic.' "
Having finally gotten him back on the court, Guy began to lay the foundation. "I blueprinted his strokes for the modern game, to hit the ball big, to have weapons, to serve big." Because Taylor, even as a child, had limited tolerance for paternal input, Guy relied on a roster of intermediaries and surrogates. Those included Woody Blocher and brother Harry Fritz, both former tour players turned teaching pros, and Teutonic hardass Christian Groh, who made his reputation working with Tommy Haas. "If Taylor ends up No. 20 in the world, he will have grossly underachieved," says Groh in German-accented English.
In the summers, Guy put up a succession of local college players and allowed them to give lessons on the court in exchange for playing and befriending Taylor. While his peers were in academies or moved to Florida in their early teens to work under the USTA at its training center in Boca Raton, Taylor had his game developed almost entirely in the backyard with little outside input. The family never even joined a local tennis club.
"My strokes come from a lot of different people," says Fritz in a quiet corner of a Marriott lobby a couple nights before his win over Sela. "I personally take credit for my forehand. My uncle helped me a lot with my backhand. My dad taught me to serve, and Woody helped fine-tune them and made sure they never got messed up. Because when you're 10, 11, 12, 13, you see all these strokes and you want to copy them. And it's not easy to keep what you started with, if that makes sense."
In spite of his issues with his father, Fritz acknowledges the quality of his early instruction. "When you're a kid, you don't know what's right and wrong, so you kind of just have to listen to what they tell you, and I'm just fortunate that I had people around me who knew what they were talking about. A lot of coaches that I've encountered with other people, I'm like, 'Wow, I'm really glad that guy didn't teach me how to hit the ball.' "
Guy Fritz is the son of a Las Vegas casino manager. Taylor's mother, May, grew up in Beverly Hills, where her family was L.A. aristocracy and she was taught the game by legends. As a young girl, she was coached by Pancho Segura, and before she went pro at 18, the reins were turned over to former world No. 1 Tony Trabert, who coached her until she retired at 24, in large part, she says, because life on tour was so lonely.
May says she often hit with her son and gave him pointers, but when things got increasingly contentious between Taylor and his father, she made the decision to step back and become more of a parent. She encouraged her husband to do the same, but he couldn't. "I know it's very painful for him and he wishes he was more involved, but I told him a long time ago that Taylor should get another coach. He just felt like he was the best coach and cared more than anyone, which is true."
Taylor says that over time, his parents' roles evolved into something like good cop–bad cop, but on the subject of her son's tennis, May doesn't sound all that warm and fuzzy herself. She tells me that when she was a touring pro, she and Trabert often dissected matches together, but that Taylor, to her chagrin, has little interest in watching tennis or in the history of the game or in analyzing his own play to determine how someone could have beaten him and how to beat that opponent the next time.
When I ask Taylor whether he remembered the first time he beat his father, he says, "It was probably about 12 or 13.
I really wanted to beat him because he had always cheated me."
"Really?"
"Yeah, he hooked me for sure."
"Why would he do that?"
"He didn't want to lose." He pauses. "And I think he wanted to make sure I kept working."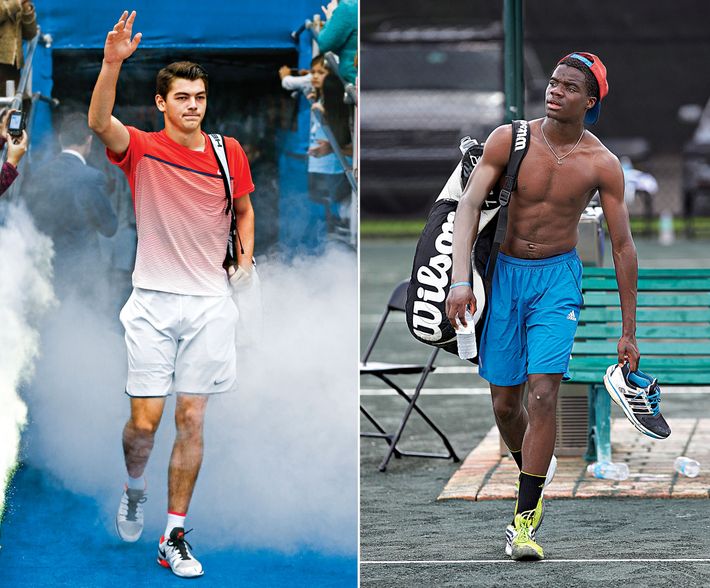 Tiafoe and Fritz have played five times, the first three as juniors, with Tiafoe winning each match; he also won their first professional match together, this spring in the first round at Indian Wells. Fritz, like many others, thinks of the tournament, in the California desert a couple hours from his childhood home, as the most important in tennis after the four majors, and called the loss his bitterest as a pro. "There was a lot of added pressure because that was the first time I played him since I started playing well," he says. "Every time I'd played him before, I had gone in as a huge underdog, and this time a lot of people were actually expecting me to win the match. Whether I was thinking that in my head — it's still Frances, and I've never beaten him. So I had a lot of expectation. This is my time and I wanted it so bad, and he was still too good for me. What can I say?"
"Well, you're beating him big-picture at the moment," I point out.
"You could argue what's more important. Obviously, pride is important too."
"Do you expect him to be one of your big rivals in the future?"
"For sure. The rivalry is already there."
"When we step on the court, you can feel the tension," confirms Tiafoe in our first interview, by the racquet stringers in the players' lounge in D.C. The match may have been even more important to him, by far the more celebrated junior, because, as he explains, their relative statuses had recently flipped. "He was really under the radar," says Tiafoe, his deep-voiced, slang-heavy delivery punctuated by the same gap-toothed smile he often flashes on court. "He wasn't really that good, then in the 14-and-under hard court, he won a couple matches — nothing serious — and then he had the breakthrough in 2013 when he made the finals in Tulsa, beating a lot of good players, and everyone was pretty surprised. We thought it was a one-week thing, he would return to Earth, but then he wins another and became one of us. Then he bumped it up to the next level and started playing even better and better, and now he's in the top 100 and he's the man these days."
Tiafoe and Fritz split the first two sets before Tiafoe got the key service break late in the third. After serving out the match on Indian Wells's stadium court, the ­second biggest in tennis, Tiafoe, made for the large stage, mimed spooning soup like you often see basketball players doing to celebrate, and leaned into the camera, writing with a Sharpie directly on the lens, big foe on the come up. "You always see those guys writing on the camera, and that was my first chance. In the locker, everyone gave me crap for it. I thought it was pretty funny though."
On August 22, in the run-up to the U.S. Open, they faced each other again, in the first round the Winston-Salem Open. The match lasted just over an hour, and this time, finally, Fritz won, 6-1, 6-4.
Given Fritz's aristocratic tennis lineage — his game passed down on a backyard court in Rancho Santa Fe, just as it was passed down to his mother on a backyard court in Beverly Hills — there is something biblical about the miracle of Tiafoe's tennis nativity. Just Photoshop out a straw-filled manger and replace it with a spare office in College Park, Maryland, at the Junior Tennis Champions Center. Tiafoe may not have been born there, but from 3 and a half to 11, it was where he often spent the night with his twin brother, Franklin, and his father, who had so distinguished himself as a day laborer during the site's construction that he was offered the job as the center's ­custodian. "If I can outwork 50 or 60 Spanish people, I think I did a lot of work," says Frances Sr., who, at 54, is thin and fit and still wears his long hair in dreads.
Tiafoe couldn't tell you the first time he held a racquet or hit a tennis ball or stepped over a court, because all those milestones occurred pre-memory. Fritz may have had a spotlit hard court outside his backdoor, but Tiafoe had 30 outside his, along with top-notch coaches and competition. But as I watched Tiafoe practice and play in D.C. and viewed online his battles in the Challengers in Lexington and Granby, Quebec, I was as puzzled as I was transfixed by his funky game. Given that he grew up on the campus of one of the best academies in the country, shouldn't his strokes be as immaculate and anodyne as any other top junior? It turns out that for the first half-dozen years of his tennis life, at least, Tiafoe was on his own. He got up, grabbed whatever racquet he felt like borrowing that morning from the pro shop, and wandered the grounds. He stood on the sidelines as other kids got lessons. He watched matches on the TV in the lounge, which was always set to the Tennis Channel, and tried out what he observed on the concrete wall just outside the gym, where, according to teachers and former students, ­Tiafoe routinely spent six to eight hours rallying with himself, devising an endless series of games and drills and challenges to stave off boredom. In the evening, when the paying and scholarship students went home, he set up camp on an empty court and hit serves, and in between, according to Frank Salazar, who coaches the academy's elite players, "he would play anyone with a pulse."
"In the beginning stages," says Tiafoe, "I was just watching. I learned a lot from mimicking things and seeing little things. The next thing you know, I started to understand the game pretty well. One thing leads to another. I really studied a lot … watched a lot of film. Obviously, I didn't have coaches or anything like that."
Early profiles describe the young Tiafoe as a sponge, quietly taking in everything he sees and hears, absorbing the details and nuances of the game 24/7. It's a good thing, because he wasn't getting much formal instruction from anyone else. According to 21-year-old Luca Corinteli, also a product of the JTCC and now a UVA senior who plans to turn pro next year, the reason Tiafoe's game still looks other than textbook is that in the critical early stages of his development, he was essentially self-taught, and those lessons were imprinted by hammering countless balls against a wall.
At the JTCC, players deemed to have the most promise are placed in what's often called "the program" — the AA-sounding name for the accelerated track, where players receive the most intensive instruction from their best coaches. Almost without exception, the players who go on to excel at an elite level are placed in the program immediately, but according to Denis Kudla, another JTCC alum, now 24 and on the ATP tour, that was not the case with Tiafoe. "Tiafoe was barely in the program, not even in the ­program. He was just there, the son of Constant; everything he learned was him."
The first adult to see promise in Tiafoe was Misha Kouznetsov, a 24-year-old Russian coach, who began teaching at the academy when Tiafoe was 8.
Impressed by Tiafoe's hunger for the game, Kouznetsov began working with him before and after his workday. Over the next half-dozen years, under his tutelage and support — Kouznetsov often paid the entrance fees for Tiafoe's first tournaments and turned his own girlfriend into an unofficial tennis mom. Tiafoe cut a swath through local and later national junior tennis, but by then he had already to a large degree fashioned his own game. As a result, he has had to have his technique "cleaned up" at least three times in the last decade — first by Kouznetsov and then, when he was finally brought into the program, by Salazar, and now under the USTA's Jose Higueras and Nicolas Todero. "I don't think it's too drastic," says Tiafoe about the changes, but he concedes that at crunch time, it's almost impossible not to revert. "Whatever can help my game — one percent here, one percent there. It's all for the long term, but when you go back to the match, you're going to do what you do best. It's hard to say, 'Let me turn more at 5-all, 30-all.' "
Unlike Fritz and many of his peers, Tiafoe chose this game for himself, and the endeavor was as much entrepreneurial as athletic. "I thought about it going to sleep at 8, 9," he says, comparing his own experience to his father's ascent in the construction business. "I thought this game could be for me. I thought I had pretty good talent. What else am I going to do?" When he shared his outsize ambitions with his father, he recalls, Constant said simply, "Why not?"
Unlike Fritz, Tiafoe didn't have the luxury of being a late bloomer. "I felt like there was
no way out maybe. Thought I always had to be the best. There was no opportunity, so really
I felt, especially when I was younger at those national events, I was competing so hard just to get noticed. I knew I wanted to play tennis. I was pretty good at 12, but I needed help, so I really needed to win matches. Obviously, when you feel financially set, okay, now you can worry about your game and getting better. Early on, I couldn't think about that."
Last year, Tiafoe, like Fritz, cut loose the coach, Kouznetsov, that did the most to shape his game and put him on the map. A lot of young players do the same, finally feeling strong enough to declare independence from the figures who have dominated their early lives, or, in the case of Tiafoe, jettisoning a young and emotional coach with little experience at the highest levels of the game for a strictly professional relationship with a cold-eyed ­veteran. But for Fritz, the decision was emotional and not at all easy. "It's tough saying 'It just isn't working' to the person who developed your whole game and who you wouldn't be here without," he told me in D.C. And Guy Fritz was, in his own right, a first-rate coach and very knowledgeable. Earlier, he had developed the game of CoCo Vandeweghe, a rising force on the ­women's tour, and he knows his son's game better than anyone. But he was unrealistic to think a teenager would ­continue to be receptive to what seemed like incessant critiques, and his fantasy of father and son out on tour together was hopelessly naïve. As Woody Blocher told me, "How often does that happen?"
*A version of this article appears in the August 22, 2016 issue of New York Magazine.