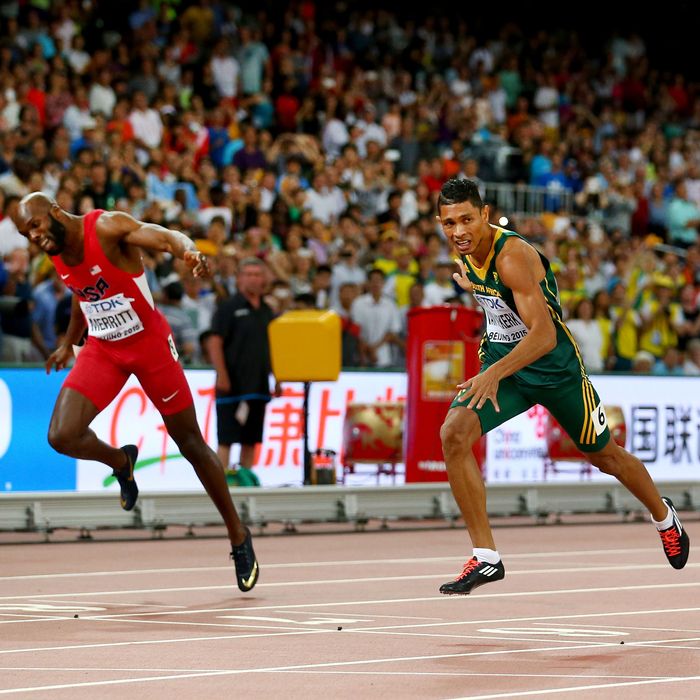 Wayde van Niekerk of South Africa (second from left) crosses the finish line to win gold ahead of LaShawn Merritt of the United States (left) and Kirani James of Grenada (right) in the men's 400-meters final during day five of the 15th IAAF World Athletics Championships Beijing 2015.
Photo: Cameron Spencer/Getty Images
The 400 meters is known as the most punishing event in track and field. At this year's Olympics, the men's race, with heats kicking off Friday and the finals on Sunday night, is also probably the most anticipated event on the entire track slate. It features three of the eight fastest quarter-milers in history, all at the peaks of their careers: Grenada's Kirani James, 23, who is the defending Olympic champion; the United States' LaShawn Merritt, 30, who is the 2008 Olympic champion; and South Africa's Wayde van Niekerk, 24, who defeated both James and Merritt in becoming the 400-meter world champion last year.
In the world championships in Beijing, a mere three-tenths of a second separated all three of them: Van Niekerk ran 43.48 seconds; Merritt, 43.65; and James, 43.78. For van Niekerk and Merritt, their times were personal bests. James missed his best by .04 of a second. It was the first time in the history of the event that three runners in the same race ran under 44 seconds. Van Niekerk's and Merritt's times were so fast that they would have won any Olympics 400-meter final since 1996, when Michael Johnson, the best quarter-miler in history and still the event's world-record holder (at 43.18), won the first of his two 400-meter gold medals.
"The fact that they're all competing in the same era in the same races in the same time frame is amazing," Harvey Glance, James's coach, told Daily Intelligencer from Rio. "We're watching something extremely special that probably won't be appreciated until they're all retired."
"You literally cannot call who's going to win that race," said Sanya Richards-Ross, a former 400-meter Olympic gold medalist in 2012, who also spoke from Rio. "You could potentially be on world-record watch if they really push each other."
Quarter-milers refer to the 400 meters as a "deceleration" race. One of the features that separates James, Merritt, and van Niekerk from the rest of their competition is their ability to minimize that deceleration. To do this, they have to nail their optimal pacing through the first 200 meters basically to the tenth of a second. "I don't think any Olympic gold medal or world championship has ever been won through the first 200 meters, but it's certainly lost a bunch of them," said Clyde Hart, the man considered to be the greatest 400-meter coach of all time. Hart, 81, now the director of track and field at Baylor University, was Michael Johnson's coach. But he also coached Richards-Ross to her gold-medal victory in 2012 and Jeremy Wariner to his in 2004.
"Patience is the biggest thing," Hart said from his office in Waco, Texas. The race lasts less than a minute, but in a sprint that feels like an eternity. "In the 400, you've got time to do a lot of thinking — and time to make mistakes." Van Niekerk, who is the purest sprinter of the three — he is the only one to have broken both 10 seconds in the 100 meters and 20 seconds in the 200 — is also the least experienced. The combination of those two factors makes him the one in the most danger of going out too quickly.
Essentially, the runners spend the first 60 meters of the race reaching top speed, and then the next 140 meters cutting back just enough to hit their target 200-meter time, which is about one second slower than they can run a flat-out 200 meters. A hair too fast, and they'll likely collapse down the stretch. A hair too slow and they might leave themselves unable to catch up. Ideally, they don't even think about the other runners for the first half of the race. They just try to nail their own pace. But that's easier said than done. Some runners spend an entire career trying to capture what Hart refers to as "the sweet spot."
"At 200 meters," Hart said, "the race starts."
Since van Niekerk and Merritt have remarkable speed over 200 meters, they are able to go out faster than James. (Merritt will be competing in this year's Olympics 200 as well.) Quarter-milers spend the second turn, or the third 100, getting into position in relation to their competition. In James's case, for example, this often means making up much of what he lost over the course of that first 200. Yet since all three have excellent finishes, the third 100 will in many ways be the most crucial of the race. In last year's world-championships final, van Niekerk came off the turn in the lead. Fans who had watched the great rivalry between Merritt and James over the four previous years waited for the pair to catch him down the home stretch. But neither could gain an inch on him. The position in which the three of them came off the turn was the position in which the three of them ended. Heading into this year's final, surely none of them will have forgotten that. The race may be 400 meters long, but whoever gets to 300 meters first could very well be the winner.
But inevitably in every 400-meter race, there comes a point just prior to the finish when the runner reaches a physical threshold, and his body, in response, begins to build up lactic acid, a biological defense mechanism that's supposed to operate as a signal to the athlete to slow down. Top 400-meter runners depend on an ability to run through that.
"When the body starts to experience lactic, you almost feel like you lose control of your function," said Richards-Ross. For the men, she said, this usually happens in the final 30 meters. "The body kind of freaks out. You feel the lactic in your glutes, in your hamstrings. You feel it in your quads. You're not able to bring your knees up as high. You feel like you have bricks in your legs." In Beijing, van Niekerk had to be carried off the track on a stretcher and treated at a hospital for exhaustion.
"Most athletes have run the 400 meters at least once," Richards-Ross said. "And most athletes never want to run it again."
The key in those final meters is not to lose his "form, technique, and focus," Glance said, referencing stride pattern, body lean, and arm action as three keys. This is why runners can look so deliberate and mechanical at that stage. For Merritt, Richards-Ross said, this is his biggest concern. All three have wildly different running forms. Van Niekerk's is a textbook display of proper running technique. Merritt looks more stiff and runs more upright than the other two. James is the least refined, his legs splaying flat-footed and wide as he runs. "No two humans are built alike," Glance said.
No two track events are alike, either. But as Richards-Ross said, "The track is 400 meters. It's made for the 400." Whether or not athletes are made for the 400, though, is still under debate.
David Gendelman (@gendelmand) is research editor at Vanity Fair.