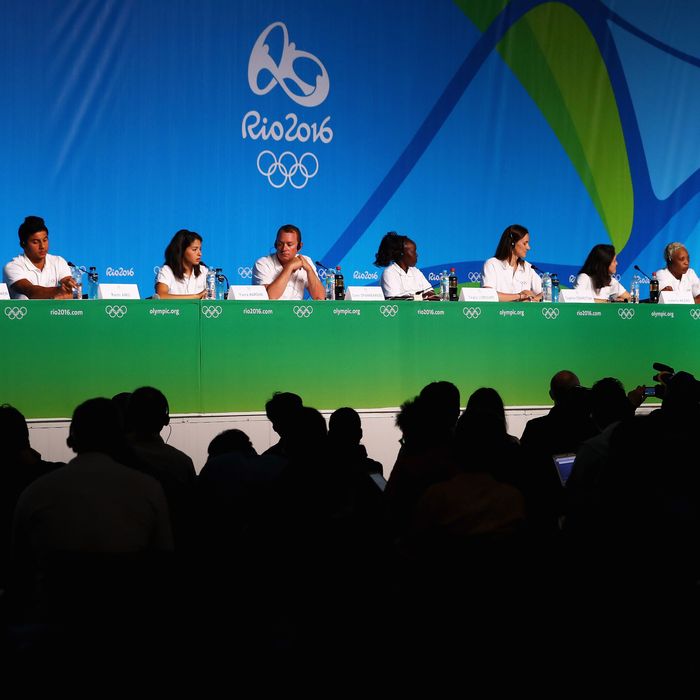 The Olympic Refugee Team.
Photo: Dean Mouhtaropoulos/Getty Images
A year ago this month, Yusra Mardini was swimming to save her life. The 18-year-old Syrian and her sister — among the 11 million people estimated to have fled the country since the start of the civil war in 2011 — boarded a boat to cross the Mediterranean into Greece when disaster struck. The boat's motor died. Mardini and her sister got out of the boat and pushed it to the shore. This year, Mardini will compete at the Olympics alongside nine other athletes who have fled their country in what has become the world's largest refugee crisis since World War II. They include Popole Misenga, an athlete from the Democratic Republic of Congo who defected to Brazil during the 2013 World Judo Championships to escape the country's ongoing war, and James Chiengjiek, a 400-meter runner who fled South Sudan to avoid becoming a child soldier at the age of 13.
The athletes, who will march into the Opening Ceremonies under the Olympic flag just before the Brazilian team, represent a first in Olympics history. In June, the International Olympic Committee announced that the first-ever all-refugee team would compete in the Rio Games. "These refugees have no home, no team, no flag, no national anthem," IOC president Thomas Bach said when the team was introduced earlier this year. "We will offer them a home in the Olympic Village together with all the athletes of the world. The Olympic anthem will be played in their honor and the Olympic flag will lead them into the Olympic Stadium. This will be a symbol of hope for all the refugees in our world, and will make the world better aware of the magnitude of this crisis."
They are a bit of welcome news for an Olympic Games already plagued by bad press. For months, the romantic ideals that the Games attempt to appeal to have been overrun by stories of pollution and corruption, political and economic upheaval, Zika, and the major corruption scandal involving Russian doping. There's no guarantee the refugees — most of them runners from South Sudan — will be the breakout stars of the Games, either. One of the harsh axioms of sports is that people often don't care about the sacrifices an athlete has made unless he or she is a champion. And these athletes have the cards stacked against them in so many ways: In stabler nations, they would have been trained from an early age by a series of coaches with significant experience on the Olympics stage. Instead, these athletes were forced to flee from their homes, with no comparative opportunity to spend their entire lives training for the event. Athletes in stable countries also have access to world-class facilities and resources — most of these athletes are training outside of Kenya in a former orphanage and trade school that only has one bench press and set of weights. They're rationed milk and sleep four to a room. Already, IOC officials waived some of the requirements needed for them to qualify for the Games.
Organizations that work with refugees are trying to build a network of support. Among them is Amnesty International, which is backing a project called Refugee Nation organized by refugees and their supporters to root for the team in Rio. One refugee has crafted a flag for the team; another has made them an anthem. It won't be the same as having an entire country to cheer them on, but Amnesty thinks it will send an important message. "This is a historic opportunity to help shape how the public thinks of refugees — and, ultimately, help change how governments treat them," says Eric Ferrero, Amnesty International USA's spokesperson. "We're in a historic refugee crisis worldwide, and most people don't understand who refugees are or why they've been forced to flee their homes. By the end of the Olympics, millions of people will have rooted for refugees and cheered them on — that's a huge turning point."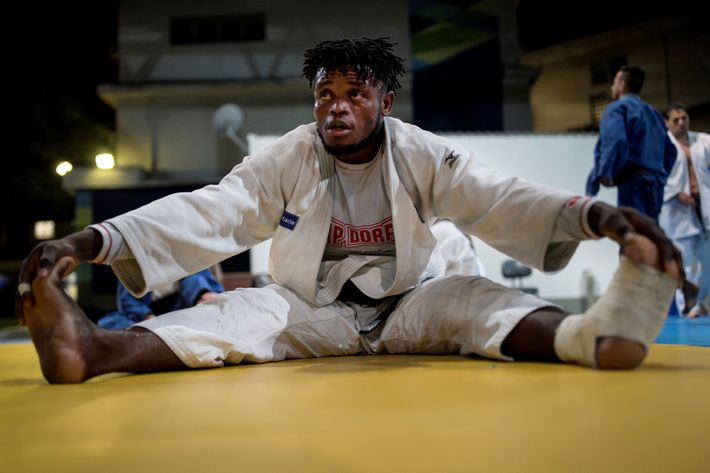 For the athletes, the political message clearly matters, too. "We are ambassadors for the other refugees. We cannot forget this chance that you gave us," one member of the refugee team, Yiech Pur Biel from South Sudan, said at a press event this week. He wanted to send a message with his participation in the men's 800-meter run. "We are not bad people. It's only a name to be a refugee."
At the press conference on Tuesday, many of the athletes conveyed that being celebrated on the world stage was in and of itself a victory. Even if they don't medal — and it's difficult to say how well they'll perform, given their varying levels of experience in world competition — their presence in Rio will still be worth a watch. Sometimes the most interesting athletes are the ones who don't win.