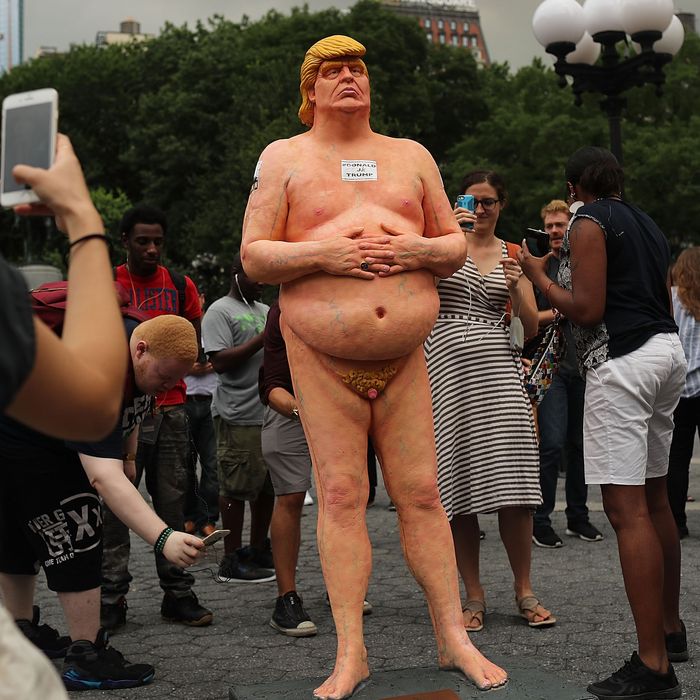 Naked Trump.
Photo: Spencer Platt/Getty Images
Donald Trump has inspired — or at least been a decent creative outlet — for plenty of artists, and Thursday brought America the latest pièce de résistance. Life-size statues of a completely naked Donald Trump rose in New York's Union Square, along with public spaces in San Francisco, Los Angeles, Cleveland, and Seattle. And yes, the artist buys into the whole "little hands" theory:
The project is called "The Emperor Has No Balls," and indeed Naked Donalds lacks those reproductive organs. The Washington Post reports that the anarchist collective INDECLINE commissioned the project, which was inspired by the Hans Christian Andersen folk tale The Emperor's New Clothes.
The sculptor is a Las Vegas–based artist named Ginger, who told the Post he specializes in making monsters for haunted houses and horror flicks. "I don't expect these things to last more than 30 or 45 minutes," Ginger said. "But I would love to watch some irate 65-year-old Trump supporter try to take the thing down with his bare hands."
In fact, Naked Donald Trump lasted about two hours in Union Square, according to DNAinfo, before being felled by Parks Department employees.
Crews ripped the scowling, pot-bellied Donald from the cobblestones — the statue's base was glued to the ground — but left one foot behind:
The workers threw Naked Donald into the back of the truck and carted him away.
The fate of New York's Naked Donald is unknown. Daily Intelligencer reached out to the Parks Department to find out, who told us: "NYC Parks stands firmly against any unpermitted erection in city parks, no matter how small."