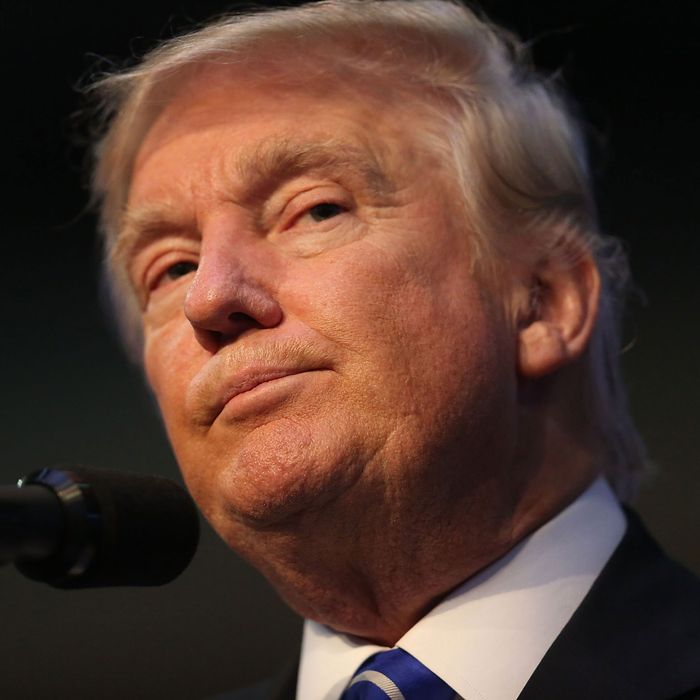 I'm fired.
Photo: Joe Raedle/Getty Images
As of Monday morning, the Republican National Committee's official Twitter account had not tweeted the words "Donald Trump" since July 28. In the weeks since, @GOP has tweeted almost exclusively about Hillary Clinton — much like the Democratic Party's official Twitter account.
If your only exposure to American politics was the last 18 days of the RNC's tweets, you might think November's election wasn't a race between two candidates, but, rather, a referendum on whether Hillary Clinton should be in prison.
Still, it's hard to fault the RNC for its arms-length approach. Trump hasn't provided his party's social-media team with much quality fodder in recent weeks. "Watch Donald Trump EVISCERATE the parents of a dead war hero #WrathAtKhan" probably isn't a message Republicans are anxious to disseminate. And, anyway, Trump doesn't need much help maintaining his Twitter presence.
But the RNC's social-media negligence could foreshadow a more significant abandonment of the flailing nominee. In recent days, pressure has been growing on the party to shift its resources away from Trump and toward down-ballot candidates worried about drowning in a Clinton landslide.
In an interview with Politico, RNC strategist Sean Spicer denied that the committee was about to reallocate funds away from its standard-bearer. Rather, Spicer suggested that they needed to milk Trump for more celebrity-fueled small-dollar donations before leaving him to die.
Spicer, asked Saturday night about the ongoing discussions, told

POLITICO

that Trump could not be cut off soon because the party needs him to raise more money. "When I've gotten these questions, I've been correcting the record. There is no talk of shifting resources in mid-August and it's unlikely that would happen until late September or

October."
To this point, the RNC has actually done more to boost Trump's candidacy than it ever did for Mitt Romney, according to GOP operatives who spoke with Politico. Since Trump has been unable to assemble any real campaign of his own, the mogul has relied on RNC staffers to do his door-knocking for him.
But with Trump trailing Clinton by double digits in some national polls — and publicly discussing the vacation he plans to take after he loses — the RNC is starting to lose patience. Trump may be able to go back to "a very good way of life," but not every down-ballot Republican is a billionaire who can afford to lose a cushy government job.
And despite daily coaching from RNC chair Reince Priebus, Trump has shown no sign of becoming a more disciplined candidate. In a meeting with his closest advisers last Tuesday, Trump vowed to stay on message from this point forward, according to the New York Times.
Hours later, he suggested "Second Amendment people" might have to do something about Hillary Clinton's Supreme Court nominees.