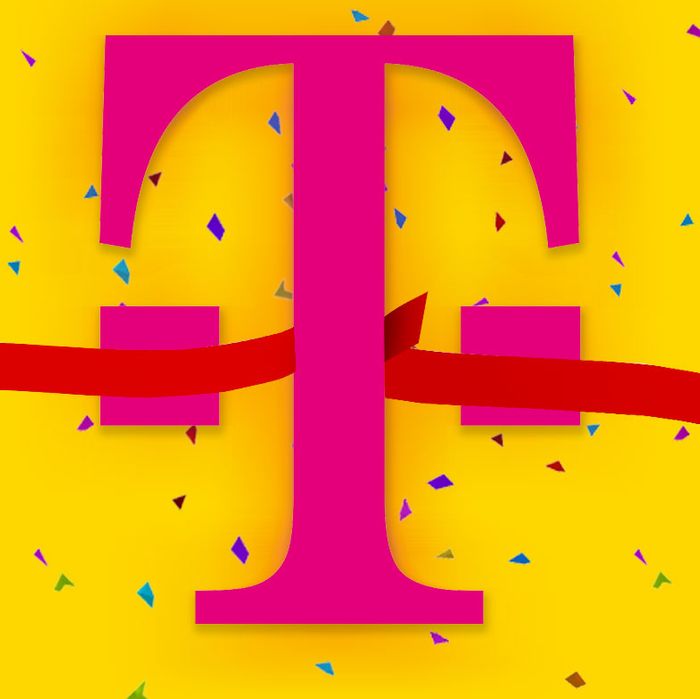 A few years ago, T-Mobile was a budget carrier being slowly squeezed out by the big two mobile carriers, AT&T and Verizon. But now, T-Mobile has leapfrogged over both to offer the fastest LTE downloads in the country, per a new study released by OpenSignal today.
Granted, it was a neck-and-neck competition between T-Mobile and Verizon, with T-Mobile hitting 16.3 Mbps on average, and Verizon right behind at average speeds of 15.9. AT&T saw speeds of 12.3 Mpbs, while Sprint lagged badly behind at 9.4 Mbps.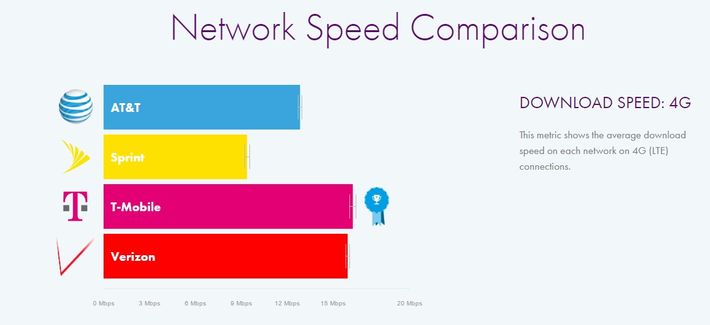 The speed difference was even starker for users here in the NYC area: T-Mobile users saw average speeds of 20.4 MBps, while Verizon customers saw 17.4 Mbps.
It's not a complete win for T-Mobile, however. Verizon customers were able to hop on LTE networks 85.6 percent of the time, while T-Mobile customers were able to find one 83.2 percent of the time.
The test was conducted by 120,586 users who had installed the OpenSignal app on their phone, which constantly monitored whether the phone was able to connect to a 4G or 3G network, and what the download speeds were for each networks.
T-Mobile was able to rapidly increase its speed and availability in a short amount of time thanks to large investments in both infrastructure and spectrum, especially in rural areas where it had traditionally lagged badly behind. The company was able to snap up 700 Mhz airwaves recently, a low-frequency spectrum that allows signals to spread further.
Still, will T-Mobile be able to hold on? "T-Mobile surpassing AT&T in 4G availability is a big deal," said Kevin Fitchard, an analyst at OpenSignal, "but I suspect it will have a lot of work ahead of it if it wants to close the gap completely with Verizon on availability the same way it has with speed." Verizon has deep pockets, and a willingness to spend when threatened. "A few years ago Verizon saw its speeds falling off as its LTE network became congested," said Fitchard. "It wound up building its XLTE upgrade, which doubled or even tripled its capacity in most cities across the U.S. I'm not saying the same thing will happen today, but I'm pretty sure Verizon won't just go blindly into the night if T-Mobile threatens to overtake it in availability."

And there's a battle looming for more spectrum, which is key to who actually comes out on top. The FCC is preparing to auction off 126 Mhz of TV spectrum, all of it 600 Mhz airwaves, the lowest frequency ever made available to mobile carriers. Lower frequency means signals can travel farther, making them incredibly valuable from almost every angle. But the price won't be cheap: The FCC says the minimum price of those airwaves will be $88.6 billion. Verizon had a gross profit of $79 million in 2015; T-Mobile had just $17 million. Meanwhile, its parent company has warned that the carrier's current business plan is "unsustainable."
So why even care about these speed-measuring contests? First off, new products like Facebook Live require both steady and speedy connections to maintain. More important for those in NYC, you might get just a few seconds of LTE connection at a subway stop before going back into the tunnels, and the difference in speed can determine whether you can grab all the data waiting for you — whether that's new emails, the rest of a Kindle book, or a new Snapchat video. And for right now at least, T-Mobile is the carrier that'll most likely download everything you need the fastest.