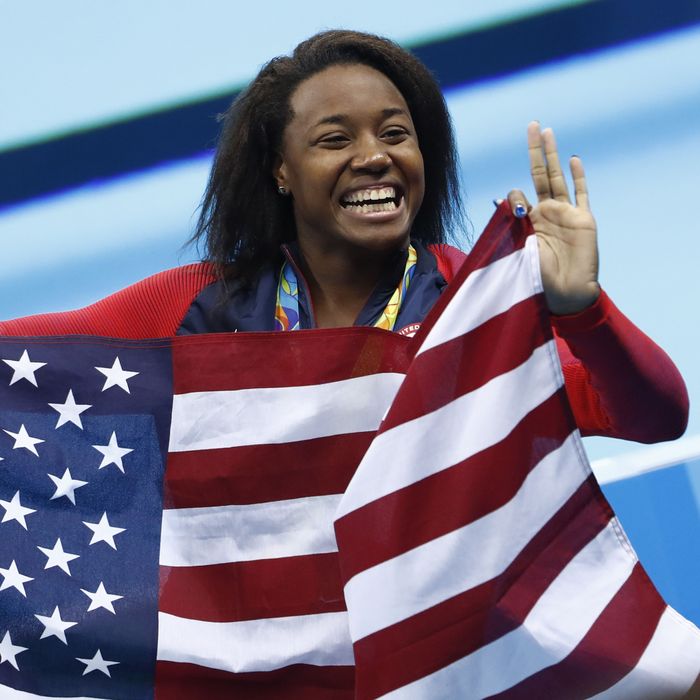 Simone Manuel waves the flag after her medal ceremony.
Photo: ODD ANDERSEN/AFP/Getty Images
Good morning and welcome to Fresh Intelligence, our roundup of the stories, ideas, and memes you'll be talking about today. In this edition, Team USA gives us more reasons to be proud, Clinton gets unexpected praise, and Arianna Huffington exits. Here's the rundown for Friday, August 12.
WEATHER
Well, it's a hot one. Highs in the 90s are forecast all along the Eastern Seaboard as well as much of the Midwest and the western U.S., hitting triple digits in places like the Texas Triangle, Phoenix, and Las Vegas. New York remains under an excessive heat watch through Sunday night and a heat advisory through Saturday morning. Scattered showers and thunderstorms are expected in the afternoon, but they will give no relief from the unrelenting heat and humidity. [Weather.com]
FRONT PAGE
Solid Gold
Simone Biles cemented her claim to the title of world's best gymnast, winning the women's individual all-around gold medal at the Rio Olympics. The 4-foot-9-inch 19-year-old excelled in the vault, bars, beam, and floor exercises, moving her coach to tears. Her U.S. teammate Aly Raisman won the silver medal, while the bronze went to Russia's Aliya Mustafina. Later Team USA found a new star when 20-year-old Olympics newcomer Simone Manuel tied for gold in the 100-meter freestyle. The win, which she shared with Canadian Penny Oleksiak, makes her the first African American woman to earn a medal in an individual event in swimming. Also, Michael Phelps picked up another gold medal, his 22nd, in the 200-meter individual medley.
EARLY AND OFTEN
Court Finds 'Racial Gerrymanders' in North Carolina
A panel of three federal judges has ruled that "race was the predominant criterion in drawing" 28 of North Carolina's 170 state-legislative districts, and since the state could not demonstrate a compelling reason for using that criterion, the districts are unconstitutional. The judges ordered the districts redrawn during the next legislative session, but decided to allow November's elections to proceed on the basis of the existing districts. [Mother Jones]
Hillary Clinton Is Still a Liberal
Hillary Clinton assuaged some of left-wing Democrats' fears of a pivot to the center with a speech on economic policy that hewed to liberal shibboleths, including raising the minimum wage, supporting unions, a more "progressive, patriotic tax code" that punishes corporations for relocating jobs overseas, a public health-care option in all 50 states, student-debt relief, and free tuition at public colleges for middle-class students. The speech included a stinging critique of her opponent Donald Trump's calls for eliminating the estate tax and cutting rates for the wealthy. The speech comes as #NeverTrump Republicans are defecting to Clinton in greater numbers, raising fears on the left that Clinton might become too solicitous toward this constituency.
… But Steve King Is Cool With Her?
The latest Republican to spare a kind word for Clinton is Iowa representative Steve King, who described her as "somebody I can work with." Praise from King, an arch-right-winger whose latest contribution to the discourse was asking what nonwhite people have ever contributed to "civilization," won't do much to help those liberal Democrats sleep soundly; fortunately, however, this wasn't an endorsement and King still plans to vote for Trump.
Pence, Walker Make the Case for Conservative Policy and Trump
Wisconsin governor Scott Walker and Trump running mate Indiana governor Mike Pence held a rally in Milwaukee to tout the supposed successes of conservative economic policies at the state level and drum up support for a Trump presidency as a way to take the policies nationwide. Pence dismissed Clinton's efforts to portray Trump's policy proposals as unrealistic, describing Trump as someone who "believes in the wild expectations of the American people," which presumably include building a 40- to 80-foot wall along the entire length of our border with Mexico, deporting all 11 million undocumented immigrants, and banning Muslims from entering the U.S. Both Pence and Walker insist that their states have thrived under their leadership in spite of, not because of, President Obama's policies. [Politico]
THE STREET, THE VALLEY
Stock Market Trifecta
The Dow Jones, S&P 500, and Nasdaq Composite all hit record highs on Thursday, in the first such convergence since December 31, 1999. The Dow is up 6.8 percent, the S&P 6.9 percent, and the Nasdaq 4.4 percent for the year, and analysts are bullish about the coming months. All in all, it could be a sweet 2016 for the stock market. [WSJ]
You Want That in Rubles? Or Nickels?
Russian antitrust authorities fined Google $6.8 million over its practice of pre-installing Play store apps and services on android mobile devices. The dollar amount is a pittance — Google reported $21.3 billion in revenue last quarter, so the fine amounts to less than the company makes in an hour — but could portend similar outcomes in other cases before European authorities regarding alleged anticompetitive practices. [Recode]
r/Outage
Technology journalists experienced a bout of uninterrupted productivity when Reddit went down around 3:30 p.m. Pacific time Thursday afternoon for emergency maintenance. Reddit attributed the outage, which lasted just over an hour and a half, to "a slight issue with a routine software upgrade." [TechCrunch]
A Safe Space for Hate Speech?
A BuzzFeed investigation into harassment and hate speech on Twitter claims that not only was the company unprepared to handle the inevitability of trolls and hate groups, its commitment to maximal freedom of speech effectively ensured that Twitter would become a haven for abusers. As one former employee put it, "product inaction created a honeypot for assholes." (Twitter hit back, saying the piece was inaccurate, but didn't elaborate on exactly what BuzzFeed got wrong.) [BuzzFeed]
MEDIA BUBBLE
Failing New York Times Wants Trump Divorce Records … Sad!
The New York Times and Gannett Company, the owner of USA Today, filed papers in Manhattan Supreme Court asking a judge to unseal the records of Donald and Ivana Trump's 1990 divorce proceedings. The outlets argue that the public has a right to know more about how the candidate has treated the women in his life, including whether he in fact raped Ivana in 1989, as she reportedly told friends. [Daily News]
Facebook's Feed-Quality Program Is Delighted to Inform You
The social-media giant has updated its news feed algorithm again, adding a new "ranking signal" to predict what stories readers will find most informative. Facebook's Feed Quality Program — a crowd-sourced system of global surveys and paid participants — will rank stories from one-to-five based on how informative they think they are, creating a score that will help the platform decide which stories to feed to individual users. [Facebook]
Huffington Out
Arianna Huffington is stepping down as editor-in-chief of the Huffington Post to focus on her wellness consultancy, Thrive Global. The move reportedly took staffers by surprise. The queen of online media circa 2005 will finally be able to to devote herself fully to spreading the gospel of the benefits of sleep and work-life balance. [NPR]
PHOTO OP
She Knows Where She Stands
"I'm not the next Usain Bolt or Michael Phelps. I'm the first Simone Biles."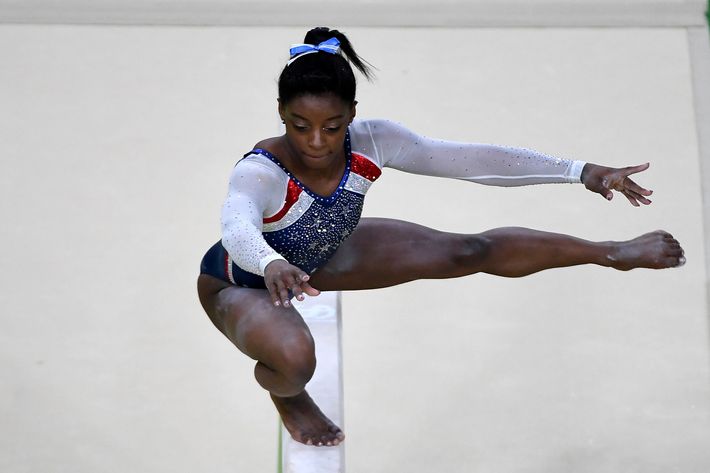 MORNING MEME
Pro tip: Never hold up a sign unless you want to start a dumb online Photoshop battle.

OTHER LOCAL NEWS
The Last Good-bye Party
A terminally ill woman in California became one of the first people to take advantage of the state's new assisted-suicide law, but not before throwing a party to spend her last days in the company of her friends and loved ones. Betsy Davis, a 41-year-old artist, suffered from ALS, or Lou Gehrig's disease, and chose to end her life on her own terms. Her one rule for the two-day event? "Don't cry in front of me." [AP]
So That's What That Smell Was
An Oregon man was walking his dog on Wednesday morning when he stumbled upon a portable toilet full of marijuana plants. Local police managed to determine when the plants were deposited in the Porta Potty but not why. [UPI]
HAPPENING TODAY
Rio Watch Day 7
Michael Phelps will get a chance to rack up yet another medal in the men's 100-meter butterfly finals, while Katie Ledecky will work on her attempt to sweep the 200, 400, and 800-meter freestyles. On dry land, track and field events begin, with Jamaican sprinter Shelly-Ann Fraser-Pryce defending her Olympic championship title against stiff competition in the women's 100-meter run. The American men's and women's basketball teams will be back on the court, and the women's soccer team goes up against Sweden in the quarterfinals.
Trouble on the Trump Train
Donald Trump's campaign is scheduled to hold what's being described as a "come to Jesus" meeting with top GOP officials in Orlando to discuss the campaign's faltering attempts to stay on-message given the unwillingness or inability of the Republican candidate to refrain from making outrageous statements. Trump himself is set to travel to Pennsylvania on Friday and will not be at the meeting. Judging from his senior advisor's insistence that the meeting is "typical" and has nothing to do with any rifts in the party, it's probably going to be a real doozy.
It's Not Too Late to Wish Upon a Falling Star
Even if you missed the peak of the Perseid meteor shower late Thursday night, you can still catch a good show. NASA says there will still be meteor activity on Friday and Saturday nights, so if you happen to live near a dark area with a clear sky, keep an eye out for some celestial fireworks. [NPR]