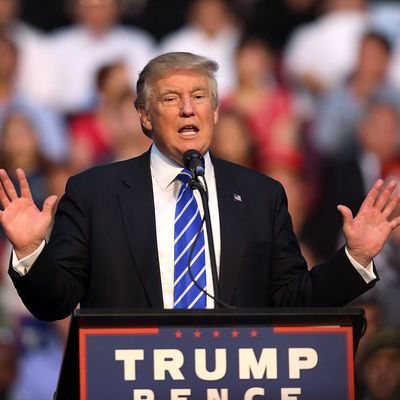 Losing bigly.
Photo: Joe Raedle/Getty Images
Donald Trump has one field office in Florida, a state of 65 million square miles and 29 electoral votes. Which is to say, the GOP nominee barely has a campaign in a state he needs to win to have any real shot at the White House. And yet Trump would like the Republican National Committee to devote its limited resources to funding a get-out-the-vote operation for him in Hawaii.
According to Politico, Trump has asked the RNC to open field offices for him in all 50 states — a proposal that has baffled many of the committee's aides. But no one should be all that surprised by Trump's "unconventional" general-election strategy: The mogul has long touted plans to contest deep-blue states like New York and California. Whether such ambitions are fueled by egotism, ignorance, or a cynical desire to promote his company's brand in as many media markets as possible is an open question.
Meanwhile, dozens of Republicans are pressuring the RNC to abandon Trump's campaign and put all of its energy into fighting off a down-ballot massacre.
"We believe that Donald Trump's divisiveness, recklessness, incompetence, and record-breaking unpopularity risk turning this election into a Democratic landslide, and only the immediate shift of all available RNC resources to vulnerable Senate and House races will prevent the GOP from drowning with a Trump-emblazoned anchor around its neck," wrote a group of 70 former Republican officeholders and RNC staffers in a letter obtained by Politico. "This should not be a difficult decision, as Donald Trump's chances of being elected president are evaporating by the day."
Trump responded to the letter Thursday night, telling Fox News, "If it is true, that's okay too because all I have to do is stop funding the Republican Party … I'm the one that's raising the money and other people are getting to use the money that I raised."
Still, Trump appears to agree with the letter's signatories on one thing — his odds of becoming president aren't looking great. On Thursday morning, the GOP nominee spoke longingly of the vacation he plans to take should he lose in November. Later, he actually cited unflattering poll numbers at a rally in Florida, admitting his campaign has "a tremendous problem in Utah."
Such "tremendous problems" led the Trump campaign to request an "emergency meeting" with the RNC in Orlando on Friday.
"They want to patch up a rift that just keeps unfolding," one RNC source told Politico. "They finally realize they need the RNC for their campaign because, let's face it, there is no campaign."
The RNC has begged Trump to "professionalize" his campaign and moderate his tone for months now. Instead, the mogul has opted to attack the bereaved parents of an American war hero, tell jokes about his supporters committing acts of political violence, and accuse the sitting president of being "the founder of ISIS."
On Friday morning, Trump walked back the latter position, saying that when he accused Obama of founding a terrorist group — over and over again — he was only being sarcastic.
That probably isn't enough of a "pivot" to reassure Trump's skeptics in Orlando. Per Politico:
An

RNC

member said discontent with the Trump campaign has hit new heights in recent days, describing "major tumult in the building and staff problems and disagreements and

RNC

staff on the edge of

mutiny."