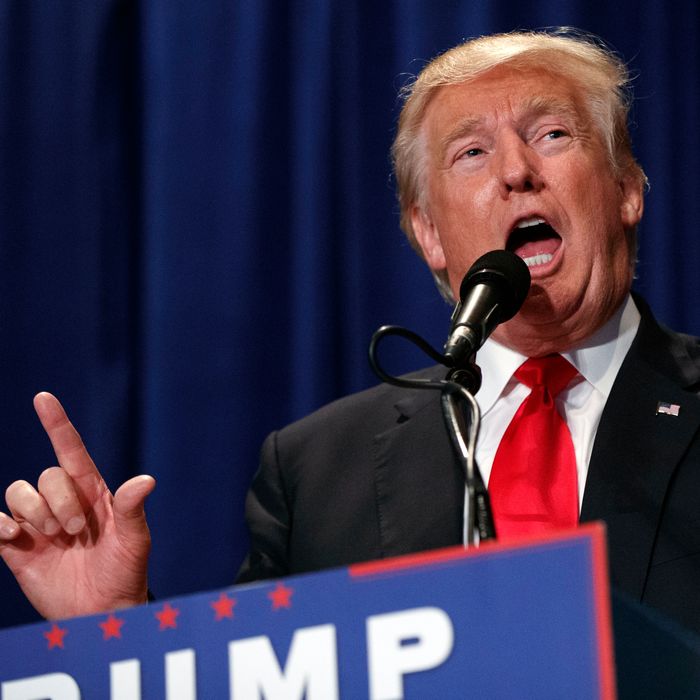 But "there is no evidence [of fraud] because the election hasn't occurred yet," Trump's spokeswoman said on Saturday.
Photo: Evan Vucci/AP
Donald Trump is not only not backing down from his insistence that the only way he can lose the election in November is if the Clinton campaign cheats — he's doubling down, and even trying to deputize his supporters to monitor the election through that lens. At a campaign rally in Altoona, Pennsylvania, on Friday, Trump told supporters that he cannot lose the state — which FiveThirtyEight currently gives Clinton an 88 percent probability of winning — unless the election is rigged against him. CBS News' Sopan Deb passes along the key section of Trump's remarks, which was preceded by the candidate once again suggesting that Bernie Sanders was cheated out of victory in the Democratic primaries (he wasn't), and followed by Trump calling for more voter-identification laws:
We're gonna watch Pennsylvania. Go down to certain areas and watch and study and make sure other people don't come in and vote five times. Because if you do that, and I know you're all voting … If you do that, we're not gonna lose. The only way we can lose, in my opinion — I really mean this, Pennsylvania — is if cheating goes on. I really believe it

…

[T]hat's the way we can lose the state. And we have to call up law enforcement. And we have to have the sheriffs and the police chiefs and everybody watching. Because if we get cheated out of this election, if we get cheated out of a win in Pennsylvania, which is such a vital state, especially when I know what's happening here, folks. I know. She can't beat what's happening here.

The only way they can beat it in my opinion, and I mean this 100 percent, is if in certain sections of the state they cheat, okay? So I hope you people can sort of not just vote on the 8

th —

go around and look and watch other polling places and make sure that it's 100 percent

fine[.]
To that end, the Trump campaign website has a new sign-up page asking supporters to become "election observers" in November. Normally, a campaign asking supporters to participate in poll-watching efforts would be standard operating procedure — and in this case would also offer a small indication that the Trump campaign is actually starting to function like an actual campaign. What is not normal or responsible, however, is how the Trump campaign is framing such work, via Trump's rhetoric and on the website sign-up page: as a necessity to directly prevent another candidate's ill-gotten victory. (The sign-up page also redirects to a donation page, so it's not clear if and how the Trump campaign will work with the volunteers.)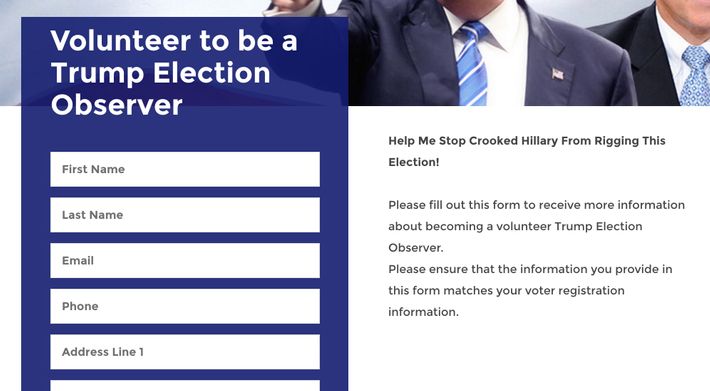 In addition, The Guardian points out that such work is probably illegal in some states:
Election observers are not unusual and are often relied on to field complaints and concerns from voters. Depending on state law, campaign representatives may be barred from the role. In Pennsylvania, only election officials, certified poll watchers or qualified voters with valid reasons can bring challenges on the grounds of identity or residence, according to the Advancement Project, a civil rights

group.

The state's election code states that a voter "shall have the right to cast his or her vote: without the use or threat of force, violence or restraint; without the infliction or threat of infliction of injury; without any intimidation or coercion upon or against his or her person; or without any other action intended to deny any individual's right to vote."

Trump's initiative to enlist election observers may risk running afoul of a longstanding consent decree that bars the Republican National Committee from engaging in such activities, according to Rick Hasen, a law professor at the University of California, Irvine.

Pushed for evidence that the election would be rigged, Trump campaign spokeswoman Katrina Pierson told CNN on Saturday that, "There is no evidence because the election hasn't occurred yet," adding that, "This is not far-fetched. Election fraud has been a concern for a very long time."
A "concern" is one way to put it; a "demonstrably absurd conspiracy theory" is another. There is simply no evidence that U.S. voter fraud exists on any meaningful scale, let alone actually influences elections. Instead, all reasonable evidence invalidates Trump's view — which, bolstered by supporters like Sean Hannity, is more likely aimed at delegitimizing a Clinton victory before it happens, rather than expressing actual concern over otherwise inconsequential voting irregularities.
Indeed, now there might not just be scores of Americans who will take Trump at his word and end up believing that any Clinton victory is illegal, there might be Trump supporters illegally observing the polls on election day, directly empowered by the Trump campaign to look for ways to help prevent a "rigged" Clinton victory.
This post has been updated to incorporate The Guardian's reporting on state election laws regarding poll watchers.