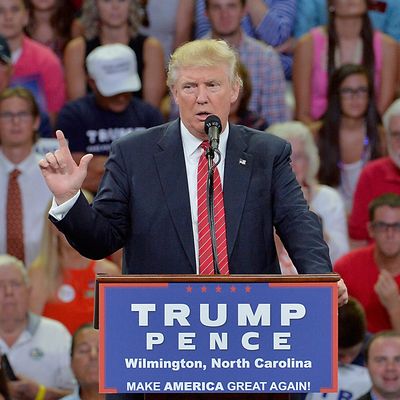 Laughing time is over.
Photo: Sara D. Davis/2016 Getty Images
The Trump campaign should be adept at responding to scandals by now, but that would go against its ethos of doing the exact opposite of what any normal presidential candidate would do. Thus, following Trump's suggestion on Tuesday that there's something "Second Amendment people" can do if President Hillary Clinton selects Supreme Court justices who "abolish" the Second Amendment, his team rejected the ready-made excuse that he was joking, insisting instead that it was a completely serious call for supporters of gun rights to head to the polls.

Video of the speech shows several people chuckling at Trump's aside:

And, as Vox noted, a debate quickly emerged over whether he was "just joking." Paul Ryan, who claimed on Tuesday night that he still hadn't heard the brief remarks, suggested that was the case. "It sounds like a joke gone bad," he said. "You should never joke about that. I hope he clears it up quickly."
On CNN, Trump ally Senator Jeff Sessions agreed with Wolf Blitzer that you "absolutely should not joke" about assassinating your political rival.
Even the mainstream media, which the Trump camp accuses of bias on a daily basis, acknowledged that he may have been making a dark attempt at humor. Politico described the incident as Trump applying "his signature sarcasm to a political third rail." The Washington Post pointed out that whenever Trump says something outrageous, his campaign accuses the press of "twisting his words or missing the joke." Dozens of outlets (including New York) ran headlines depicting the comment as an attempt at a joke.
There was widespread consensus that political violence is no laughing matter, but the Trump team never argued that it was. Instead, the campaign said he was talking about Second Amendment supporters using democratic means to keep Clinton out of office.

Even after many pointed out that Trump was clearly talking about Clinton nominating Supreme Court justices after assuming the presidency, Trump agreed with honorary campaign member Sean Hannity, who said he was "obviously" talking about mobilizing voters.
"Nobody in that room thought anything other than [that]," Trump said. "This is a political movement. This is a strong powerful movement, the Second Amendment. Hillary wants to take your guns away. She wants to leave you unprotected in your home." Trump added that "there can be no other interpretation" of his remarks.

Trump reiterated his claims of a media conspiracy in some late-night tweets:

And the rest of the Trump team used the same nonsensical talking points. Running mate Mike Pence commented:

I think what Donald Trump is clearly saying was that people who cherish that [Second Amendment] right, people who believe that firearms in the hands of law abiding citizens makes our communities more safe, not less safe, should be involved in the political process and let their voices be heard.

Trump spokesperson Katrina Pierson (who last week blamed Obama for U.S. Army Captain Humayun Khan's death in 2004), said on CNN, "He was talking about unification and coming together to stop Hillary Clinton."
And at a rally on Tuesday evening in North Carolina, Rudy Giuliani claimed Trump was merely describing what Clinton will do if elected, and telling supporters, "You have the power to do something about it, and what he meant by that is you have the power to vote against her." (At the same event, Trump said it's time for a "tougher tone" against Clinton.)

In any other election, the fact that the candidate and his surrogates repeated the same weird, incorrect statement would be a bad thing, but for the Trump campaign, it's actually bizarre that they were able to stay on-message for an entire evening. Looks like Trump's long-awaited general-election pivot is finally here.