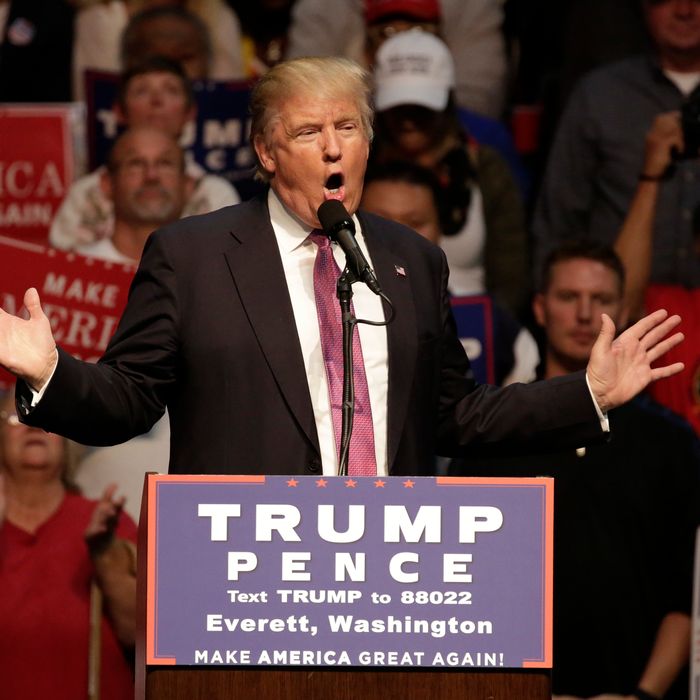 Trump tackles race.
Photo: Jason Redmond/AFP/Getty Images
Donald Trump is continuing his attempt to reach out to minority voters. Speaking last night at a rally in Washington, he said: "It is the Democratic Party that is the party of slavery, the party of Jim Crow," adding, "Nothing makes me more honored and proud than to be the nominee of Abraham Lincoln's Republican Party."
For Trump, this rhetoric represents listening to criticism and tempering his message. In the opening lines of his speech yesterday, Trump tried some positivity: "I will not accept, and neither will you," he said, "a future in which children of color — any color — in this country are not fully included in the American Dream."
Perhaps Trump has been looking at poll numbers that suggest there aren't enough working-class whites in America for him to win the presidency in the face of low support from every other demographic he's gone out of his way to alienate.
In his most recent effort at outreach to minority voters, Trump depicted the lives of all black and Latino-Americans as mired in poverty and ravaged by crime — "Right now, you walk down the street, you get shot." That didn't go over so well. This time, he made a point to say that millions of minority Americans had "succeeded greatly," while still referring to "the millions suffering in disastrous conditions in so many of our inner cities."
Expect more speeches like this going into the weekend when Trump will travel to Detroit to conduct an interview with the president of the Impact Network, a black evangelical TV channel, which will be the first time he's spoken directly to an African-American audience on the campaign trail.