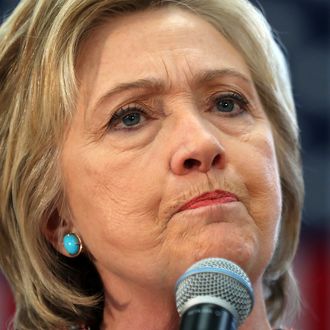 Not cool.
Photo: Justin Sullivan/Getty Images
Republican presidential nominee Donald Trump's campaign is doubling down on its strategy of casting doubt on the mental and physical health of his opponent, Hillary Clinton. Appearing on MSNBC on Thursday, Trump spokesperson Katrina Pierson claimed that Clinton suffers from dysphasia, a brain dysfunction that affects a person's ability to comprehend and formulate language.
Despite a clean bill of health from her doctor and no evidence that anything is actually wrong with her, the Trump camp and the right-wing press have grasped at various straws to build a case that Clinton is hiding serious medical problems from the public — now including an effort to cast her preference for reclining on pillows as evidence of infirmity.
Since a complete lack of evidence has never proven sufficient to put a Clinton conspiracy theory to rest, the Clinton campaign has pushed back forcibly against these rumors, releasing a statement from her longtime physician Dr. Lisa Bardack reaffirming that "Secretary Clinton is in excellent health and fit to serve as President of the United States."
Clinton surrogates also took the opportunity to needle Donald Trump about his own health records, with chief strategist Joel Benenson urging Trump to give the public something more than the suspiciously enthusiastic note from gastroenterologist Harold Bornstein last December that said Trump would be "the healthiest individual ever elected to the presidency."
Pierson's diagnosis of Clinton is the third installment in a series of whoppers she has told on television this month, which started off with her blaming President Obama for the death of U.S. Army Captain Humayun Khan in Iraq in 2004, when Obama was a state senator in Illinois. Last week, she insisted that Obama had started the war in Afghanistan, which in fact began in 2001 under George W. Bush.