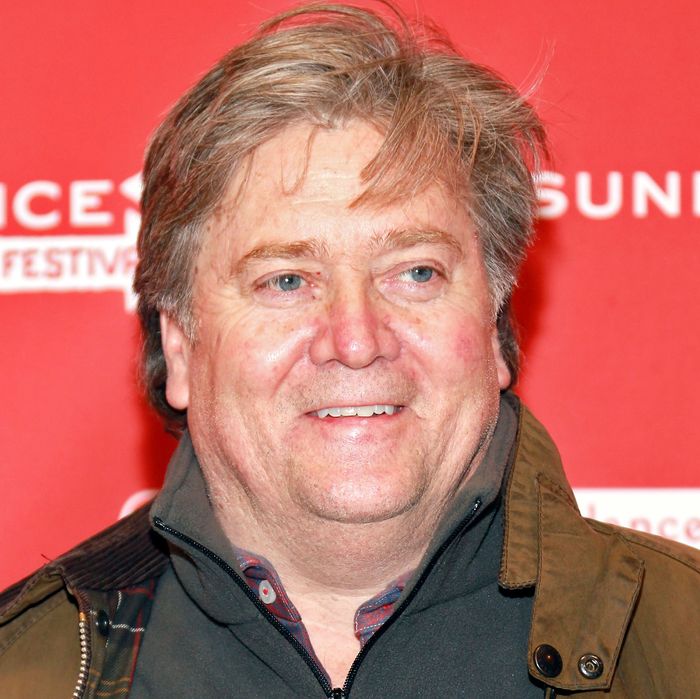 Bannon.
Photo: Robin Marchant/Getty Images
Donald Trump warned us, but we didn't believe him. For weeks now, the GOP nominee has been calling on America to wake up to the reality that November's election will be plagued by voter fraud. But like the prisoners in Plato's cave greeting their would-be liberator, those who wish to go on believing in the shadow play of our democracy tried to destroy Trump for his insights. The liberal media branded his predictions "baseless" and "dangerous."
But on Friday morning, The Guardian US revealed that voter fraud is so pervasive in the United States, even Donald Trump's own campaign chief is preparing to engage in it:

Stephen Bannon, the chief executive of Trump's election campaign, has an active voter registration at the house in Miami-Dade County, Florida, which is vacant and due to be demolished to make way for a new development.

"I have emptied the property," Luis Guevara, the owner of the house, which is in the Coconut Grove section of the city, said in an interview. "Nobody lives there … we are going to make a construction there." Neighbors said the property had been abandoned for several months.
Bannon had formerly rented the house for his ex-wife, who vacated the property earlier this year, according to The Guardian US. To be a legal voter in the state of Florida, one must be a resident of the state who has a claim to a home that he or she "intends to make his or her permanent residence."
The news of Bannon's alleged voter-registration fraud came hours after revelations of his alleged history of domestic violence.
This sudden wave of opposition research on Bannon is interesting and worthwhile. It's in the public's interest to know the kind of people a major-party nominee surrounds himself with. And yet the most significant and damning facts about Steve Bannon don't need to be dug up by enterprising reporters — they're printed all over his website.
Bannon has referred to his digital magazine as "the platform for the alt-right" — which is to say, the platform for a movement of meme-savvy white nationalists. Breitbart regularly runs articles likening feminism to cancer, celebrating the Confederacy, and defending the biological "reality" of race. Whatever criminal acts Bannon has allegedly committed in his personal life are almost irrelevant — the guy proudly runs a website that specializes in soft-core white-supremacist commentary. If Donald Trump doesn't see that as disqualifying, is there anything else voters really need to know?
Hillary Clinton doesn't seem to think so.