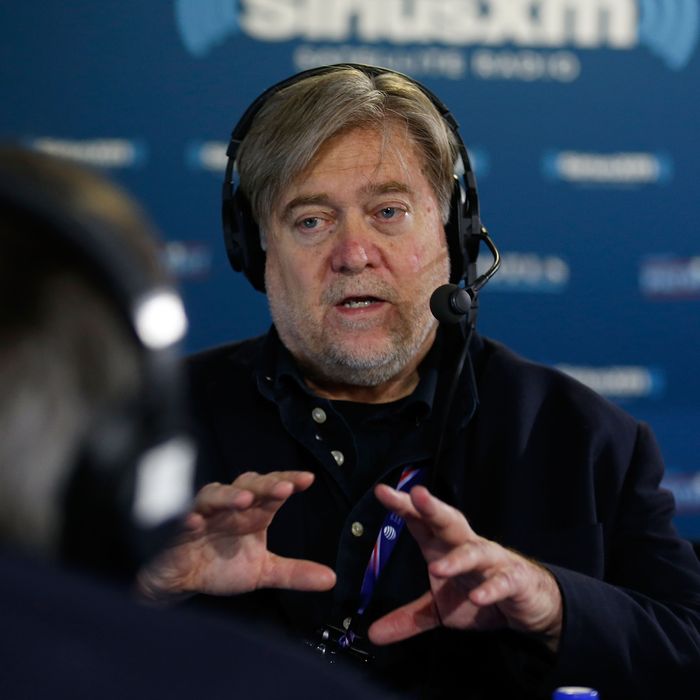 Stephen Bannon works on Breitbart News Daily on SiriusXM Patriot on July 20, 2016.
Photo: Kirk Irwin/2016 Getty Images
Donald Trump is finally listening to the many Republicans who say he must pivot to save his campaign — but he's decided to turn in the opposite direction. The Wall Street Journal reported early on Wednesday morning that Trump has hired Stephen Bannon, the executive chair of Breitbart News, as the campaign's chief executive, and promoted Kellyanne Conway, a senior adviser and pollster to his running mate Mike Pence, to campaign manager.
The move follows campaign chair Paul Manafort's failed months-long push to make Trump tone his rhetoric down and behave like a somewhat normal presidential candidate. The Washington Post reports that Bannon and Conway represent a return to the "let Trump be Trump" mantra of former campaign manager Corey Lewandowski, who was fired on June 20, then hired as a paid CNN contributor. Manafort will remain campaign chair but campaign sources say the shake-up is a major demotion. Lewandowski posted the news on Twitter with no comment, just as he did on Sunday when a report described secret payments Manafort may have received from Ukraine's pro-Russia party.
Bannon, a former banker, has never worked on a political campaign. He's no fan of the Republican Establishment, and according to the Post, he spent the past few months urging Trump to run a campaign that makes GOP donors and officials uncomfortable — which means embracing his role as an outsider and an "unabashed nationalist."
When Breitbart reporter Michelle Fields accused Lewandowski of manhandling her at a Trump rally, the conservative media outlet sided with the Trump campaign. Ben Shapiro, one of the staffers who resigned in protest, said in his resignation letter:

In my opinion, Steve Bannon is a bully, and has sold out Andrew [Breitbart]'s mission in order to back another bully, Donald Trump; he has shaped the company into Trump's personal Pravda, to the extent that he abandoned and undercut his own reporter, Breitbart News' Michelle Fields, in order to protect Trump's bully campaign manager, Corey Lewandowski, who allegedly assaulted

Michelle.
Conway has worked for many notable Republicans — including Jack Kemp, Dan Quayle, Fred Thompson, and Newt Gingrich — but she has never worked on a general election campaign. She denied reports of a shake-up, telling the New York Times, "It's an expansion at a busy time in the final stretch of the campaign."
Conway is said to be well-liked by Ivanka Trump and her husband, Jared Kushner. Trump's children reportedly believed Lewandowski was spreading negative stories about Kushner, and sources told the Times they would try to prevent him from rejoining the team.
It's been clear from Trump's actions that he has no interest in becoming more moderate, and in the past few days, he's admitted as much. "I am who I am," he told a local station in Wisconsin. "It's me. I don't want to change. Everyone talks about 'Oh, are you gonna pivot?' I don't want to pivot. I mean you have to be you. If you start pivoting, you are not being honest with people."
Despite theories that Trump never even wanted to be president, he told the Journal, "I want to win," and "That's why I'm bringing on fantastic people who know how to win and love to win."