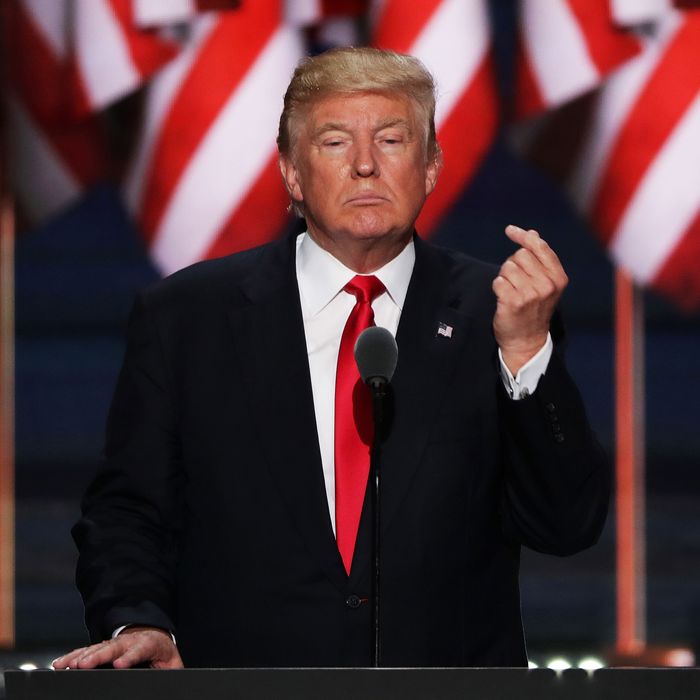 Not a fan of intelligence.
Photo: Alex Wong/Getty Images
To ensure that the next president is prepared to meet our nation's security challenges from day one, America's intelligence agencies provide major-party nominees with classified briefings. On Wednesday afternoon, the CIA will give Donald Trump the top-secret skinny for the first time ever.
On Tuesday night, Trump informed the agency he doesn't trust them. The remark came after the GOP nominee revealed that he would be bringing an adviser with him into the hearings — former head of the Defense Intelligence Agency Michael Flynn.
"He's been a real fan of mine and defender of mine and he's a terrific guy, a terrific general — tough, smart," Trump said of the Putin-friendly former general — who co-authored a book with America's foremost defender of Italian fascism — in an interview with Fox News. "He wants to make sure the right people are coming into our country, not the people that we're probably taking in right now."
This prompted Fox News anchor Ainsley Earhardt to ask if Trump trusts American intelligence information.
"Not so much from the people that have been doing it for our country. I mean, look what's happened over the last ten years. Look what's happened over the years. It's been catastrophic," Trump replied. "You look at Iraq. You look at the Middle East. It's a total powder keg … So, no, I have great people, and General Flynn is one of them."
The intelligence community, for its part, doesn't trust Trump either.
One Army intelligence officer told Politico that, while his colleagues understand how it might be "emotionally satisfying" to deliberately murder the wives and children of terrorists, as Trump has proposed, many are troubled by the "right versus wrong component" of the policy.
Others described significant "trepidation" throughout the intelligence world over the prospect of a Trump presidency. Beyond the candidate's appetite for war crimes, Trump's indifference to the views of American allies in NATO and the Muslim world makes our nation's spy community anxious.
"Most people assume that even if he got in he would be forced to moderate because of the realities of your office and the inevitable restrictions on your power," a terrorism expert at a D.C. think tank told the news site. "But the president has the lead on foreign policy and security. The president can do a lot without any sort of restraints from Congress."
So, it does not appear that Trump and the CIA will have an ideal working relationship. But at least it will likely be a short one.