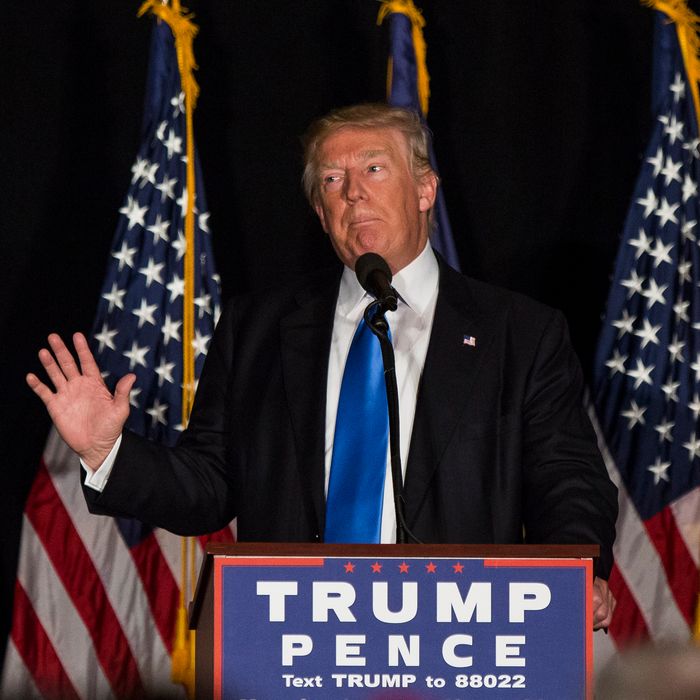 That guy Hannity interviewed on Tuesday was way off.
Photo: Keith Bedford/The Boston Globe via Getty Images
Donald Trump — the guy who's spent the past 14 months talking about Mexican rapists and a "deportation force" — just found out what Donald Trump — the candidate who wants Hispanics to vote for him — has been saying about immigration reform, and boy is he mad! In an interview with CNN's Anderson Cooper that aired Thursday night, Trump said he does not support a path to legal status for undocumented immigrants, and insisted he's not toning down his position. "I don't think it's a softening," he said. "I've had people say it's a hardening, actually."
Trump seemed rather annoyed that people are accusing him of modifying his immigration stance, though he's the one who suggested that he was shifting his position. "There certainly can be a softening, because we're not looking to hurt people," he said in a Fox News town hall on Tuesday. (Cooper actually quoted him in his question.)

It's true that Trump's immigration stance appears to be hardening back into its original form. Earlier this week, Trump suggested that he was in favor of a path to legalization for undocumented immigrants with no criminal record, as long as they paid "back taxes" — which was essentially the position of his primary opponents Marco Rubio and Jeb Bush. On Wednesday, Trump wasted one of his lifelines on an inconclusive poll of a Fox News audience, so now he's decided to go with his gut and revert to his initial answer.
"First thing we're going to do. No is not a path — there is no path to legalization unless people leave the country," Trump said on Thursday. "When they come back in, if they come back in, then they can start paying taxes but there is no path to legalization unless they leave the country and come back."
That sounds a lot like a "touch back" policy, which his new campaign manager, Kellyanne Conway, ruled out earlier this week.

However, Trump has bigger problems than trying to keep track of what he or his campaign manager said two days ago. While he's consistently said that criminals — or as he called them on Thursday "bad dudes" — will be deported almost instantly, he contradicted himself on the logistics of deporting 11 million people in the same CNN interview. "You can't take 11 [million] at one time and say, 'Boom your gone,'" Trump told Cooper, adding minutes later that when it comes to deporting the millions of good dudes in the country illegally, "There is a very good chance the answer could be yes."