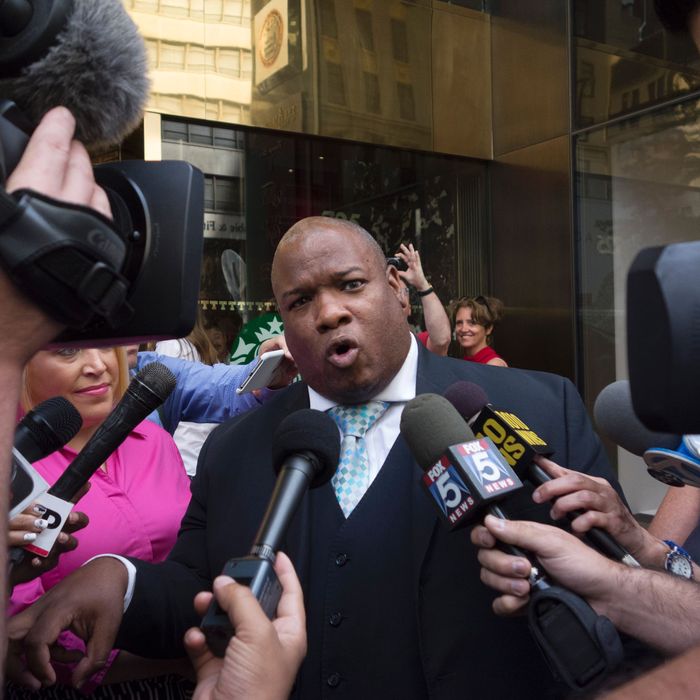 Spokesperson at work.
Photo: Don Emmert/AFP/Getty Images
Pastor Mark Burns, an outspoken surrogate for the Trump campaign tweeted a cartoon of Hillary Clinton in blackface yesterday before deleting it and eventually apologizing in the face of widespread condemnation.
Burns, who spoke at the Republican National Convention and is a prominent black pastor, tweeted: "Black Americans, THANK YOU FOR YOUR VOTES and letting me use you again..See you again in 4 years," along with a cartoon showing Hillary Clinton in blackface, wearing a T-shirt that says "No hot sauce no peace!" and holding a sign that reads "#@!** the police." In the cartoon Hillary says: "I ain't no ways tired of pandering to African-Americans."
After a spirited attempt to defend the image during an interview on MSNBC, Burns removed the tweet and turned to Periscope to apologize for his "Twit that many found to be offensive" saying that "The tweet was not designed to anger or stir up the pot like it did."
While the offending cartoon might have come down, another image on Burns's feed, which was Photoshopped to show Hillary Clinton wearing traditional African-American braids did not. Hours later, the second offending image was taken down but a third image purporting to show Hillary Clinton in blackface at a costume party — with her husband dressed as a white hillbilly — which Burns had retweeted earlier in the day remains up on his feed. That third image has been popular in right-wing circles for the better part of a year, but has been widely discredited and does not actually show either Bill or Hillary Clinton.
Burns's tweets came in the middle of a concerted effort on the part of the Trump campaign to attract minority voters who have so far been much more likely to support Clinton.
While Burns has described Hillary as "pandering and using black people just for their votes," Trump has taken a different tack.
The Washington Post quotes him as saying at a rally in Ohio last week: "What do you have to lose? You'll be able to walk down the street without getting shot. Right now, you walk down the street, you get shot."
Whatever Trump is doing — he does have plans to give an interview to a black evangelical TV network over the weekend — it doesn't seem to be working. A new poll from the left-leaning Public Policy Polling shows African-American voters have more favorable feelings toward the bubonic plague than Donald Trump.