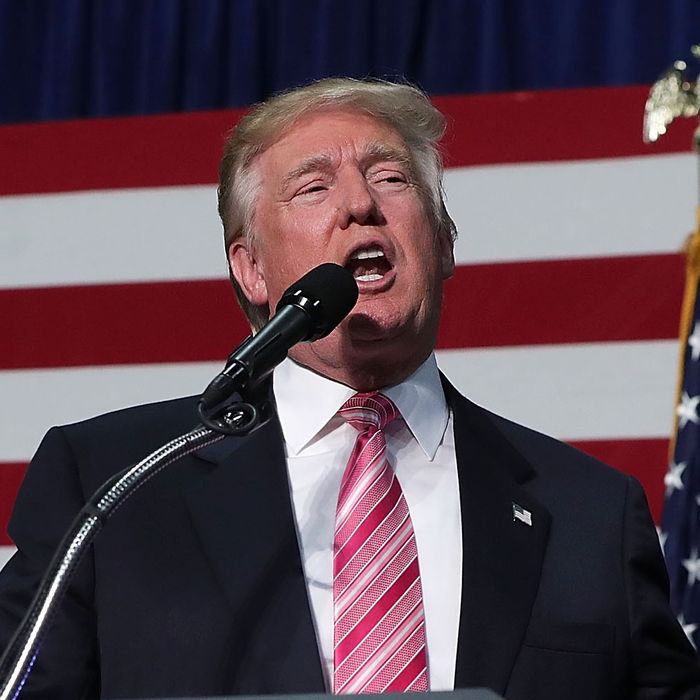 Trump is reportedly making inroads with Hispanic Republicans who already support Trump.
Photo: Alex Wong/Getty Images
Donald Trump, while meeting with his newly constituted Hispanic advisory council in New York on Saturday, may have signaled that he will be shifting his approach to undocumented immigrants already inside the U.S., according to Univision and BuzzFeed News. He reportedly acknowledged to the 23-person council that he understood how difficult it would be to deport the estimated 11 million undocumented immigrants in the U.S. — something he has repeatedly said he planned to do as president — and that he was interested in finding a "humane and efficient" way to work with those people. That would apparently include an immigration plan that would award legal status to those in the country illegally, but not grant them citizenship, though some attendees told The Washington Post that Trump didn't get into, or commit to, any specifics.
While this may seem like a dramatic reversal for the famously anti-immigration candidate, who has said that all immigrants in the country illegally "have to go," his campaign has quickly sought to reframe Trump's Saturday remarks as consistent with his previous positions on the issue and disputed the claims of those who say they heard Trump indicate he wanted some kind of pathway to legalization. One attendee who spoke with BuzzFeed agreed with that, saying that Trump did not endorse legalization, but added that the important thing was that Trump spent 80 to 90 percent of the time listening to his advisors.
In addition, as is often the case with Trump, it's difficult to determine if the GOP presidential nominee actually intended what he said on Saturday, or said what he intended, and that's before taking into account how his campaign now disputes the accounts of some who were there and heard him. Also, it wouldn't be the first time establishment Republicans have tried, and failed, to project their more voter-palatable views onto Trump. After all, Saturday's meeting attendees seemed to be excited just that Trump seemed "open-minded" and spent more time listening than talking. Yet in the meantime, the campaign's inaugural general-election attack ad, which came out on Thursday, is hitting Hillary Clinton for being soft on immigration, suggesting immigrants and refugees are dangerous criminals and terrorists.

In the past, Trump has called for a deportation force to "humanely" remove undocumented immigrants from the U.S. New Trump campaign manager Kellyanne Conway, appearing on CNN's State of the Union Sunday, now says that whether or not his immigration plan will include a deportation force is "to be determined" and that what Trump supports is making sure "we enforce the law, that we are respectful of those Americans who are looking for well-paying jobs, and that we are fair and humane for those who live among us in this country." As BuzzFeed notes, Trump has previously used the term "humane" to reference how immigrants would be deported, but not how they would be treated should they be allowed to stay in the country somehow.
Despite this weekend's developments, it's still not clear if there is any kind of real shift on immigration underway in the Trump campaign, or inside the candidate's mind for that matter. It now seems that Trump intends to release some kind of possibly revised immigration plan in the near future, and that he is soliciting ideas from his suddenly glass-half-full Hispanic advisors. Time will tell if this is actually some kind of pivot or reversal on immigration policy, a softening of rhetoric, or just some cynical, substance-free effort to address Trump's abysmal poll numbers with Hispanic voters. Trump will apparently give a policy speech on immigration on Thursday in Colorado, so we'll see.
Update: There's also this, since the guy directing Trump's campaign also has his own news organization: