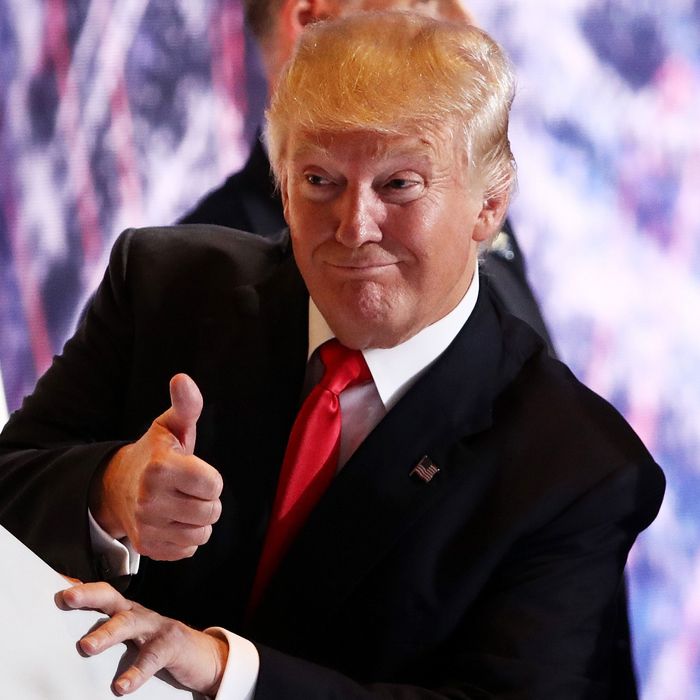 Photo: Win McNamee/Getty Images
Both Donald Trump and Hillary Clinton have options on their websites allowing supporters to set up recurring credit-card donations to their campaigns. But unlike Clinton's, Trump's website has no option to cancel those donations.
This little bit of trickery came to light after a disgruntled Trump supporter emailed CNN reporter Jeremy Diamond, who tweeted the message on Wednesday.
Mic writer James Dennin then dug in and confirmed what the frustrated Trump supporter above found — "there is no easy option to stop recurring donations on Trump's donation site." Dennin set up a $1 recurring payment and then tried to cancel it. Couldn't do it. The only option available was switching out one credit card for another.
In the interest of fairness, Dennin also set up a recurring donation to the Clinton campaign, which provided an option to remove the linked credit card and end the donations.
To say it's impossible to cancel recurring donations to the Trump campaign isn't accurate. As others have noted, it can be done, but it's a huge pain in the ass. Money says the way to do it is to reach out to the campaign through its general "contact" page and ask for the donation to be canceled. Or call your credit-card company and have them cancel it.
There's a third option for the extra lazy: Just keep giving the recurring donations for the next few months until the election ends — and hope that the Trump campaign decides to stop taking them at that point.