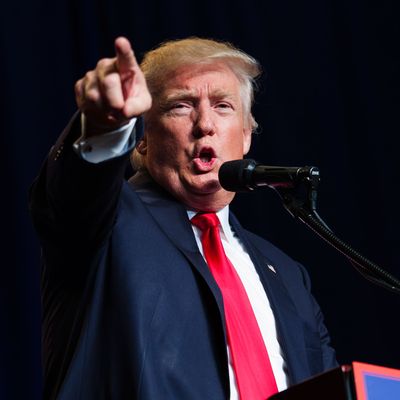 Comin' for you, Mexico!
Photo: Darren Hauck/Getty Images
Donald Trump really doesn't mind an awkward meeting.
Following a report by the Washington Post that Trump was planning a last-minute trip to Mexico, Trump confirmed the rumors, tweeting yesterday that "I have accepted the invitation of President Enrique Pena Nieto" and "look very much forward to meeting him tomorrow."
Soon after, the Mexican president's office tweeted that he would in fact be meeting with Trump today. Or as the Bing translation of his tweet aptly put it: "Tomorrow I get to Donald Trump."
In fact, the trip wasn't Trump's idea. He only decided to go after Peña Nieto extended invitations to both Clinton and Trump last week — and apparently needed some pushing from his new campaign chief executive, Stephen Bannon.

Once he warmed to the idea, it seems Trump proceeded in his usual fashion, ignoring warnings from officials who said that the trip could pose a security risk and would take time to plan, and insisting that the visit take place immediately: scheduled between his fundraising events in California this morning, and his immigration speech in Arizona tonight.
Though Trump and President Peña Nieto have never met, they do have something of a relationship. Trump's vows to build a wall across the Mexico-U.S. border (and make Mexico pay for it), disband NAFTA, and his description of Mexican immigrants as "criminals, drug dealers, rapists, etc." have often left the Mexican president no choice but to respond.
Like Trump, Peña Nieto has not minced his words, saying point-blank that "there is no way that Mexico can pay [for] a wall like that," and referring to Trump as both Hitler and Mussolini.
While the meeting will be private, Trump is likely steeling himself for what may be a rocky reception. Trump is widely despised across the country, especially in the capital Mexico City, where it is not unheard of for people to burn effigies of him in the streets.
It's clear what Trump has to gain from tomorrow's meeting: attention in the media, a sign that foreign governments take him seriously, and increased credibility for his immigration policy. But, Peña Nieto also has a lot to gain. The Mexican president's approval ratings are slipping and he is in the midst of a scandal after it emerged that he plagiarized his thesis in law school. A change of topic could do him some good.