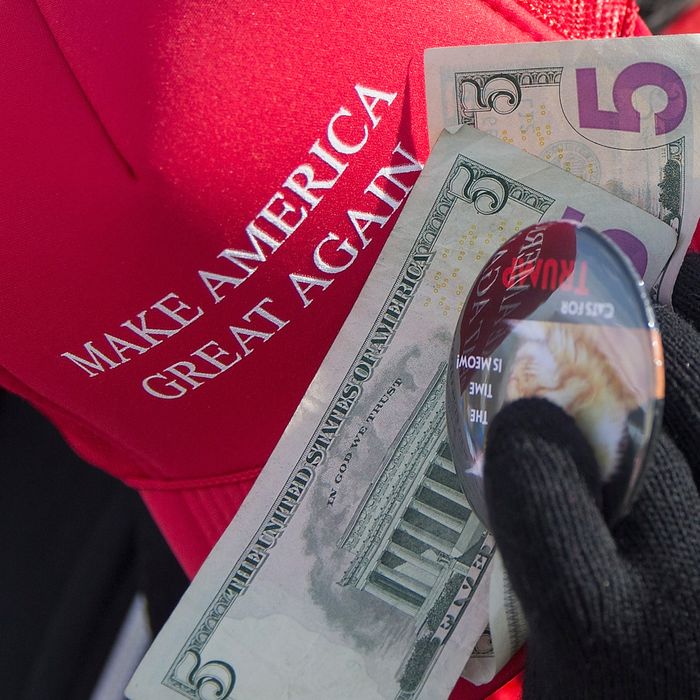 Maybe "the time is meow" to crack down on all the bootleg Trump merchandise.
Photo: Scott Olson/Getty Images
The presidential campaigns filed their July financial numbers with the FEC on Saturday night, and though the Trump campaign had previously reported raising some $80 million last month, the actual numbers paint a much less impressive picture. Politico points out that just $36.7 million went directly to the Trump campaign in July, with the rest having come in via joint efforts with the RNC and state-level GOP operations, which also means some $10 million has to be used for internal party expenses instead of the election. Furthermore, while the Trump campaign spent $18.5 million in July — more than any previous month — most of that money was used to bolster the campaign's online fundraising efforts, and a lot less was spent on the campaign's field-organizing operation, staff, and consultants ($825,000) than was spent on Trump merchandise ($1.8 million).
The Clinton campaign, on the other hand, directly raised $52.3 million and spent $38.2 million in July. Most of that money went to television advertising ($26 million), and $3.3 million went to the campaign's staff and consultants, who by most reports outnumber their Trump-campaign counterparts by at least four-to-one. Looking at cash on hand, the Clinton campaign began August with $58.5 million, while Trump had $38.4 million. The Associated Press also reports that the Clinton campaign believes it is now halfway to its overall goal of raising a billion dollars for the 2016 election, and the candidate herself will attend 43 events across 14 states for the next two weeks as part of a fundraising blitz.
The DNC also outraised the RNC in July, and in all, together with the Clinton campaign and Clinton-supporting Priorities USA super-pac, pulled in $94.5 million, while the Trump campaign, RNC, and two super-pacs supporting Trump only brought in $68.3 million, according to NBC News.
Digging back into the Trump campaign's July numbers, Trump himself contributed another $2 million to his campaign last month (so $52 million in all), and the campaign paid more nearly $800,000 back to Trump-owned businesses for expenses like his private airline and events at his hotel properties. In addition, more than $8 million of what the Trump campaign spent in July went to Giles-Parscale, the digital marketing company that Trump's real estate business has been working with since 2011, and which has never worked in politics before. Also, oddly, the consulting firm owned by Trump's fired campaign manager, Corey Lewandowski, got another $20,000 in July, even though he was let go in June, and per the AP, that is roughly the same amount Lewandowski got paid while he was managing the campaign.
The Huffington Post adds that when it comes to swing states, the Democratic Party is spreading the wealth around and cruising, while "Republican committees have received less money, spent less money and hired fewer staff than their Democratic counterparts":

In the 11 swing states of Colorado, Florida, Iowa, Michigan, Nevada, New Hampshire, North Carolina, Ohio, Pennsylvania, Virginia and Wisconsin, the Democratic party committees raised $10.5 million in July compared with $3.3 million for the Republicans. Democratic committees in these states spent $9.9 million while Republicans spent just $3.3 million. This spending advantage has led to a more-than-2-to-1 staff advantage for Democrats. In these 11 swing states, Democratic committees paid 1,614 staff members solely for federal election activity while Republicans paid 745.
Lastly, while the Trump campaign recently made their first general-election TV ad buy, spending nearly $5 million, the Clinton campaign has already spent $61 million on ads, in addition to the more than $40 million spent by Priorities USA. Overall, in the super-pac realm, as The Wall Street Journal reports, Team Clinton continues to tower over Team Trump in every measurable way.