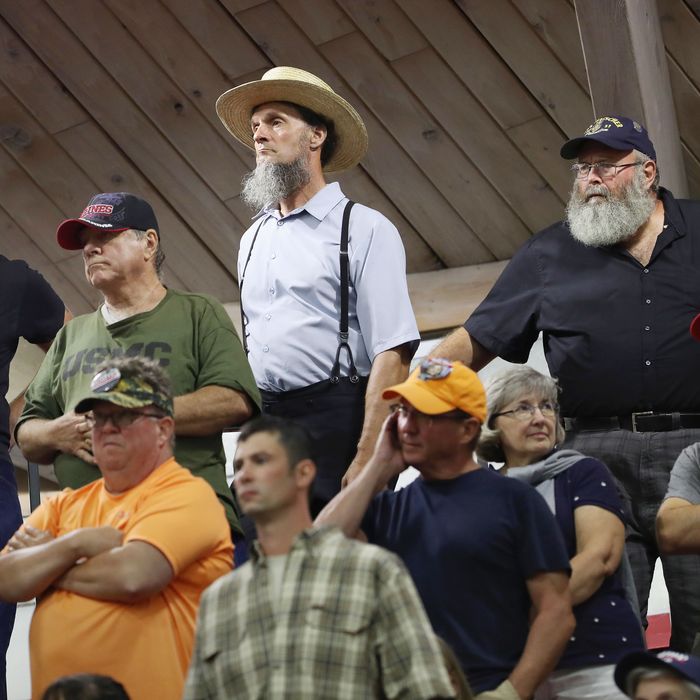 These folks are strong for Donald Trump, but not as many of their brethren still are.
Photo: John Moore/Getty Images
This week's avalanche of not-so-good polling news for the polls-obsessed Donald Trump continues, with signs that maybe this is something more than a temporary post-convention bounce for Hillary Clinton. Two of the latest surveys, from Fox News and McClatchy/Marist, give Clinton double-digit leads. She now has a 6.7 percent advantage in the RealClearPolitics polling average.

But peering inside the polls reveals another finding that should trouble Trump and his campaign more than the top lines: He's even losing steam in the red-hot core of his base of support, the white working class.

He's still leading in this demographic, to be sure. But every recent Republican has won it, by ever-increasing margins. Mitt Romney won non-college-educated white voters by an estimated 62-36 in 2012. Given his problems with other segments of the electorate (e.g., nonwhite voters, young voters, college-educated women), Trump needs to do better than that. And until this week, it looked like he would. As the New York Times' Nate Cohn noted on July 25, Trump was winning white working-class voters at better than a two-to-one clip in some surveys (66-29 in a July CNN poll, 65-29 in a July ABC/Washington Post poll).

That could be changing. A new NBC/Wall Street Journal survey showed his lead among non-college-educated white voters drooping to 49-36. Similarly, McClatchy/Marist pegs it at 46-31. These are not world-beating numbers. And you have to wonder: If Trump is losing his special appeal to the voting category that has long been his campaign's signature "base," where is he supposed to make that up?


Indeed, the bad polling news for Trump this week extends from his base demographic to the geographical base for any theoretical Electoral College majority. A new Atlanta Journal-Constitution survey of Georgia shows Hillary Clinton leading Trump 44-40 (41-38-11-2 in a four-way race). This is a state that Republicans have carried in seven of the last eight presidential elections (HRC's husband narrowly won it in 1992). There is no way Trump wins without it. Inside Trump Tower, alarm bells should be sounding.