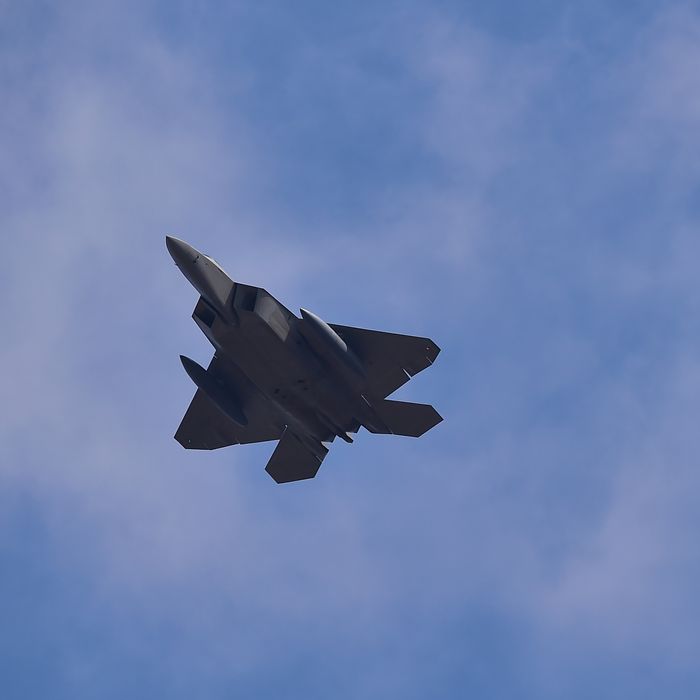 U.S. F-22 stealth fighter jets.
Photo: Jung Yeon-Je/AFP/Getty Images
Two Syrian Su-24 warplanes flying near a part of northeastern Syria where U.S. special forces are working on the ground with Kurdish allies were approached and "encouraged" to leave by a pair of U.S. fighter jets on Friday, according to NBC News. Per a U.S. Defense Department official, the planes got within a mile of each other, and though the U.S. F-22 pilots were unable to contact the Syrian pilots via cockpit-to-cockpit radio, the Syrians subsequently left the area. No fire was exchanged.
The encounter came one day after Syrian warplanes conducted airstrikes on Kurdish positions near the city of Hasakah, not far from where U.S. special forces were operating. That led to American warplanes being scrambled to protect them, though the Syrian aircraft had left the area by the time the U.S. planes arrived. No American troops were hurt in the attacks, but as a result, the Pentagon warned the Assad regime against bombing U.S. forces in the country, and American air patrols of the area near Hasakah were immediately increased, according to The Wall Street Journal, with U.S. military officials telling the Syrian regime that they would "take whatever action is necessary" to defend American personnel on the ground. CNN adds that some U.S. forces may have also already been pulled from their positions near where the Syrians have been bombing. More Syrian airstrikes were reported on Friday, but American pilots apparently did not witness any of them.
Both incidents represent the closest calls between U.S. and Syrian military forces since the beginning of the Syrian civil war in 2011. A small number of U.S. Special Operations forces have been working in the Hasakah area for months training and advising Kurdish elements of the Syrian Democratic Forces for the fight against ISIS, but the Syrian regime has been targeting the same group as part of the larger civil war.