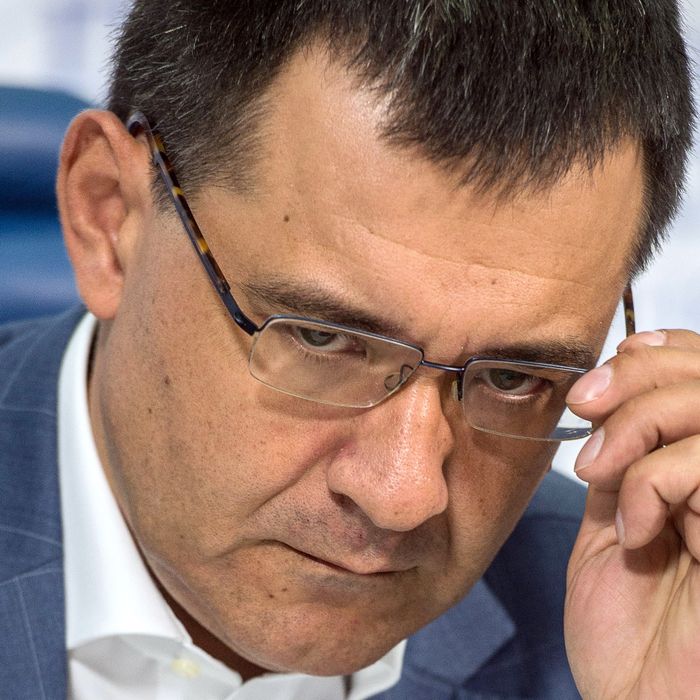 Roman's father, Valery Seleznev, at a press conference in Moscow.
Photo: DMITRY SEREBRYAKOV/AFP/Getty Images
A jury in Seattle yesterday handed down 38 guilty verdicts to the son of an influential Russian politician over the theft of millions of credit-card numbers. Roman Seleznev was convicted of charges including wire fraud, obtaining information from a protected computer, aggravated identity theft, and possession of 15 or more unauthorized access devices.
The case ratcheted up already-high tensions between Russia and the United States, mainly because Seleznev's father, Valery Seleznev, is a member of the Russian parliament and a prominent ally of Russian president Vladimir Putin. Valery had described his son's extradition to the U.S. as "kidnapping."
The elder Seleznev has long protested his son's innocence, claiming that Roman hasn't been proficient with computers since being disabled in a terrorist bombing in Morocco in 2011.
U.S. government prosecutors paint a very different picture of Seleznev, describing him as "one of the most prolific credit card traffickers in history," and a wildly successful hacker who, over more than a decade of theft, cost credit-card companies as much as $170 million. Seleznev seems to have especially liked targeting restaurants whose computers he could infect with malware — malicious software — in order to steal their customers' credit-card information.
Even after his son was arrested on vacation in the Maldives in 2014 with a laptop containing 1.7 million stolen credit-card numbers, Roman's father continued to claim his son was being set up by the U.S. government as a form of payback over Russia's welcoming of NSA whistle-blower Edward Snowden.
The U.S. government says that Valery likely took a more active role in securing his son's release than filing formal complaints, and claims that it has the two on tape discussing plans to tamper with witnesses and even toying with the idea of orchestrating an escape from the Seattle-area federal detention center.
While Seleznev faces nearly 40 years in prison, he will probably be sentenced to eight to 12 years, according to the Seattle Times, though he still faces similar charges in Nevada and Georgia.