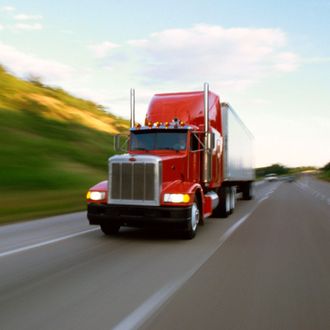 Photo: Jupiterimages/Getty Images
The debut of new Uber driver-less cars in Pittsburgh today has been occupying headlines, but another bit of Uber news is likely to be a bigger story in the long run: Uber announced today that it acquired Otto, a start-up working on automated trucking solutions. Otto, composed of ex-employees from prominent companies like Apple, Google, and Tesla, has developed hardware and software that can be mounted onto existing trucks to put them on autopilot (or something like it). In other words: Uber might be about to open up a war on its longest front yet.
This is because trucking is a enormous national industry whose work is performed by heavily fortified union employees. According to the Bureau of Labor Statistics, the country had nearly 1.8 million truckers in 2014 (for comparison's sake, the BLS reports only 233,700 taxi drivers and chauffeurs for the same period). It's true: There are many reasons to acquire Otto, and its technology and talent could be enough. But trucking is a multi-billion-dollar industry, and it's hard not to imagine that Uber — which has used its vast cash reserves to spend its way through regulatory red tape in cities across the globe — is preparing to take on one of the largest job sectors in the country.
Of course, Uber wouldn't frame it like that. The blog post from Otto announcing its acquisition is very careful to explain that what the company does is assist, not replace, truckers. "At Otto, we believe that drivers shouldn't have to choose between safety and earnings," they write. "Our self-driving trucks will allow drivers to rest while their truck is moving, and our platform will ensure drivers can easily find loads and are paid fairly."
That can't really be the endgame, can it? Uber wants its driver-less cabs to replace its human workforce in the not-so-distant future. It's likely that its long-term plans for trucking aren't so different. But the company can't quite say that out loud, though, because that would mean declaring war.