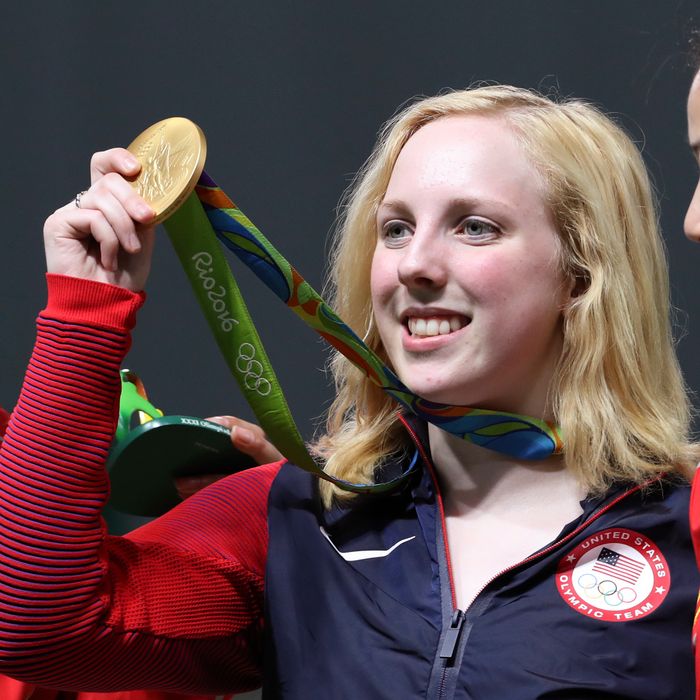 The U.S.'s Virginia Thrasher, center, holds her gold medal for the women's 10-meter air rifle competition during the award ceremony, with second place, Du Li (left) and third place, Yi Siling (right), both of China.
Photo: Eugene Hoshiko/AP Photo
Nineteen-year-old American sport shooter Virginia Thrasher has become the first gold-medal winner at the Rio Games, earning an Olympic-record top score (208.0) in the women's 10-meter air rifle competition and defeating two heavily favored Chinese competitors, Du Li and reigning champion Yi Siling. Heading into the match, Thrasher, from Springfield, Virginia, had been ranked number 23 in the world, so it's a pretty surprising win. The West Virginia University freshman is the youngest shooter on Team USA's 15-member Olympic shooting team, and she just won national titles in air rifle and small-bore shooting at the NCAA championships in March — the first time a freshman has accomplished that feat.
The Washington Post profiled Thrasher last month, noting that she first wanted to be an Olympic figure skater, but found out she wasn't very good at it. Instead, she got hooked on shooting about five years ago, after a deer-hunting trip with her father and grandfather, and started practicing relentlessly:
What she lacked in experience, Thrasher made up for in work ethic, as she continued to improve at an exponential rate. Practice turned into a five-day weekly routine. By the end of her senior year at West Springfield, Thrasher earned five medals at the 2015

USA

Shooting national championships and third place at the 2014 Junior Olympic championships, among many other

accolades.

"There was never a moment where I thought, 'Wow, you're really good at this. Time to take a break,'" Thrasher said. "It's always been, 'Oh, you're good, but you could be better.'"

This post originally misstated where Ms. Thrasher is from. It has been corrected to reflect that state as Virginia, not West Virginia.