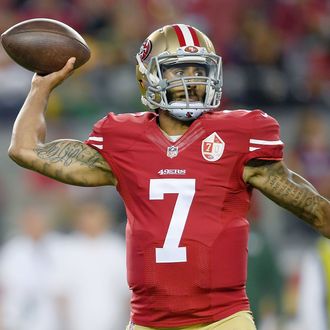 Photo: Thearon W. Henderson/Getty Images
If you've been on social media this week, you're probably aware that San Francisco 49ers quarterback Colin Kaepernick declined to stand up during the playing of the national anthem at a preseason game on Friday. Afterward, the quarterback said he was "not going to show pride in a flag for a country that oppresses black people and people of color." It was not a move that endeared him to many of our country's Republican Uncles and Aunts, and Facebook and Twitter have been flooded with angry responses from people accusing Kaepernick of disrespect.
But just as Twitter can be a place for some of the world's worst political discourse, it can also be a catalyst for some of its best. Take the hashtag #VeteransForKaepernick, which started trending on Tuesday and happens to be (and let me apologize for being earnest on the internet) quite moving — filled with simple expressions of positions that are more nuanced and thoughtful than any of the cable-news hosts or politicians who weighed in were able to articulate. Remember, would-be Limbaughs: Don't use veterans as political props, because they've been thinking about their service for a lot longer than you have.