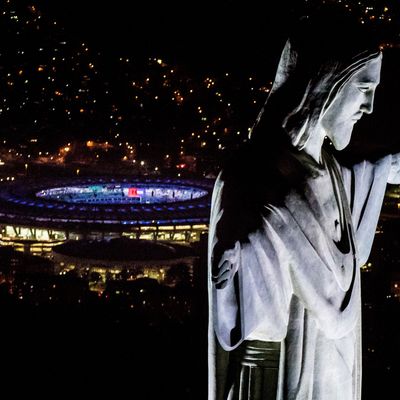 The Christ the Redeemer statue and Maracanã Stadium are seen on July 31, 2016, in Rio de Janeiro, Brazil.
Photo: Buda Mendes/Getty Images
Barring even more disaster, the 2016 Summer Olympics will kick off in Rio on Friday night. An impressive opening ceremony might be enough to counter the bad omens that have characterized the Olympic torch's journey to Maracanã Stadium, but spectators should probably manage their expectations.
"I hope that the opening ceremony will be a drug for depression in Brazil," said City of God director Fernando Meirelles, who, along with filmmakers Daniela Thomas and Andrucha Waddington, is directing the event. But he was sure to note that, thanks to Brazil's recession, things are being done on the cheap. "We were looking at a budget of 113.9 million U.S. dollars for the four ceremonies — opening and closing ceremonies for the Olympic and Paralympic Games. But now our budget is 55.9 million U.S. dollars for four ceremonies. Most of this money is for security, and all the stuff around the show. I think it is 12 times less than London, 20 times less than Beijing. This makes it very challenging … You lose ideas, you lose toys, where you had 3,000 people you now have 200," he explained. "On the other hand, it is good in some way because we are in a moment in the world where we need to be reasonable with the way we spend money."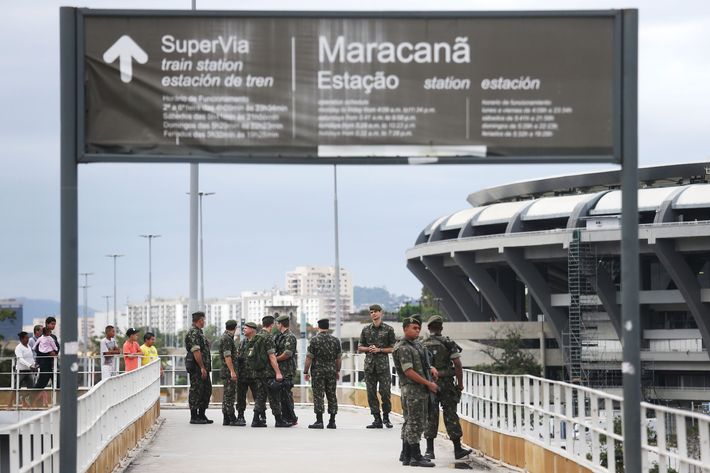 The hours-long program is mostly being kept under wraps, but here's what they reportedly have planned:
Music, Obviously
"It is Brazil, the music is good," said Meirelles. The main acts are Caetano Veloso and Gilberto Gil, whose subversive, massively popular songs prompted Brazil's military dictatorship to exile them from the country in the late '60s. They'll be joined by the 23-year-old pop star Anitta. And for the chill-minded: The son of "The Girl From Ipanema" composer Antônio Jobim, Paolo, will play his father's most famous song on the piano.
Lots of Dancing, Much of It Sexy
Brazilian choreographer Deborah Colker is said to have cast 6,000 volunteers to dance throughout the ceremony. This being Brazil, they probably won't be wearing much. According to a brave Daily Mail source, "There will be lots of nearly naked women doing the samba. The costumes have been designed to show off as much flesh as possible which means as little material as they can get away with."
Gisele, But Not Gisele Getting Mugged
Famous Brazilian Gisele Bündchen will have a role in the performance, though it seems that it was rewritten after some surprising reports emerged from a dress rehearsal. According to local media,Bündchen's scene originally had the supermodel getting mugged by a black kid: "Suddenly two police seize the kid and, like in a film with a happy ending, Gisele embraces the assailant and everyone celebrates," said one report. "This seems like a strange homage to Rio."
One witness described the moment as "a reaffirmation of a racist stereotype" in a country plagued by racial tension and crime. Unsurprisingly, many people agreed. Meirelles, for his part, claimed that there was a "tremendous misunderstanding" of the bit, but he also removed it. From the Washington Post:
"Imagine us doing a scene like that in the opening," he wrote in an email to The Washington Post. "I'm not that clueless."

What actually happened, he said, was that they tested out a scene in which a food vendor on the beach rushes up to take a selfie with Gisele. Security guards don't like it and give chase, but Gisele intervenes to protect him.

"It was a gag that was not funny so we cut it," he said. "There was nothing that looked like a robbery in the scene except two security guards chasing after a vendor. They are three professional

clowns."
Pelé, Probably
The identity of the person who transfers the Olympic flame from the torch to the cauldron is officially a secret, but all signs point to Brazil's most beloved athlete, the now 75-year-old soccer star Pelé.
Not Dilma Rousseff
Brazil's recently suspended president, Dilma Rousseff, has said that she will not attend the opening ceremony, reportedly because she would have had to stand below her political enemy, the interim president Michel Temer.
Lessons
Like most opening ceremonies, Rio's will depict notable moments in its country's history, including "the pre-colonial era and the arrival of the Portuguese," and the flight of an airplane designed by aviation pioneer Alberto Santos-Dumont, according to the Washington Post.
There will also be a focus on sustainability. "Brazil has the last big garden (the Amazon rainforest) of the world. We need to take care of this garden and we tried to share this message, a message of hope," executive producer Marco Balich told Reuters. In keeping with that theme, the cauldron that contains the Olympic flame will be more modest than usual. "It will be a low-emission cauldron as it would be an oxymoron to talk about sustainability and then burn massive amounts of gas," Balich said. "It is a small burner with a kinetic sculpture."
"The ceremony has a purpose," Blaich added. "Talking in a positive way in terms of sustainability. Doing a dry celebration is not enough. The fact that we are taking [a] position might not make everyone happy but that's what it is."