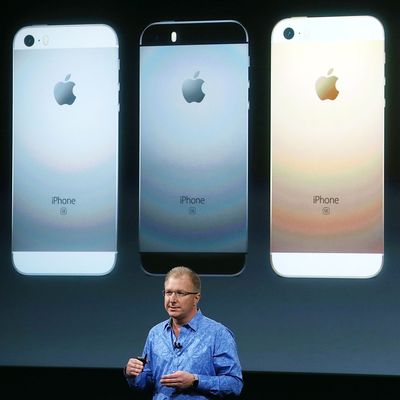 Photo: Justin Sullivan/Getty Images
Update, 1:24 p.m. ET: Turns out you should always believe every rumor you hear, because Apple indeed did start sending out official invites for the iPhone 7's unveiling on September 7. You can see one of the official invites below (notice how the bokeh'ed lights form the top of the Apple logo). The Bill Graham Civic Auditorium is also the same place that Apple held their keynote last year. Here's the page on Apple's website where the livestream will be held, starting 10 a.m. PT / 1 p.m. ET.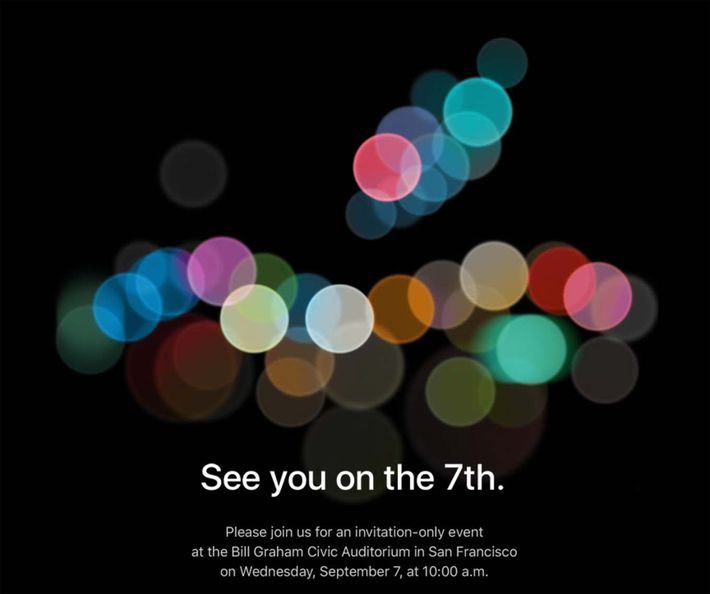 There's something curious going on right now with the iPhone 7 rollout. Granted, you may only care about this if you're the type of person who not only follows rumors about the next iPhone, but also about when it'll actually be announced (which is deeply sad and also, hi! — we usually have a little meet-up on Thursdays and Bryan makes a decent seven-layer bean dip).
The facts, such as they are: On August 10, Bloomberg's Mark Gurman announced the Apple would unveil the phone on Wednesday, September 7. A few weeks before that, VentureBeat reporter and pretty accurate leaker Evan Blass said Apple would be releasing the phone on Friday, September 16. Since Apple releases phones about ten to 14 days after their keynote, all signs seem pointed towards a September 7 keynote — a fact that's now essentially been taken as gospel by the small ecosystem of sites that live and die by Apple rumors.
But if the keynote was September 7, we likely would have heard an offficial announcement by now. It's now August 29, and as the very helpful site wheniskeynote.com will show you, there's still no official announcement date. Redditor mpgonzales_9 helpfully compiled the timeline of how Apple has announced their events in the past five years:
2011: iPhone 4s - Event announced Sep 27; Event Oct 4; iPhone released Oct 14
2012: iPhone 5 - Event announced Sep 4; Event Sep 12; iPhone released Sep 21
2013: iPhone 5s - Event announced Sep 3; Event Sep 10; iPhone released Sep 20
2014: iPhone 6 - Event announced Aug 28; Event Sep 9; iPhone released Sep 19
2015: iPhone 6s - Event announced Aug 27; Event Sep 9; iPhone released Sep 25
Eight days wouldn't be the closest Apple has ever cut it — see in 2013, where they announced the keynote for the iPhone 5s just seven days before the keynote. But compared to the long lead times from official event announcement to the actual event in 2014 and 2015, this does seem a bit out of the ordinary. (For what it's worth, I've heard from two people in the tech industry that both doubt Apple will hit the September 7 keynote date.)
So, here's my prediction: If official invites and announcements aren't sent out by the end of today, Apple is pushing back its announcement to September 14.
Again, none of this is earth-shattering news. If Apple chooses to hold its keynote September 14, people will still watch it closely. This will not hurt Apple's sales in the slightest — preorders will still come rolling in.
There are other handset manufacturers that would run a schoolbus full of children and puppies off a cliff just to get a modicum of the heat an Apple keynote produces. The fact that there's active speculation about when we'll get to watch a 160-minute-long commercial for Apple products shows how much the iPhone itself still defines "smartphones" in the public imagination (even if Android dominates the actual smartphone OS market).
But if the date is pushed back, it is curious how both Gurman and Blass — both of whom are usually spot-on in their Apple reporting — would be wrong. One possible cause? Reports from the Nikkei Asian Review that the iPhone 7 could be facing serious supply shortages upon launch.