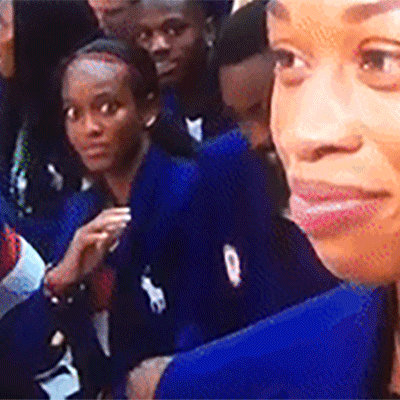 Sure, winning a medal at the Olympics for a sport is impressive. But sports are played out. The real question is: Who hit the best dab?
Since the Games kicked off last Friday, we've seen a handful of spectators and athletes alike hitting the dab (a dance move credited to Atlanta artists like Skippa Da Flippa, and later popularized by NFL player Cam Newton, that involves quickly raising your arm and dropping your head into the crook of your elbow). But the Olympics is, of course, a competition. And so we've empowered ourselves, in the style of an International Dab Committee, to award medals. Ladies and gentlemen, please stand.
Vine star Logan Paul, dabbing behind Gabby Douglas during the women's artistic-gymnastics team final, gets points for his spirited tank top and excellent arm form. Deductions for trying to steal the spotlight while an actual Olympian did her thing, for being a Vine star, and for the fact that this isn't the only event Paul has dabbed at in Rio.
Swimmer Ieuan Lloyd dabbed while entering the aquatic center to swim the 200-meter individual medley. Following his dab, Lloyd came in sixth place for Team Great Britain in the semifinal, which, unfortunately, means he will not advance to the medal round. Still, we're giving him a solid second-place finish for this dab. Points for posture and being totally unashamed of his choice of entrance.
English Gardner, who is an American sprinter, dabbed behind teammate Allyson Felix during Felix's opening-ceremonies interview. Gardner is the clear winner for several reasons. First, just look at the intense focus while she's staring at the camera. This is a woman who is mentally ready to dab. And don't forget the added degree of difficulty in her performance: She not only dabs, but does so while videobombing her teammate, who never even notices.