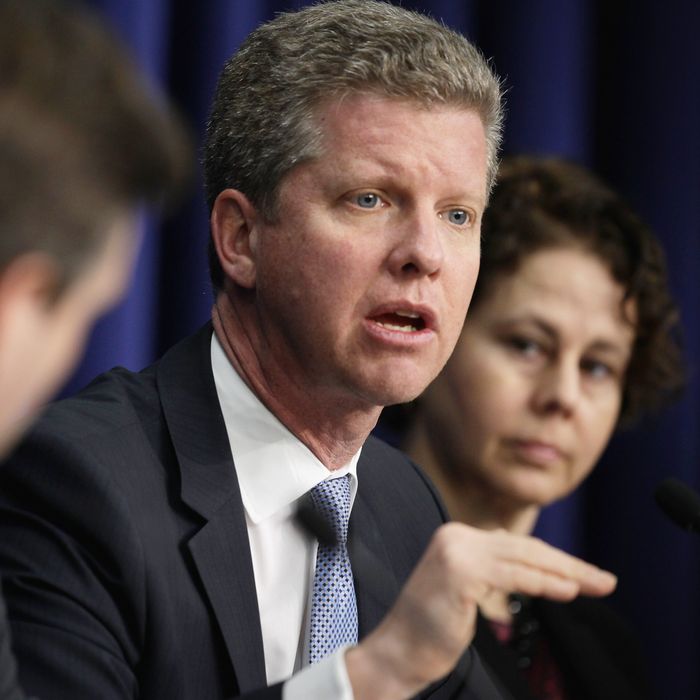 Shaun Donovan.
Photo: Alex Wong/Getty Images
In his first term as New York City's mayor, Bill de Blasio has realized nearly every non-horse-related item on his policy agenda. The mayor has established universal preschool, an ambitious housing plan, improvements in traffic safety, and a sharp reduction in discriminatory police stops — all while overseeing a booming economy and plummeting crime rate.
But the mayor has also come under the scrutiny of an ethics probe. And he's always late to things. And he's pissed off New York governor Andrew Cuomo and the city's former mayor Michael Bloomberg. These facts — combined with New Yorkers' general antipathy for their mayor — have sent de Blasio's enemies searching for a standard-bearer to end the tall Italian-American's tenure in 2017.
According to Politico, President Obama's budget director could be their man. Shaun Donovan has been contemplating a run at New York's mayoralty for years. And former Bloomberg campaign manager Bradley Tusk hopes to convince Donovan to take the plunge next year. Tusk is a leading voice of the anti–de Blasio wing of New York's business community and has founded a group called "New York Deserves Better," which plans to assail de Blasio over the airwaves in 2017.
Donovan is a career bureaucrat who has never run for elected office. While he's a native of the Big Apple, he hasn't lived in New York for eight years and has no relationship with the city's African-American or Latino communities. And you can't win a Democratic primary in New York City if your base doesn't extend beyond the guest list at Bradley Tusk's cocktail parties. But Tusk believes that a dual endorsement from Bloomberg and Obama would take care of that problem.
"If [Obama] and Mike sat together in an ad and said, 'We don't agree on everything, but Shaun's worked for both of us, and we think he'd be really great mayor,'" then Donovan would become a serious contender, Tusk told Politico.
But before courting Obama's endorsement, Tusk will need to secure Donovan's — according to Politico, the budget director wants to stay in D.C. until his children finish high school and is reluctant to launch a bid in 2017.
Other Democrats with higher profiles have already made noises about entering next year's primary, including City Comptroller Scott Stringer and Congressperson Hakeem Jeffries.