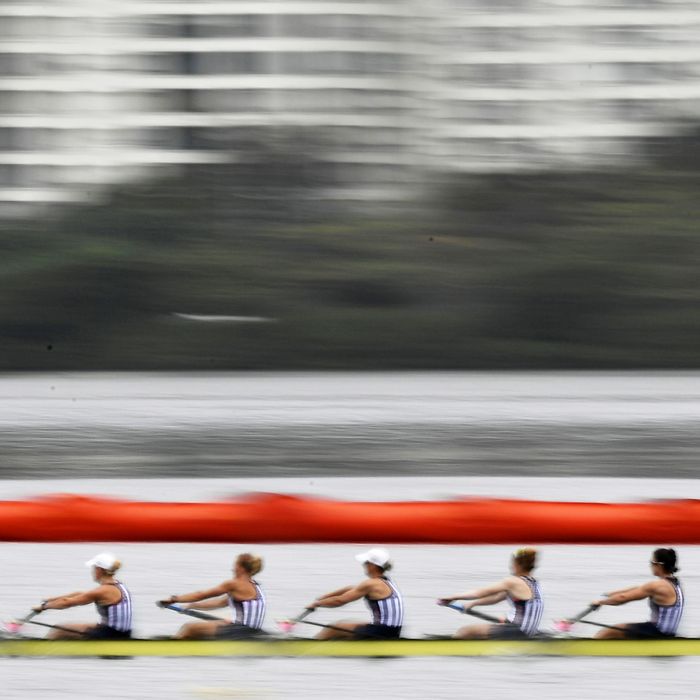 They move fast.
Photo: Jeff Pachoud/AFP/Getty Images
Even the most hard-core Olympics fans probably can't name the most dominant U.S. team taking part in the Rio de Janiero Games. The American sweethearts of U.S. women's national soccer team? Nope. The latest incarnation of the NBA Dream Team? Not even close. The answer: the U.S. women's "coxed eight" rowing team — that is, eight rowers (the biggest boats in Olympic rowing), plus a coxswain. For ten consecutive years, the U.S. women's eight has dominated the sport, taking home gold at eight World Championship and two Olympics, including a 2013 world-record time (5:54.160) that stands today. Their streak is unprecedented in American international competition. They've been called a "dynasty" and "unbeatable." Comparisons are even being made to all-time sports programs like the former Soviet Union national ice-hockey team from the '60s and '70s. They are prohibitive favorites in Rio. "The women's team is by far the best in the world," says U.S. rowing men's head coach and three-time Olympian (including a gold medal in the men's eight in '04) Bryan Volpenhein. "No one else is even close."
The juggernaut that is the women's eight didn't materialize overnight. Arguably, its genesis can be traced back to one particular day more than four decades ago: June 23, 1972 — the date Title IX, the amendment to the Higher Education Act of 1965 requiring that men and women be offered equal opportunity in sports, was enacted. "Title IX was a huge factor in women's rowing," says Sara Hendershot, a U.S. National Team oarsman since 2010. "In high school I remember thinking how I wanted to play a Division I college sport. I wasn't good enough for soccer, and I had too many shoulder problems for swimming. So I found rowing." She wasn't alone. According to the NCAA, in 1981–82 there were 1,187 women on 43 rowing teams in DI–DIII colleges. By the 2009–10 season there were 143 teams and 6,999 women on the water (the numbers for women's soccer in the same period were even more astounding: from 1,855 participants to 23,650). Rowing's popularity means a much deeper talent pool for the national team. "They have a glut of high-level women's rowers," explains Volpenhein. They're also attracting bigger and stronger athletes, a significant advantage in rowing. In the 1992 Barcelona Olympics, the average size of the women's eight was 5 feet 10 inches and 159 pounds. Today? It's 6 feet 1/4 inch and 178 pounds.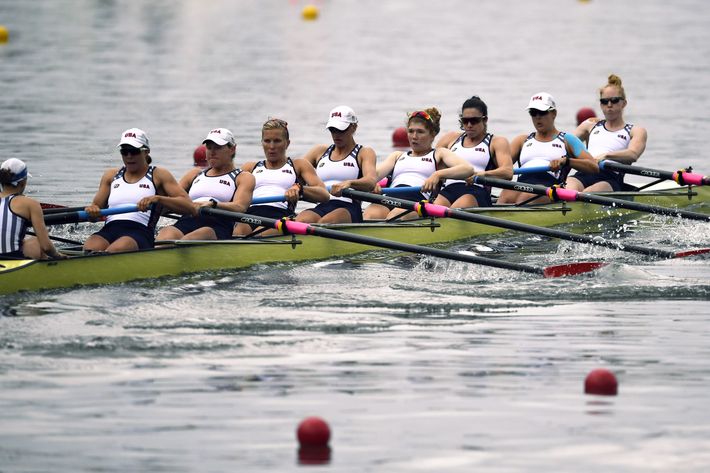 Without the right coach, however, talent, size, and skill aren't quite enough. Enter Tom Terhaar. After rowing at Rutgers and a stint coaching the freshman men's lightweight squad at Columbia, the 46-year-old joined the National Team as an assistant in 1994. By 2001, he was named women's head coach. Terhaar made immediate changes. Rowers from European powerhouses — especially the Romanians, Germans, and Russians — trained like professionals. Full time. Americans didn't. "Three-a-day practices existed — just not in the United States," says Terhaar. "So as soon as I took over I implemented them. To compete I knew we'd have to train at that level." A silver medal for the eight in the 2004 Athens Games proved the team had turned a corner. "That set the precedent for the next ten years," says Hendershot.
Although Terhaar, a modest, soft-spoken Buffalo native, won't take credit for the team's transformation, he's undeniably been the architect of a system that rivals Bill Belichick's New England Patriots or Gregg Popovich's San Antonio Spurs for consistency and results, despite a regular turnover in personnel. "The whole women's rowing program is about pushing each other," says Meghan "Moose" Musnicki, one of only two oarsmen in the Rio eight who were in the 2012 London Olympic boat. "It's like a self-perpetuating machine." It's a machine that is still getting faster. "Every four-year cycle the testing scores and records keep getting shattered," says Hendershot. "It's the culture of the team."
The team got off to a fast start on Monday morning — they won their heat by a comfortable eight-second margin. In a second heat, Great Britain put up an impressive time, only three seconds back from the Americans. With the dynasty on the line, there is no doubt the team will be under an extra measure pressure when those two teams and two other qualifiers take to the water on Saturday for the event finals. "We're all feeling it," says Musnicki. "I'm a firm believer that no team is unbeatable."