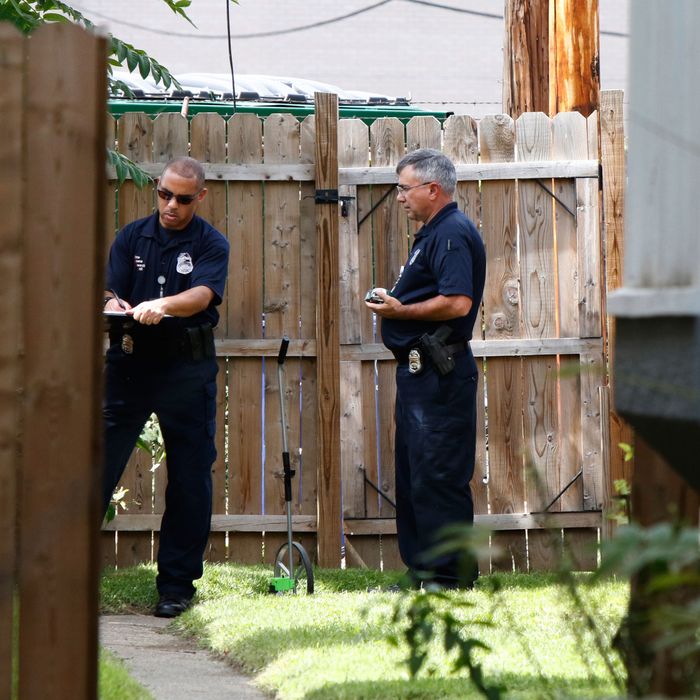 Members of the Columbus Police Crime Scene Search Unit are seen behind a residence on Hoffman Avenue on September 15, 2016, near the scene of a police shooting of 13-year-old Tyree King in Columbus, Ohio.
Photo: Paul Vernon/AFP/Getty Images
A 13-year-old African-American boy who was carrying a BB gun was fatally shot Wednesday night by a police officer in Columbus, Ohio. Cops were reportedly responding to an armed-robbery call when the police saw several teens who allegedly met the description of the robbery suspects. At least two fled. Cops chased them down an alley, when one of the suspects pulled out what allegedly looked like a firearm from his waistband, according to the Columbus Dispatch. A police officer shot him multiple times. The victim, an eighth-grader named Tyre King, died later from his injuries at the hospital.
Investigators on the scene first believed King's weapon was a handgun, but "upon further inspection, was later determined to be a BB gun with an attached laser sight." Officials identified the officer as 31-year-old Bryan Mason, a nine-year veteran of the force who has been put on administrative leave for at least a week, reports the Washington Post. This is not Mason's first shooting incident while on duty. In 2012, Mason shot and killed a 51-year-old man who was reportedly aiming a gun at another man in his home, and refused to drop the weapon when officers arrived. Mason was cleared of any wrongdoing in that case.
Officials urged calm as the police investigate the King shooting, and said any evidence would be turned over to the county prosecutor for presentation to a grand jury. "Any loss of life is tragic, but the loss of a young person is particularly difficult," Columbus mayor Andrew J. Ginther said Thursday. "As a mayor and a father, the loss of a 13-year-old in the city of Columbus is troubling."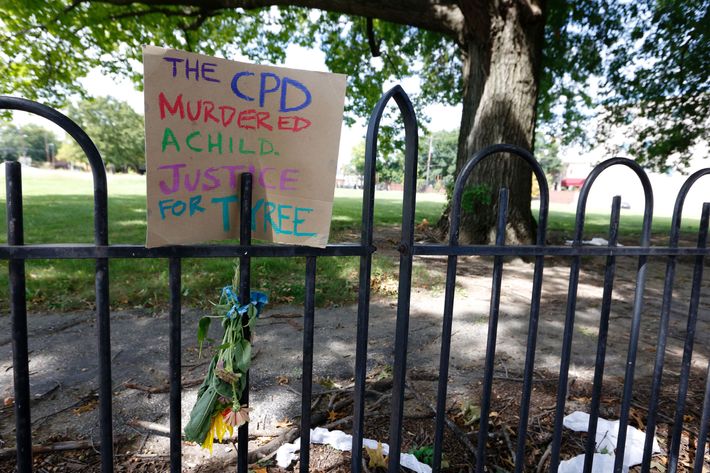 Columbus police chief Kim Jacobs called the King's death "a tragedy." Columbus police released a sketch of what King's BB gun looked like, pointing out similarities between it and a real handgun. "It turns out to not be a firearm in the sense that it fires real bullets, but as you can see, it looks like a firearm that could kill you," Jacobs said, showing the picture of a replica at a briefing earlier Thursday.
Investigators are also searching surveillance footage, but it does not appear that the officers were wearing body cameras. (Columbus police are set to begin wearing them next year, per the New York Times.) Police are talking to multiple witnesses, including one of the boys who fled with King. (He was unharmed.) A 911 phone call relating to the alleged armed robbery captured some of the audio from the chaotic scene. According to transcript obtained by the Columbus Dispatch, a woman on the 911 call screams,"Oh! He's shooting them! Oh my God! They're shooting! Oh my God!" That woman on the phone apparently dialed 911 for the alleged robbery victim, who told police he wasn't going to bother calling — until the woman did it for him — because the teens had only stolen $10.

In its most basic details, the case is drawing parallels to that of 12-year-old Tamir Rice. In 2014, Rice was playing with a pellet gun at a rec center near his house in Cleveland, Ohio, when he was shot and killed by police. Last year, a grand jury declined to indict the officers involved.