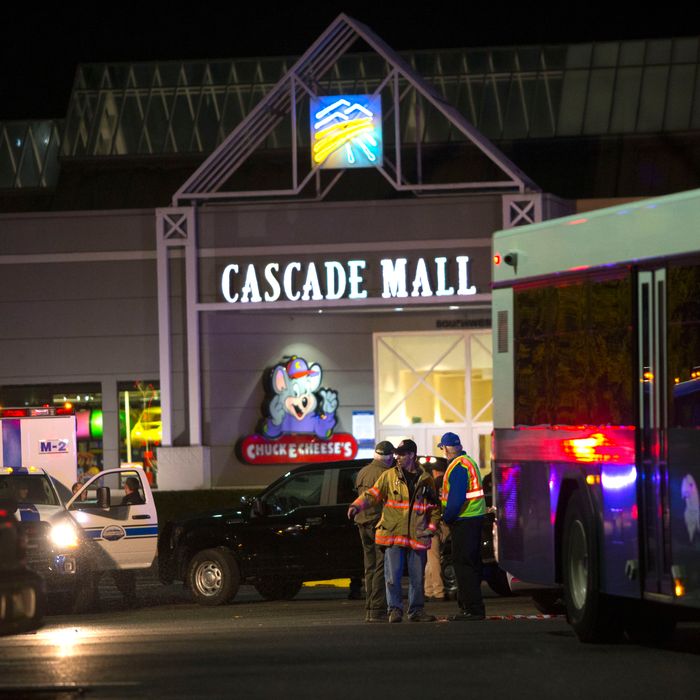 Photo: Karen Ducey/Getty Images
A manhunt is underway in Washington State after a lone gunman opened fire at a shopping mall north of Seattle on Friday night killing five people, and then walked away. The four victims who died at the scene were women. The fifth victim, a man, died after being airlifted to a Seattle hospital. No other injuries have been announced. The Associated Press reports that the shooting started around 7 p.m. in the cosmetics department of Macy's at the Cascade Mall in Burlington, which is about 65 miles north of Seattle. The four women were killed in the Macy's cosmetic department, and it's not clear where the man was shot. Police say the unidentified gunman was armed with a hunting rifle–like firearm, and he has been described by witnesses as an Hispanic man with a close-shaved haircut in his late teens or 20s, according to the Skagit Valley Herald. The gunman left the scene before police arrived and was last seen walking away from the mall toward a nearby interstate. Police have asked residents in the area to remain indoors until they find the suspect. Authorities do not yet know the gunman's motive, but say there is no indication that the shooting was a terrorist attack.
The identities of the victims have not been released yet, but the Herald reports that the victims' ages range from teen to senior. The mall was evacuated and a store-by-store sweep was conducted for survivors, many of whom had sheltered in place in locked stores and dressing rooms. A search of the area was also conducted using a helicopter and police K-9 units. A nearby high-school football game was cancelled and the stadium evacuated as well. The mall remained closed on Saturday.

The Seattle Times points out that this attack was the seventh mass shooting in Washington State this year. It is also the second attack at an American shopping mall within a week, following a stabbing attack — which is being investigated as a potential act of terrorism — at a Minnesota mall last Saturday.